By Ken "Hawkeye" Glassman
The Edge was dropped off at my house just after a little snowstorm, which made for some unflattering photos because of the street salt residue all over it, but I was fortunate to be able to test the all wheel drive vehicle in the slippery stuff.
The first thing I noticed was that the brakes were very touchy and grabby right from the top of the pedal travel.  In fact it caused the ABS to kick in when on my driveway merely rolling it back to park, and when inching forward to leave the driveway.  Naturally, one can adjust to that, but it took several days.  But the AWD Edge was great in the light snow on the road, and feels like it could tackle any snow and iffy traction situations during a Midwest winter.
The Edge can be fitted with several engine options: a 2.0-liter I-4, Ecoboost with 245hp, or a 3.5 –liter V-6 that makes 280hp, or the Edge Sport engine that is a 2.7-liter, making 315 hp and 375 ft. lbs of torque.  Our test  car had the base 2.0 twin scroll engine, recently reworked, and it makes a very strong 270 ft. lbs of torque, and it feels very strong and peppy, with immediate responsiveness.  It gets 20 City and 28 Highway MPG and can tow 3,500 lbs.  Unless you need to have a greater towing capacity, there's no need to go for the larger engines, because this one is terrific.
All engines are mated to a 6-speed automatic transmission, and while that is 2 or 3 gears less than some competing models, this is an excellent unit.  The shifts are crisp and smooth, and when using the paddle shifters, the up and down shifts are much quicker than one would expect for a vehicle like this.  This being a 6-speed, probably helps the drivability because those 8-speed transmissions tend to upshift you into the higher gears too quickly, so that when you want immediate acceleration, you have to wait for the transmission to downshift a gear or two before you get the revs into the power band to take off.  There may be a mile or two penalty in gas mileage, but it's a worthwhile trade-off.
On the road, the Edge feels athletic for a vehicle this size.  A new steering system offers a confidence inspiring precise feeling when entering a turn.  It tracks well with some body lean, but the Edge will track nicely through a tight turn, without need for mid course corrections.  It also has good on-center feel on the road.   The ride quality is very comfortable and nicely damped, and never feels sloppy or wallowy.  It handled pot hole ravaged Chicago streets quite well, aided by the 19" wheels and tires. The Edge always felt composed regardless of the road conditions.
This second generation Edge pays much more attention to the interior, than the previous one, and it makes a big difference.  The seating position is high and there is still plenty of headroom.  Even with the front seats all the way back, the passengers in back will stretch out with plenty leg room, and plenty of head room, despite the panoramic sunroof, which makes the cabin feel even roomier.  It is quiet on the road, with very little wind noise for a big vehicle.  I found the   saddle colored seats handsome and comfortable, and the matching leather door trim is soft, as are the arm rests, and center console. A bit of brightwork surrounding the air vents and of the doors accents the look.
The interior is nicely laid out.  The driver gets a large round speedo with 2 info screens flanking it, which can be configured to the driver's tastes and needs.  You can see a tach, a digital speedo, or toggle to see how the power is distributed between front and rear wheels, or get mileage info and tripmeters.  You can get to driving settings like the Lane Assist sensitivity and other settings as well from the left screen.  The right screen will get you phone, mute, radio, and other info.
There is a handy pop-up storage bin on top of dash, and a covered storage bin for phones or electronic devices at the base of the center stack with connectivity inputs.
A large Nav screen is set at the top of the stack.  Then there are lots of buttons for the radio controls, the HVAC settings and the heated mirrors, rear defrost, heated / cooled seats, and temp, which makes it easy to quickly adjust those things. But to activate the heated steering wheel, and direct the air flow, you have to go to the Nav screen, which makes no sense. Ford's new system is better than previous generation, but it's still a work in progress.
I had a bit of a problem with the responsiveness of the Nav screen.  There are two buttons on the screen, Destination and Menu, which required sometimes 5 presses on the screen to get it to operate.  It's also a bit cumbersome to get to the manual address input screen. Trying to use the voice recognition to speak the address is an exercise in futility, like most systems.  Speaking other commands, however, like those for the radio, phone, etc. were much better.
An odd occurrence happened when I switched from XM Radio, then to FM, and tried to go back to XM, it said my subscription ran out and to call to activate.  Now I'm sure Ford paid the bill, so I couldn't figure out what happened.  When I switched over to FM radio, I found the reception to be rather poor.  The radio sounded great on the XM channels, so that was another puzzler.
The thick leather wrapped steering wheel has redundant controls for the phone and info screens, radio, and cruise control.  I was surprised the Edge didn't have radar cruise control.  But their Lane Keep Assist is one of the best systems I've ever used.  On a deserted stretch of a 6 lane highway, with my hands off the wheel, it kept me in center lane for a mile as it would gently steer the car back on course if it drifted right or left. It even kept me in my lane on a very mild curve.  After 30 seconds or so, it would flash a warning to put your hands back on the wheel.  If I didn't it, suggested I stop for a break, and a coffee cup icon popped up.  When drifting out of the lane, you get an audible warning signal, and you can feel the steering wheel vibrate as it brings you back into the lane, and you can set the intensity of the system, too. This system must be the result of Fords autonomous car research and testing.
Storage space is very good, with 73.4 cubic feet of cargo space with the rear seats folded, and 39,2 with the seats up.  And the rear split bench seats are easy to fold flat.
The second generation Edge appeared as a 2015 model with all new sheetmetal, and not much has changed for 2016.  But the Gen2 styling changes gives the Edge a more upscale look, from the silhouette to the to the understated grill crossbars.  The sloping back pillars and wraparound taillights make the edge a little bit more sport-wagon looking.  And the bodyside character lines draws interest from many angles.  In short, the Edge is a handsome vehicle to look at.
The Ford Edge comes in SE, SEL, Titanium, and Sport models.  For a two-wheel-drive SE Trim, you'll start at $28,700.  Our AWD Titanium model started at $37,595 and added the Equipment Group A Package for $5,645.   That buys a lot including, the voice activated Nav system, Blind Spot Monitor, Remote start, Heated Steering Wheel, Heated and cooled front  seats, Heated rear seats, Lane Departure, Enhanced Park Assist, Panoramic Sun Roof, 180-degree camera, rain sensing wipers, and more.  The bottom line came to $43,190.  But this Ford Edge will more than hold its own with any SUV in its class from Europe or Japan.
2016 Ford EDGE AWD Titanium Review
By Ken "Hawkeye" Glassman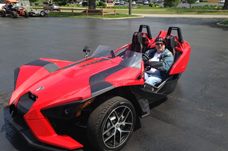 Ken "Hawkeye" Glassman has been a motor journalist for over 30 years, reviewing automobile, as well as motorcycle ride reviews and accessory reviews.
His car articles have appeared in Robb Report Magazine, Autoguide.com, Car-Revs-Daily.com and other media. His work has also appeared in Road Bike Magazine, Motorcycle Tour and Cruiser, SpeedTV.com, MotorcycleUSA.com and others.
As motorcycle columnist for The Daily Herald in suburban Chicago, the paper became the only major circulation newspaper in the country to have a separate weekly section devoted to motorcycles. Later he wrote a weekly column for Cyclefocus Magazine.