A third of the auto industry's sales last year were SUV's.
That means that about 5 million of them were sold here.  At Ford, their leading SUV model is the Escape.
Over 300,000 units were sold last year alone, making the Escape the number 2 selling Ford model, behind only the Ford F-150 pickup truck.  The Escape debuted way back in the year 2000, and they have sold more than 2.4 million of them.  After spending a week with the 2017 Escape, it's not hard to understand why.
For 2017, the Escape gets a mid-cycle refresh, bringing some significant changes to the model.  The Escape offers 3 engines to choose from, and two of them are new this year.  Our test vehicle came with the new EcoBoost 1.5-liter turbo inline four, producing 175 horsepower, and nearly the same number for torque.   The other new EcoBoost engine is a 2.0-liter twin scroll turbo inline four which makes 245-hp, and 275 ft. lbs. of torque.   Both EcoBoost engines are available with all-wheel-drive. And the base engine is a 2.5-liter four with 168-hp.
All engines mate with a 6 speed automatic transmission. One can move up from the 1.5 to the 2.0 engine for only $1,300, and only lose just 1 mpg in combined mileage, so for more aggressive drivers, that's a cheap way to get some more thrills. And both EcoBoost engines come with the Start/Stop feature that shuts down the engine at stop lights, and it is pretty seamless in operation, and can be turned off if desired.
I was surprised at how quick and peppy the 1.5 felt on the road, since it has to move this front wheel drive car that weighs just over 3,500 pounds.  But quick blasts away from a stop light, or passing on a two lane road, are just a punch away on the gas pedal, and the Escape spools up quickly and smoothly. This engine is pretty fuel efficient too, especially considering the power it produces, at 23 City and 30 highway.
The transmission has a Sport setting for extra revs before shifting to a higher gear, and you can also use the paddle shifters to hold a gear when necessary.  Those manual shifts are not as quick as a European SUV's, but they're not as lazy as most.  Steering is fairly precise and quick, with decent feedback, and the brakes are excellent.  The Escape's ride quality on the highway or around town is comfortable and tuned to the firm side, which we like.  It can handle twisty bits of road nicely, without excessive body lean.  But the driver needs to remember that it isn't a sports car, and over-exuberance will highlight understeer and tire squeal.  Still, it feels taut and athletic, and predictable.
The cabin is handsome and comfortable, and all controls are easy to operate.  The driver gets a nice gauge package in from of him, with an excellent info screen between the two large round dials for speedo and tach.  At the top of the center stack a large touch screen dominates, and it is easy to operate.  Ford's Sync 3 Infotainment system and Sync Connect is a major upgrade over the My Ford Touch system, with a wide variety of apps and capabilities.  Sync Connect allows you to use your smartphone to locate your vehicle in a parking lot, and start it (the key fob also has remote start feature) open the doors, etc.  You can even program the car to start at a specific time.  I was impressed with the voice command system that made it fairly easy to speak an address into the nav system, unlike most car systems I've tested recently.
Beneath the nav screen there are easy to operate HVAC controls, and buttons for the excellent heated seats (with heated seatbacks) and heated steering wheel, which didn't get very hot, just warm enough to take the chill off it.
And Ford replaced the bulky parking brake lever with a small switch, so it freed up room to improve the console area for lots of small items you want handy and easily  reachable, like your phone, which can rest in a bin with USB port and 12-V outlet for charging.  Another set of plugs resides in the large center console. The seats are wide and comfortable, although modestly bolstered, and show handsome contrasting stitching.
There is plenty of headroom beneath the panoramic moonroof, and rear passengers will enjoy plenty of leg room as well.  The rear seat bottoms felt a bit firm, but the seats can recline, as well as fold down for more cargo space. And the cargo area is nicely appointed, and offers 34 cubic feet of cargo capacity, and 68 cubic feet with the second row seats folded.  Also, Ford's under-bumper, foot operated electronic liftgate makes it easy to get to the cargo area with an armload of groceries or packages.
One thing we didn't care for is some of the inexpensive looking and feeling plastic that surrounds the nav screen and console.  Also, the latching mechanism for the center console feels cheap.  Oddly, the soft touch materials on the front door armrests, door sills, and the top of the center console are excellent, and better than most vehicles that cost more.  But rear seat passengers don't get the same soft door treatments, just the hard stuff.
Ford put a lot of effort into making the cabin quieter this year, with added sound deadening materials, especially the new windshield.  And some aerodynamic work on the exterior helps to make the Escape very quiet at speed.
Styling has improved this year with a new hexagonal upper grill, and sleeker headlight grace the front end as will. The turbo powered vehicles also get active grill shutters behind the new grill that operate at highway speeds to improve airflow. The lower front fascia is flanked by new hex shaped fog light nacelles. New taillight treatments make the rear of the Escape cleaner looking.  Overall, the 2017 model looks better than the previous one.
The base S model starts at $23,750.  The SE begins at $25,250, and the top tier Titanium model starts at $29,250. The test car added $4,880 worth of options, which included the moonroof, nav system, enhanced active park assist, which will steer the car into our out of a tight parking spot, and the excellent radar cruise control, lane keep assist, and blind spot monitor.  With freight, the bottom line came to $34,875.
The Escape will hold its own with the competition like the Honda CRV, Nissan Rogue, Hyundai Santa Fe, or Kia Sportage.  There is a lot to like about this car, and we suspect that another 300,000-plus buyers will buy one this year.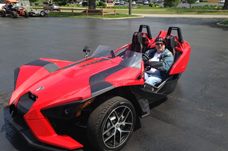 Ken "Hawkeye" Glassman has been a motor journalist for over 30 years, reviewing automobile, as well as motorcycle ride reviews and accessory reviews.
His car articles have appeared in Robb Report Magazine, Autoguide.com, Car-Revs-Daily.com and other media. His work has also appeared in Road Bike Magazine, Motorcycle Tour and Cruiser, SpeedTV.com, MotorcycleUSA.com and others.
As motorcycle columnist for The Daily Herald in suburban Chicago, the paper became the only major circulation newspaper in the country to have a separate weekly section devoted to motorcycles. Later he wrote a weekly column for Cyclefocus Magazine.