Ford launched the Fusion back in 2006, slotting in between the smaller Focus sedan and the larger Taurus.
It was an excellent offering in the crowded mid-size sedan marketplace and it was well received by the press community, and buying public.
The second generation came along in 2013, with improvements and more model options, and sales got even stronger.  For 2017, a mid-cycle update brings a new model to the Ford table with the Fusion Sport.
Unlike the Lexus F-Sport designations, which mainly consist of a lot of badging, and styling modifications, Ford has really put the extra money into real Sport (with a capitol S)  performance and handling upgrades.
These upgrades have really transformed this midsize family sedan into a stealth bomber family Sport sedan.
Ford decided to drop their 2.7-liter twin turbo V-6, that usually resides in the F-150 pick-up truck or the Edge Sport model, into the Fusion, and makes this one of the most powerful mid-size family sedans in the industry.  This twin scroll gem delivers 325 horsepower and a robust 380 ft. lbs. of torque, and does so seamlessly and effortlessly, without turbo lag or any flat spots.
Tromp down on the accelerator, and the Fusion takes off like a scalded cat!  It spins up the rev range quickly, so that passing on two-lane roads, or highway merges, are fast and easy.
And you'll leave drivers of cars with much more sporty aspirations wondering what the hell just left them in the dust from stoplights.  My unofficial stopwatch runs from zero to 60 put this in the 5.6 second range. And it still gets 17 mpg in the city and 26 mpg on the highway.
But Ford didn't stop at just boosting engine performance.  They added a heavier-duty 6-speed automatic transmission with paddle shifters to let the driver row through the gears himself if desired.  Shifts are quick, but unfortunately, the transmission will shift automatically at about 1,000 rpm before reaching the redline.  The transmission is operated with a rotary twist dial located on the center console.  There is also a Sport button in the center of that dial that brings the Fusion into a new world of performance tools.  Throttle response in enhanced, as well as the artificially improved exhaust note.  The steering effort tightens up, and Fords "continuously controlled damping" takes over.
Borrowed from their Lincoln lineup, the system detects potholes and rough pavement and adjusts to smooth out the ride, and also helps the car corner with very little body lean.  The Fusion feels planted and composed riding on 19" wheels, and much more athletic than lesser Fusion models.  Also, the Sport model only comes with computer controlled all-wheel-drive, so it is also perfect for northern climates where all that power could get you into trouble when the roads get slick.  Also impressive is that the performance suspension still allows for a smooth, comfortable boulevard ride when putting around in traffic, or out on the highway.
The brakes are good, if not remarkable.  Pedal travel is a bit long, and touchy when first applied, but we got used to that.  Steering is quick, but a bit more feedback would be welcomed.
The cabin has been updated and, on this Sport model, comes in any color you want, as long as you want charcoal gray.  But the layout is simple and stylish, and easy to get used to.  The seats are very comfortable, but not overly bolstered for a car with this much performance.  Fortunately, they are covered in both leather and suede fabric, which helps to keep the driver secure in the seat when driving aggressively.
Soft touch materials on the door armrests, door sills, and center console are excellent, and the center console is surrounded with padded leather, unlike the cheap plastic we criticized the recently tested Ford Edge for having. The cabin is quiet with no wind noise speeding down the highway.  It is very roomy, nearly bumping into full size sedan dimensions.   Three adults can enjoy the ride in the back seats with ample head and leg room, and even the center seat is not a torturous place to sit.  The Fusion also has a large 16 cubic foot trunk for family getaways.
The driver gauge screen can be tailored to show the driver the information he'd most like to see, in addition to the large round speedometer.  Accessing or changing that information is easily handled with the controls on the thick leather wrapped steering wheel.
The center stack is dominated by a large multi-function touch screen, which operates very well.  We also like that there are easy to use audio function, and HVAC controls beneath the screen so it isn't distracting to adjust those things while driving.  There are also push buttons to control the excellent heated seats, but unfortunately, they left out the button to turn on the heated steering wheel, which must be accessed through the touch screen.
There is a large cell phone bin at the base of the center stack with an illuminated USB port, and 12-v power outlet.  The two-stage center console can store a lot of incidentals, and has a small shelf for items you want to easily find.  Good glove box and door storage pockets are also part of the cabin's usefulness.
I have also warmed up greatly to Fords latest Sync 3 infotainment system.  Just as in the Edge SUV we recently drove, all voice commands for address destinations into the navigation system were completed on the first try.  Trust me, that's unusual for almost every car we ever test.
Exterior styling is handsome, with an elegant fastback shape.  The gloss black front Aston-Martin styled grill is a bit wider and sleeker this year, and Ford added more attractive LED headlights matching the LED taillights which flank a new chrome strip.  The lower front fascia is more open and the bumper has deeper air intakes.  The Sport model also get the larger 19" wheels, LED fog lights, and a subtle rear spoiler.
There is a Fusion model for everyone. Twelve separate models make up the entire line, with five engine choices, including a hybrid.   From the S model starting at $22,120 to the Energi Platinum model starting at $39,120, a shopper is sure to find one model that suits his needs.
Our Sport model starts at $33,605, and would be a nicely appointed vehicle at that price, especially considering the performance.   Our test car came equipped with $7,750 in options, including radar cruise control, lane-keep assist, the premium navigation with voice activated commands, Engine stop/go, enhanced active parking assist, rear cross traffic alert, heated steering wheel, and other luxury amenities, bringing the total to $41,300.
The Sport model is not for everyone.  The vast majority of buyers don't need all the performance this model offers, and would be very happy with one of the eleven other Fusion models.  But three cheers to Ford for offering this special hot rod version for enthusiasts.  It provides all the comforts and benefits of a family sedan, with some truly outstanding power and excellent handling of a sport sedan in one package.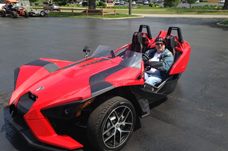 Ken "Hawkeye" Glassman has been a motor journalist for over 30 years, reviewing automobile, as well as motorcycle ride reviews and accessory reviews.
His car articles have appeared in Robb Report Magazine, Autoguide.com, Car-Revs-Daily.com and other media. His work has also appeared in Road Bike Magazine, Motorcycle Tour and Cruiser, SpeedTV.com, MotorcycleUSA.com and others.
As motorcycle columnist for The Daily Herald in suburban Chicago, the paper became the only major circulation newspaper in the country to have a separate weekly section devoted to motorcycles. Later he wrote a weekly column for Cyclefocus Magazine.