What makes this Power Wagon special?  Few in person will need concrete reasons to love it: the pre-war curves to the roof, fenders and hood all speak to the design charm of extreme utility.
The truck is an icon worldwide as one of the US Army's main troop transports and 3/4-ton haulers.
Back at home, few Power Wagons stood the test of time after less than half returned from foreign theaters of WWII. Sold off as army/navy surplus and widely adopted for farm and mining use, the Power Wagon legacy literally went to dusty rust with the introduction of salted roads and the interstate highway system.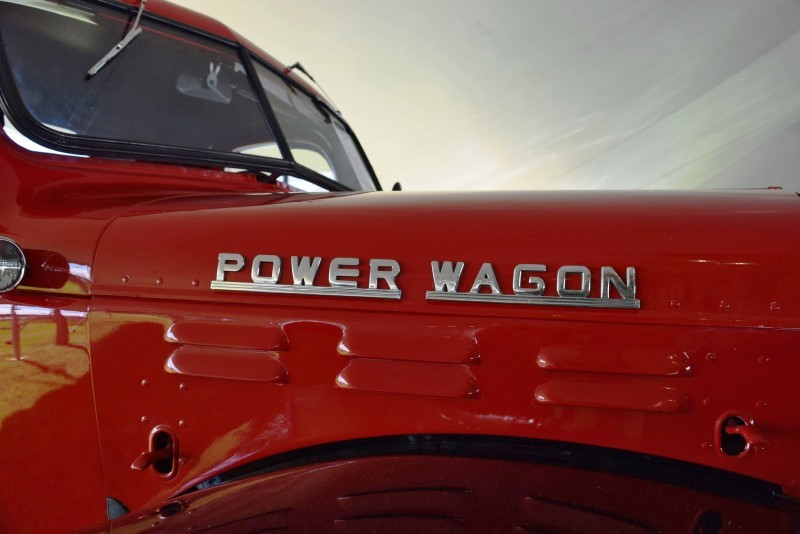 Long before galvanized steel or unibody construction helped preserve cars and trucks beyond their first decade... finding an original Power Wagon is a tough job.
This Colorado original promises just that.  Rust-free, body and frame-off restorations, original powertrain and even factory-spec off-road tires?  This is the real deal: and one for the ages.
Painted Dodge Truck Red, the Power Wagon seen here inspired the rebooted 1993 Dodge Ram pickup truck brand -- and still helps RAM sell more than a half-million units every year.
1961 Dodge POWER WAGON WM300 Pickup
https://www.mecum.com/lot-detail/FL0116-232299/0/1961-Dodge-Power-Wagon-Pickup/4-Speed/auctions.cfm?auctionID=FL0116
1961 DODGE POWER WAGON WM300 PICKUP
251 CI, 4-SPEED
Engine
251 CI
Trans
4-Speed
Color
Red
Interior
Black
HIGHLIGHTS
- Rust free
- One ton flat fender Power Wagon is the civilian version of the WWII 3/4 ton wartime carryalls
- Frame-off ground up restoration
- All systems rebuilt or refurbished to factory specifications
- Finished in Dodge Truck Red and Black
- Budd Black and Silver split rim wheels
- Five new factory correct 9.00X16 NDT tires
- Original two-piece Budd lug nut wrench
- 251/125 HP flathead 6-cylinder engine
- Synchromesh 4-speed transmission
- New laminated glass
- New factory correct Black fiberboard panels
- Functional dome light
- Correct data plates and restored gauges
- Original coil spring seat recovered in period correct big grain Black vinyl
- Braden 10,000 lb capacity power take-off winch with clutch fork assembly
- 8ft bed finished with custom cut Red oak and stainless strips
- 1961 correct unlettered tailgate
- Rust free frame painted with POR-15
- New 12 volt harness, fuel and brake lines
- Warn manual lock out front hubs, front tow hooks and passenger side arm rest
- Collection of 1961 original and reproduction brochures and manuals