The Volkswagen e-Golf, e-Up! and Up Lite will join the Detroit auto show festivities, with the Golf BEV debuting its all-new battery and powertrains in 2015 production form.
Featured in the cover image is the Frankfurt e-Co-Motion van concept.
The newest is the Up! Lite, which appears to bring some of the cool tech and style of the XL1 exotic prototype. I called it the e-Up! Lite before by mistake, the up!Lite appears to be a PHEV of some kind.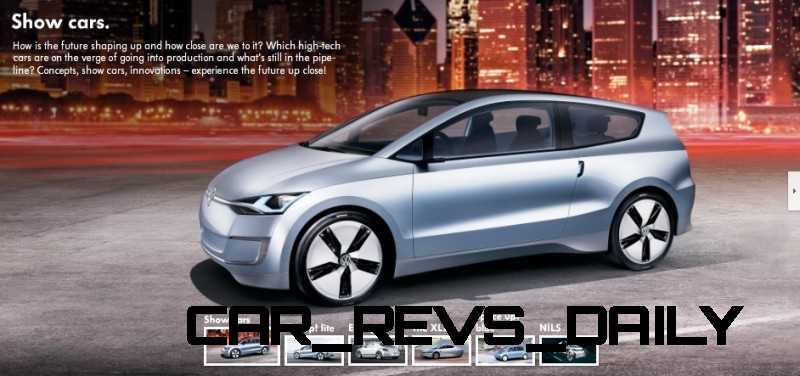 The 2015 VW e-Golf is a fully electric vehicle, evolving and refining some of the components previewed under the Blue-e-motion concept name. Lucky for everyone, e-Golf rolls off the tongue much more easily.

VW's aim for the e-Golf is not actually part of the company's world domination plan – at least in the short term.

The e-Golf will follow the e-Up supermini as the first limited-production EVs offered for sale to the public. If imported to America, the e-Golf will be destined for proven west-coast EV markets like California, Oregon and Washington.
VW has been running around with super efficient Golf concepts since at least 2007 under a variety of names. The overall campaign is called 'Think Blue' and the range of models varies from a tall-gear and aero optimized Golf BlueMotion concepts all the way to this pure EV version.
In Europe, a variety of 'BlueMotion Technology' and other badges denote high efficiency on standard VW's like the Passat and Polo.
This BEV is already well on the way to production and may even join the standard MkVII Golf when it arrives in the U.S. in early 2014. The battery EV market is quite disjointed at the moment, with record sales of the Tesla Model S on the high end, but faltering momentum for the pioneering Nissan Leaf.
Delaying the launch to coincide with the latest MkVII Golf both allowed technology refinements, reliability testing and also a sleeker aero and electronic package to lighten battery loads. After all, hundreds of normal car noise, clunks and vibrations are perceptible without the background hum of an engine. Nissan even had to create special wiper motors for the Leaf – as even the quietest Infiniti wipers still caused too much cabin disturbance. This level of minute tweaks to a production model is why almost no automakers have BEV versions of normal cars. But this is no ordinary Golf under the skin.
Volkswagen e-co-motion concept van
2015 Volkswagen e-Up!
2015 Volkswagen e-Golf