Since seeing the new Chevy Malibu way back in February at the Chicago Auto Show, I was anxious to test drive.  I thought it looked outstanding, and the leather interior was both handsome and inviting.  So I was delighted to see the Silver Ice Metallic Malibu dropped off in my driveway for a week.
I was disappointed that the model I got was the LT, rather than the top line 2LT or Premier trim levels.  The LT comes with a 1.5 liter turbocharged engine rather than the 2.0 liter turbo.  Heck, I've owned motorcycles with larger displacement engines.  In fact almost all the Harley-Davidson motorcycles you see on the road, have larger displacement engines.  And while the motorcycles don't make nearly the same 160 horsepower and 184 ft. lbs. of torque, I figured the little 1.5 would be a dog to drive. I was hoping for the 2.0 liter turbo that makes an impressive 250 hp and 258 ft. lbs. of torque, but that engine is only available on the two top trim levels.
But after just a few miles, I was shocked at how quick and peppy the 1.5 performed.  Off the line acceleration was more than enough to scoot away from stop lights ahead of the car next to me, and 2-lane passing was easy, as was merging onto the highway.  It felt powerful and well mated to its 6-speed transmission.  But the biggest benefit to this little powerplant was the gas mileage.  Rated on the window sticker at 27 City and 37 Highway, the mileage for a car of this size is remarkable.  I found the 27 City number to be quite accurate, but it was the highway mileage that amazed me.  On my 120 mile trip I take with every test car, consisting of 30 highway miles and 30 lonely rural 2-lane roads each way, the Malibu got 42 MPG on the way to my destination.  And that is traveling at 70 to 75 miles per hour on the highway, and 60 on the 2-lane road.  I thought the trip computer must be off.  So I reset it for the ride back, and on that trip I got 43 MPG.  I know that the Malibu shed over 300 lbs. with this new remake, weighing a svelte 3126 lbs., but I never imagined getting those kind of numbers, and still having a car with fun performance.  The larger 2.0 turbo, with an 8-speed automatic gets 22 City and 33 Highway.  No V-6 engines are available, and we doubt that they are needed.
Another surprising trait about the little 1.5 turbo was how incredibly smooth and quiet the engine is.  Several times throughout the week, I pushed the start button, only to realize that the car was already running.  And not while it was in Stop/Start mode.  Even when under hard acceleration, the sound level was quiet and it always felt smooth.  That's due to Chevy's active noise cancellation, and it works great.
While the Malibu retains the smooth comfortable ride from last year's model, improvements have been made in the handling and cornering departments.  The steering is well sorted, as are the brakes, and now the Malibu will corner with more poise, and even a bit of athleticism.  A driver can feel confident tossing the car into a corner, with modest lean, and feel it track fairly well through each curve.  The suspension can handle a bit more than the Goodyear Assurance tires can offer, but most drivers don't buy this car for aggressive driving.  Still, it's fun to drive.
The cabin also impressed me.  It was very quiet on the road with no wind noise, and even the clamor of urban Chicago was muted with the windows closed, similar to expensive luxury cars costing tens of thousands more.  The interior was impressive, with a clean look and it feels much roomier than the previous model, despite the fact that the car is only marginally larger.  Head and leg room are excellent in both the front and rear.
The cloth seats are very comfortable and the seat fabric is stylish and feels luxurious.  In fact it's so nice that Chevrolet decided to pad the lower dash with it.  I've never seen another car with fabric on the dashboard, and it looks a feels great.  Soft leatherette on the console and door armrests means comfort for the front passenger and driver.  Everything on the dash is nicely laid out with simple controls through a large 7" touch screen on the center stack, and another very large info screen between the speedo and tach.
Chevrolet has heaped on the connectivity components that has become so popular these days, with 4G LTE to enable an in-car wireless hub, and the excellent MyLink infotainment system with Apple CarPlay, or Android Auto to get the most out of ones smartphones. Rear passengers get an assortment of plug-ins with a household electrical socket, USB, and 12-volt sockets.
When it comes to styling, this Malibu hit a home run for me.  The lines are sleek and understated and the more you look at it, the better it looks.  The profile shows a longer front hood and shorter rear deck.  Beautiful character lines from the upper front fender sweep across the upper front door down to the rear wheel well, while another line sweeps up along the front door rocker panel nearly meeting at the rear wheel opening. Another crease line moves from the rear door and wraps around to the upswept rear spoiler lip, making the tail section look very much like an Audi.  Overall the styling makes the Malibu appear like a much more expensive luxury car.
There is also a long list of standard features on the LT trim level including 17" aluminum wheels, halogen headlights, automatic headlight control, LED daytime running lamps, EZ key passive entry with push button start, heated outside mirrors, 8-way power driver's seat, tilt and telescope steering wheel with audio, cruise, and Bluetooth controls, compass display, and all the connectivity mentioned before.  All of that for a sticker price of $25,020.
The test car added the Driver Confidence Package for $1,195 with Auto Hi-Beam Control, Front and rear Park Assist, Sensor indicating Following Distance, Forward Collision Alert, Rear Cross Traffic Alert, Front Automatic Braking, Blind Side and Lane Change Alert, and Pedestrian Detection.
And the Convenience & Technology Package adds Remote Vehicle Start, and Inside Rearview Dimming Mirror, 8" touch screen, Wireless Device Charging, Leather Wrapped Steering Wheel & Shift Knob, Enhanced Multicolor Driver instrument screen, and USB charging-only ports, for $895.  The bottom line came to $27,985.
This new Malibu should be a game changer for Chevrolet.  It is at the top of mid-size 4-door sedans like the Honda Accord, Toyota Camry, Nissan Altima, and even the Audi A3 series.  It combines smooth, quiet, comfortable ride qualities and roomy interior space, with outstanding gas mileage, in an attractive elegant understated wrapper.  And if one desires more dramatic performance, and even more upscale interiors, there is a trim level available for that, too.  And buyers will find that when pricing this car with similar trim levels to those other brands, the Malibu will cost several thousand dollars less.  That is a hard combination to beat.
2016 Chevrolet Malibu LT
By Ken "Hawkeye" Glassman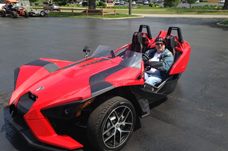 Ken "Hawkeye" Glassman has been a motor journalist for over 30 years, reviewing automobile, as well as motorcycle ride reviews and accessory reviews.
His car articles have appeared in Robb Report Magazine, Autoguide.com, Car-Revs-Daily.com and other media. His work has also appeared in Road Bike Magazine, Motorcycle Tour and Cruiser, SpeedTV.com, MotorcycleUSA.com and others.
As motorcycle columnist for The Daily Herald in suburban Chicago, the paper became the only major circulation newspaper in the country to have a separate weekly section devoted to motorcycles. Later he wrote a weekly column for Cyclefocus Magazine.