Car manufacturers apparently do not use the same calendar as the rest of the world.
I know this because I found myself in Asheville, North Carolina last month — before the end of the first quarter of 2017 — road testing the new 2018 Chevrolet Equinox.
I'm not sure why they time-shift like this, but I guess the folks at Chevy thought this new groundup re-make was so good, they just couldn't wait to get it into customer's garages.  And after spending the day with the new Equinox, I can say that they'll have a lot of happy customers.
In 2016, compact crossover vehicles out-sold mid-size sedans to become the biggest segment of the auto industry, a trend that won't slow down any time soon. The features and flexibility that small SUV's provide versus a sedan numerous. And every major manufacturer has their own offering in that space, so competition is fierce.  The Nissan Rogue is the current sales leader in the category, but strong sales from Honda, Ford, Toyota, and Chevrolet means the competition for that title can change quickly.  And the new Equinox will certainly be a game changer and add to the fight for market dominance.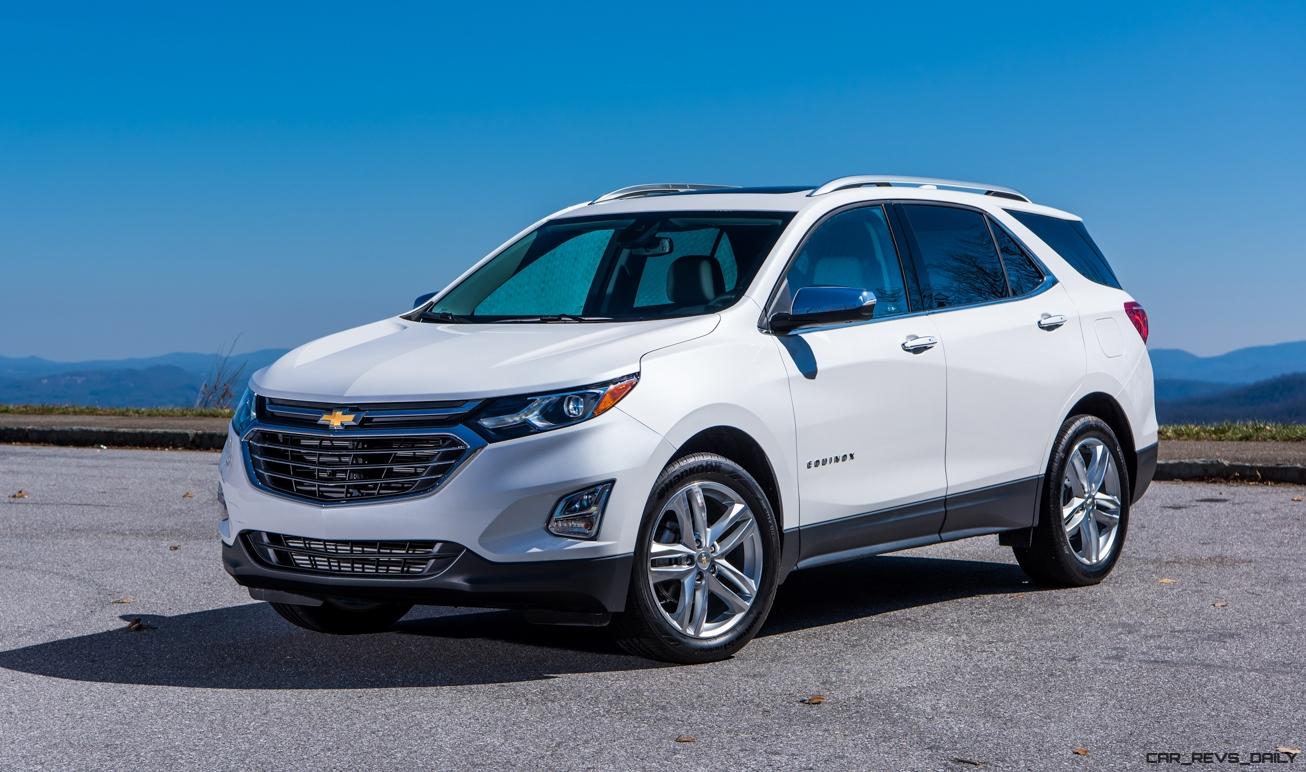 The Equinox first appeared in 2005, and was a strong seller right away.  By 2016, Equinox became Chevy's second best-selling vehicle, at just over 242,000 units sold, just behind the Chevrolet Silverado pick-up truck.  Now GM has upped the ante with the newest vehicle, by improving it in almost every single way.
First Chevy sent the Equinox to Weight Watchers, and trimmed the overall weight by an incredible 400lbs.  They did this by shortening the wheelbase by 5.2" and the overall length by 4.7", among other technological advances.   OK, so making a car smaller will naturally save weight, right? But the story here is that the interior dimensions remain virtually the same as the previous generation!  There is still plenty of leg and headroom for front seat and rear seat passengers, and with the rear seats folded flat, you still get more than 63 cubic feet of cargo room.   Kudos to the engineering department for pulling that off.
The Equinox is powered by a 1.5 liter, turbo-charged 4-cylinder engine that makes 170 horsepower, and 203 ft. lbs. of torque which comes on at a low 2,000 rpm, where is can be used properly.  While the engine is quite peppy and free revving, it's not a burner. But at no time driving on some incredibly challenging mountain roads traveling from Greenville, SC to Asheville, NC did I feel that the car was underpowered.  And the gas mileage rating for the front-wheel-drive model (all-wheel-drive is available) is an excellent 26 City and 32 Highway. With a 15 gallon fuel tank, highway cruising range is around 450 miles.
What surprised me most was how well Equinox handled on those tight and twisting roads.  It felt nimble and solid with minimal body lean in the tightest of corners, and the steering was quick and offered good road feedback.  The Equinox easily handled better than my own Nissan Rogue, and felt more composed than the Honda CRV and Toyota Rav 4.  Quick side-to- side transitions felt easy and athletic.  Ride quality was comfortable on smooth stretches of asphalt, and it soaked up the bumps on broken pavement with complete composure.
Wind noise was not a factor, because the Equinox spent a lot of time in the wind tunnel, achieving class leading aerodynamics, which helps with noise, and fuel efficiency. New electronically controlled upper and lower grille shutters also account for the greater aero performance and mileage. They close in certain conditions on the highway, when engine cooling needs are reduced, pushing more air around the vehicle to reduce drag.
The 1.5 engine was a bit noisy under hard acceleration . . . again however, not as much as my Rogue.  Another pleasant surprise were the brakes.  Nice firm, confidence inspiring pedal, with good feel, and no fade after heavy use going up the mountain roads, or down.  The Equinox was as enjoyable to drive aggressively as anything in its class, including offerings from the European manufacturers.
The cabin is a comfortable place to spend hours in.  The interior takes advantage of the Equinox's all-new architecture to offer a down-and-away instrument panel, while a low windshield base provides a commanding outward view, which is a major reason people would rather have an SUV than a sedan.   The supple leather heated and cooled front seats are wide and all-day comfortable.  In the Premier trim edition the rear seats are also heated, and two adults will feel quite happy with the head and leg room.  Middle seat is best for youngsters.
New elements such as available denim-style seat fabric in the lower trim levels, blend high style with high-durability, while a new "kneeling" rear seat enhances functionality. With it, the bottom cushions tilt forward when the split-folding seatbacks are lowered, allowing a flat floor for easier loading. And there are convenient spring loaded rear seat latches in the cargo area to fold the seatbacks down.  Also a large storage area beneath the cargo floor, can hold a lot of items that one may want out of the sight of prying eyes.
The interior is very stylish, and upscale looking, especially with the two-tone charcoal leather trim with dove grey inserts in the white car I spent most of my time driving.  Soft touch materials are where they belong, and there isn't much inexpensive looking plastic.  There is a fair amount of brightwork to set off the dash and door panels, but it isn't garish.  The sticker price of my Premier Edition test car, came to $33,620, and it was very well equipped.   A few more options, like the panoramic moon roof and another Convenience Package can run that number to tickle $40,000.  But I've been in many compact SUV's with similar price tags, notably the Ford Escape, where the interior looked and felt more like a $28,000 vehicle that was just optioned out to reach that 40-grand number.  With the Equinox, the interior quality matched its price tag.
The exterior styling is another strong point for the Equinox.  Most SUV's have the same basic shape, because form follows function.  Make the roofline too slanted, and the car gets demerits for limited passenger headroom.  Pull the doors higher up and show less glass, gives the illusion of a sleeker design, but a more claustrophobic feel on the inside. So while the Equinox shape is familiar, there is a lot to look at the more you study the lines.
The front end is bold and stylish with a pleasantly faceted grill, surrounded with brightwork, and a subtle lower fascia flanked by angular fog lights.  The hood featues unique styling lines at the outer edges. But the styling cues that really caught my eye was the treatment of the sides of the car.  There is a crease line running from the top of the front wheel well, and flows across the front door, before it gracefully sweeps back to the rear wheel well.  Another line flows across the beltline of the rear door to the wrap around tail lamps.  And a third character line just above the rocker panels, between the wheels, accents the lower part of the car.
Photos don't capture everything your eyes will by viewing it in person, but it's quite striking.  And the rear overhang spoiler gives the profile a sporty look.
Standard features on the Premier model include keyless entry and start, Start/Stop technology, and remote start. There is also a rear camera with cross traffic alert, rear park assist, blind side alert, 18" aluminum wheels, LED headlights and tail lights, and a great hands-free power liftgate.  The Volvo V60 Cross Country I drove last week didn't even have a power liftgate, and it had a $50,000 price tag.  On the inside, standard features include the leather seat trim, 8-way power seats with lumbar support, the heated front seats, dual zone climate control, 6-speaker audio,  and more.
Connectivity is important, and the standard Equinox features the MyLink audio system with 8" color touch screen, Bluetooth streaming, Apple and Android connections, Onstar, 4-G wi-fi hotspot, and XM radio.  While there was no in-car navigation, we used my driving partner's iPhone to get directions to a point of interest with the map displayed on the screen, and also had Onstar download driving directions to the car to find another destination.  With most people owning smart phones, you will see fewer vehicles with their own in-car navigation in the future.  It saves money that can be used to install that feature, which can be spent on other features as standard.
The test car added the $1,895 Confidence and Convenience II package.  That gets you the cooled ventilated front seats, (which came in handy since the temps were in the 80's the day we drove) the heated rear seats, a heated steering wheel, low speed auto braking, forward collision alert, lane-keep assist with lane departure warning and a haptic seat, following distance indicator, surround vision camera, and automatic high beam control.  That brought the final number including freight to $33,620.  Add another $3,600 for All-Wheel-Drive.  Chevy was looking to provide a lot of value in this new Equinox, and they've done a great job of it.
You can get into an Equinox at a base L trim for only $24,475.  The LS model starts at $26,405.  The LT trim begins at $27,645, culminating in the Premier model.  So there is a trim level for a wide range of budgets.
As I write this, the 1.5 liter turbo is the only engine available. However, coming this summer, Chevy will offer a 2.0 liter turbo that will make 252 horsepower and 260 ft. lbs. of torque, and still be fuel efficient, and have a 3500lb towing capacity. That should make this svelte 3,375 lb. Equinox a screamer.    In the fall they will add a torquey 1.6 liter turbo diesel engine that promises 40mpg on the highway, and the only diesel engine in the class.
So if you're shopping for a compact SUV, you better plan to stop by a Chevy dealership and check out the new Equinox.  It just might become the newest addition to your garage.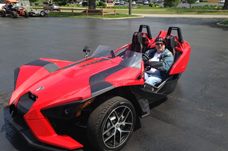 Ken "Hawkeye" Glassman has been a motor journalist for over 30 years, reviewing automobile, as well as motorcycle ride reviews and accessory reviews.
His car articles have appeared in Robb Report Magazine, Autoguide.com, Car-Revs-Daily.com and other media. His work has also appeared in Road Bike Magazine, Motorcycle Tour and Cruiser, SpeedTV.com, MotorcycleUSA.com and others.
As motorcycle columnist for The Daily Herald in suburban Chicago, the paper became the only major circulation newspaper in the country to have a separate weekly section devoted to motorcycles. Later he wrote a weekly column for Cyclefocus Magazine.