2016 Toyota Avalon Touring Review
By Ken "Hawkeye" Glassman
We recently tested a 2015 Toyota Avalon, the first Avalon we had tested in quite a few years.  And the full size car impressed us with its roominess, performance, and its luxury look and feel. But before I had a chance to write the review, the 2016 model became available, so I decided to wait a little bit, and write about that one, to also report on the subtle changes for the 2016 model year.
This year, the Avalon's grill gets a bit larger, and sports a little downturn at the lower corners.  Slimmer running lights and turn signals make the front end a little sleeker looking.  And the rear end gets LED taillights to add more brightness to the brake lights.
For 2016 there are five Avalon trim levels . . . three XLE trims, a Limited, and a Touring model, which is the one we're testing.  The suspensions have been retuned on all the models, but the Touring model gets a unique and more sporting set up than the comfort oriented set-up for the others.
The Avalon is powered by Toyota's reliable and familiar 3.5-liter V-6, which boasts 268 horsepower and 248 pound-feet of torque.  That is the same engine found in the Lexus cousin the ES 350.  In fact there are a lot of similarities between the ES and the Avalon.  The 6-speed automatic, with paddle shifters is a smooth unit, although the shifts are not quite as fast as those found on European brands.  There are buttons for Eco, Normal and Sport settings.  We mostly used the Sport setting and found the car to be very responsive, and it felt quick getting away from stop lights.  Toyota says Zero to 60 in 6.7 seconds, and we believe it.  It also has enough torque to pull out in traffic on a two lane road, and easily make a pass.  There is more than enough power to be very entertaining to drive, and yet the City MPG of 21, and Highway MPG is 31 is still very respectable.
The Avalon handles better than expected, considering its size.  It drives like a smaller car with an athletic feel to it, especially in the Sport mode, where the steering feels a bit firmer, and everything seems a bit tighter.  The car doesn't lean over in turns as much as one would expect, and that flat cornering gives the driver the incentive to push the Avalon around in tighter corners with confidence. The Avalon has borrowed some of the suspension components from Lexus, such as rebound springs within the shocks, and fitted larger stabilizer bars, all in an effort to improve control and responsiveness. We found it a much more entertaining driving experience that the Lexus ES350, with no sacrifice in luxury ride quality when you change the Sport mode back to Normal or Eco.  Perhaps some of that feeling is a result of the special tuning the Touring model gets. I'll be interested in driving a different Avalon model to see how much difference there is. Also, the brakes feel strong, yet the pedal feel is a bit vague.
The cabin hasn't changed last year to this year, and that is a relief.  I think the Avalon's interior, and especially the dash and console design, is one of the most striking and unusual ones in the business – at least in the under $60,000 price arena.   And since style has seldom been the strong points of either Toyota or Lexus, it came as a major surprise that we were so enamored with the look on this Avalon interior.
The fit, finish, and materials all have a premium quality look and feel.  It is hard to describe the dash, but to say that it is a multi-plane, stacked affair is a start.  Our test car interior was beige with chocolate brown and black accent trim. The top of the dash is black, and it is the layer that is farthest away from the driver.  In front of that is a beige panel that cuts under the black in front of the driver and continues along to the passenger side.  The gauge binnacle in front of the driver and the top of the center stack float in front of the other two layers, and there is wood trim on the lower dash, which sits on a different plane than the rest.   It's almost like a diorama effect, with lots of depth and layers.  My words aren't' doing it justice, so study the photos to get a better idea.  Suffice it to say, the dash, console, and door panels are striking, and the light color of the comfortable heated leather seats combined with the moonroof, gives the already spacious cabin an even larger and more airy feel.
There is plenty of headroom for both front and rear seat passengers, despite the sleek and sloping roofline of the Avalon.  The legroom for rear seat passengers is excellent, and even the middle seat passenger will find it more comfortable than the middle seat of an airplane. ..The 7" Entune infotainment touch screen in the center stack is easy to operate (much easier than that awful mouse pad in the Lexus ES350).  Beneath that are the easy to use dual-climate HVAC controls.  Beneath that is a very clever cubbie that is large enough for all cell phones and music devices, and contains the 12-volt power outlet, an Aux input, USB port. It also has a sliding leather trimmed door that closes, but  leaves openings for the charging wires.  That allows one to place their devices on the non-slip surface, so you can easily pick up your phone or other device when you need to get at them.
The trunk is large, 16 cubic feet large, and has a wide opening and a flat floor. But unfortunately only has a center pass through for skis, rather than folding rear seats.
Our test car was a base Touring model, with no options, which is unusual.  Usually Press cars are loaded with all options to better impress the journalists writing about it.  But we found that refreshing, and despite no option packages, the Avalon is still nicely appointed with many luxury standard features.  The car has a back-up camera with cross traffic alert, blind spot monitoring, (but no lane-departure) dual zone climate control, the Entune app suite and an excellent premium stereo with 9 speakers, thick leather wrapped steering wheel (I missed a heated steering wheel, however) voice command controls, 8-way power driver's seat, heated seats, Smart Key with push-button start, auto-dimming rearview mirror, and a host of other standard comforts and many safety features.
The Touring model started at 37,050 and after freight, came to a bottom line of $37,855.  That number is very close to a similarly equipped Lexus ES350.  And to be quite honest, if the two cars were sitting next to each other in a parking lot, I would choose the Toyota as the more luxurious car based on styling, both inside and out. And after driving it, I prefer the Avalon as well.  You get all the luxury ride qualities, but the Avalon Touring is much more enjoyable to drive when you feel frisky.
So if you are searching for a full size automobile that is enjoyable to drive, has a lot of standard luxury amenities, and can accommodate 5 people in comfort, and carry a large load of luggage, the Avalon is a great choice.  Other cars to consider would be a Chevrolet Impala, and a Kia Optima Turbo.  This is a competitive segment, so personal choices and preferences will make a decision difficult.
2016 Toyota Avalon Touring Review
By Ken "Hawkeye" Glassman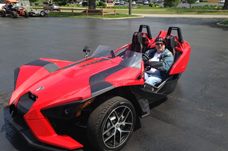 Ken "Hawkeye" Glassman has been a motor journalist for over 30 years, reviewing automobile, as well as motorcycle ride reviews and accessory reviews.
His car articles have appeared in Robb Report Magazine, Autoguide.com, Car-Revs-Daily.com and other media. His work has also appeared in Road Bike Magazine, Motorcycle Tour and Cruiser, SpeedTV.com, MotorcycleUSA.com and others.
As motorcycle columnist for The Daily Herald in suburban Chicago, the paper became the only major circulation newspaper in the country to have a separate weekly section devoted to motorcycles. Later he wrote a weekly column for Cyclefocus Magazine.