INTRO: ICELAND IN JANUARY
The new Land Rover Discovery Sport just enjoyed its big coming-out party over the weekend in Iceland, with many auto writers enjoying a 1000-mile adventure trying out the new baby Landie across heaps and dales and ice bales.
But from our impression back at home, the vast majority of the travel time was not by car, but by plane.
Iceland is farrrrr from everywhere in the United States. Far. (Sidebar, would we have gone if invited? YES!)
And a general rule of thumb? The more exotic the launch location of a hum-drum car, the worse the vehicle actually is.
Is that the case with the new Discovery Sport?
We cannot say. Our invite must have been lost in the Royal Mail. =]
The second rule of thumb? An exotic launch locale for a car generally ensures the initial reviews will be overwhelmingly positive. It is not exactly pay-to-play, but just by meeting all the teams behind the car, seeing their effort and hearing the strategies, etc….. just tends to result in a good review.
The 2016 Land Rover Discover Sport photographed here did not enjoy this warm brand campfire in Iceland. We found this all-new machine sitting quietly at the Houston Auto Show media preview, and started snapping away.
DESIGN ANALYSIS EXTERIOR
The Discovery Sport looks really good. It is exceptionally curvy for any Land Rover, but strikes a good note with a boxy frame actually lightened and made more youthful thanks to the ultra-modern curves.
We enjoy the gloss-black detailing of the grille, badging, headlight and taillight surrounds, side strakes and roof. It all comes together to give the Discover Sport a unique and chic profile that its overall dimensions can't achieve alone. This is no Evoque. As a Discovery, this is the 'practical' side of the Land Rover/Range Rover yin and yang.
The bulging grille is black and chic, but again seems to be overflowing with engine like the Freelander. It juts outward in a weird yet unique way.
But the stars of the show up front are the lights. These boxed circle LED highlights really feel cool and fresh, with painted bumpers and big wheels helping the stance of this loaded HSE Luxury trim. Overall, there is a strong sense of newness and Discovery branding.
In back, the branding is loud and proud. Nice deep tints for the glass are sexy with the blacked-out A, B and D pillars, and match the black DISCOVERY script that is simply gigantic. Huge letters. No missing this name here. A tiny SPORT down below, like the RR vs RRS.
The light element for the brakes mirrors the multi-segment circular forms shown in front, but chopped at the top. It looks good, if alittle too orange. The brake lights are orange, and not red. It is odd, but may be a pre-production quirk.
Overall exterior letter grade for $46,000 HSE Luxury trim: B+
FIRST IMPRESSIONS: INTERIOR
Okay, there are two sides of this equation. We are trying to be diplomatic and factual. On the plus side of the account is the packaging.
Large doors and a third row of (optional) seats make this a seven-seater. There is even good luggage space with the third row up. The seats all fold down easily at the touch of a button, and leave a great overall cargo area. Big glass inside makes things airy in the second row.
So, functionally, it seems fine. A rotary-knob shifter controls the nine-speed automatic and standard 240-horsepower turbocharged engine.
But this is where the negative demerits start flowing like Icelandic lava. The quality and sense of luxury inside is totally absent. It looks like a base Ford Fiesta in many, many ways. Seats, all plastics, all controls. All Ford. All crappy.
New Fords are vastly improved from this circa-2008 Ford componentry. It feels like cheap garbage at every touch point of the Discovery Sport cabin. The Nissan Rogue with a base price of $22,000 has softer plastics and more second-row legroom.
Overall interior letter grade for $46,000 HSE Luxury trim: C-
SUMMARY
So, where does that leave the new Discovery Sport?
In pretty good shape. An overall B grade is a solid indication of the car's big sales potential. Our one piece of advice for Land Rover would be to price it conservatively. A base of $37,000 is rumored. But this thing is cheap and nasty even in the HSE Luxury interior, so anything past $50k will be a total joke.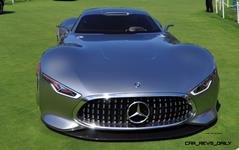 Tom Burkart is the founder and managing editor of Car-Revs-Daily.com, an innovative and rapidly-expanding automotive news magazine.
He holds a Journalism JBA degree from the University of Wisconsin – Madison. Tom currently resides in Charleston, South Carolina with his two amazing dogs, Drake and Tank.
Mr. Burkart is available for all questions and concerns by email Tom(at)car-revs-daily.com.