Lamborghini's going sideways at full throttle!?
Ahhh!  Run for your lives!
Cue the screams and tire shrieks?
Yes, but this time in that mid-drift orgasm.  Not some AWD beast off its leash.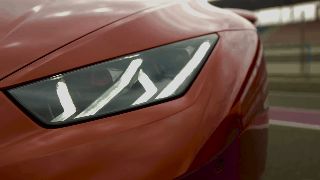 The LP580-2 is the first rear-drive Lamborghini since the Gallardo Balboni, and is re-engineered to be extra playful.  Frisky, sideways and thrilled about it…
Despite standard AWD across the range, Lambo is not out of practise on rear-drive models.  The GT3 cars are all rear-drive and guided the new front suspension development.  We personally like the looks of the 580's nose a bit better than the Huracan LP610-4.
Just and handful of photos from a recent Lambo outing to Losail circuit in DOha, Qatar.  But the video-rendered action GIFs are worth the airfare!
Something to see…. a blissful, calm and controlled drift.  On command!!
Slow-Motion ActionGIFs of 2017 Lambo LP580-2

PREVIOUS
Check out the new hotness from Lambo for the LA show this week!  A rear-drive Lambo is always exciting, and this one is one of the friskiest yet: The Huracan 580.
Sprint pace is 3.4-seconds to 100-kph, which is only a tenth or so behind the standard AWD model, despite lacking all that grip from the front axle. Vmax is 320-kph and the overall package is down about 70 pounds versus the LP610-4.
580HP from the dry-sumped V10 engine in back have custom-tailored drive modes, redone for 2016 as well as for this rear-drive Huracan specifically.
Outside, the LP580-2 wears a crisp new nose and tail look. The nose has more integrated, contrast-grey intakes with air vanes leading into a main nose point. The whole hood feels pointier and sharper than the 610, with an extra crisp bit of hood flick creasing new to the shape.
Out back, more ventwork matches the latest hypercar vogue. Just the four photos so far, but watch this space for more info later in the week — including pricing and arrival timeframes. We'd guess on a March debut with pricing about $15k less than the Huracan LP610-4.
 2017 Lamborghini Huracan LP580-2 #Huracan580 – Rendered Colors Visualizer