2014 MINI Paceman Cooper S Options
The MINI Paceman might seem a little unnecessary, but it is a unique choice that is a must-have fashion statement for some.
For my personal preference of rear-drive, or rear-drive-based AWD cars, the BMW X1 would be my pick over the Paceman any day of the week. But the appeal of the Paceman is pretty real for its extra ride height over the very low-slung MINI hardtop.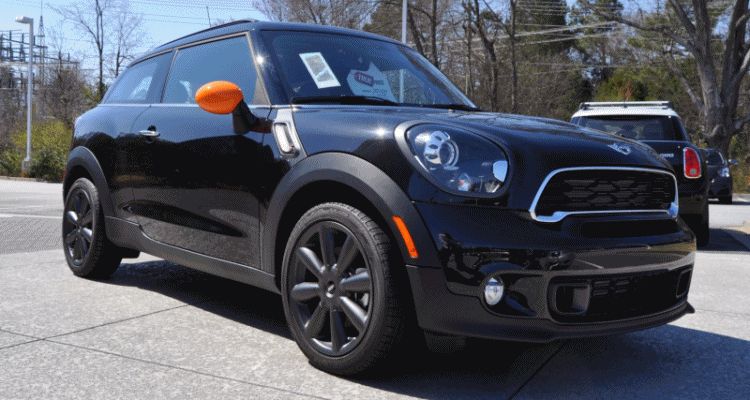 The style and image is what sets the BMW and MINI apart for most buyers. But both share one critical issue to be wary of: the ability to be priced well beyond reason if you are not careful. Evidence? My X1 sDrive28i loaner from last Fall was the base engine and base rear-drive configuration -- but with m Sport trim and oodles of options, the sticker read $46,000. That is quite a bit for such a small machine.
So, restraint is the most critical consideration when ordering or speccing out one of these Premium Compact Exec Crossovers.
P.C.E.C?  Catchy! Just kidding.
Pricing seems reasonable for the $24,000 base price of the Paceman, but things do indeed climb rapidly. In second-from-bottom Cooper S FWD spec, with a manual transmission, my build includes nearly everything I would select in real life.
Why not the John Cooper Works Paceman? The extra 30-horsepower would certainly be a nice feature, as would the ALL4 AWD that is available on my Cooper S power level of 181 horsepower. As would an automatic transmission, for that matter.

Overall, the most critical options for style outside on the Cooper S are:
Dark xenon headlights

Dark wheels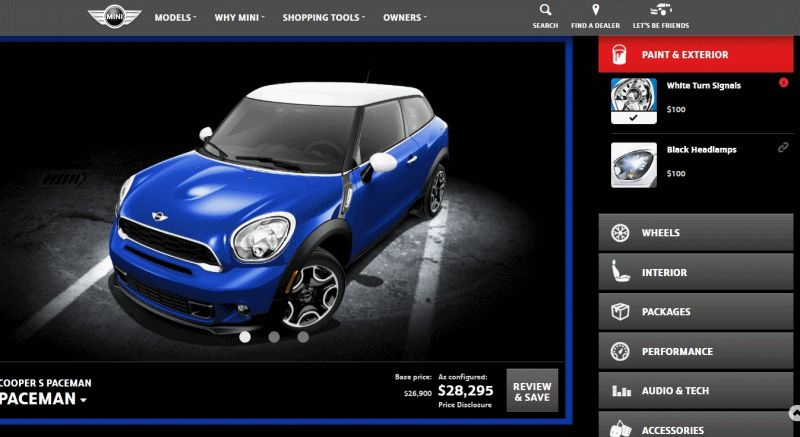 Inside, the best choice is for the Tech package including MINI Connected Nav and the Harmon/Kardon speakers upgrade.

These builder images are in chronological order, with the option prices down beyond the screenshots.
Roof & Mirrors

White Roof/Mirrors

$0

Exterior Details

White Turn Signals

$100

Spoiler

$0

Black Headlamps

$100

Bike Rack Prep

$0

Stealth Mode

$0

Seats & Upholstery

Sport Seats

$0

Center Armrest

$250

Leatherette: Carbon Blk

$0

Standard Floor Mats

$0

Rear Bucket Seats

$0

Dash, Door & Trim

Leather Sport Steering Wheel w/Multifunction

$0

Piano Black Dash Surface

$0

Door Panel Carbon Black

$0

Carbon Black Color Line

$0

Piano Black Cockpit Surface

$250

Packages

Premium Package

$1250

Sport Package

$1000

Technology Package

$1500

Engine & Transmission

6-Speed Getrag Manual

$0

Safety & Handling

Dynamic Traction Control

$0

Dynamic Stability Control

$0

Sport Button

$0
Visibility

Front Fog Lamps

$0

Xenon Headlights

$500

Rain Sensor & Auto Lights

$250

Heated Mirrors/Washers

$0

Adaptive Light Control

$100

Audio & Alarms

6-spkr AM/FM CD Player

$0

Harman/Kardon Sound Syst.

$750

SiriusXM Satellite Radio

$250

HD Radio

$0

Technology

On-Board Computer

$0

MINI Connected with Nav Package

$1500

Climate

Automatic Climate Control

$500

Dual Pane Sunroof

$1000

Exterior

Driving Lamps in Black

$675

John Cooper Works Design Package

$257

Body Colors

Starlight Blue Body Color

$500

Wheels

18" Turbo Fan Spoke Anth

$750