In a world where pickup trucks, SUVs, and crossovers have become the dominant players in the quest for supremacy, it is easy to forget that the sub-compact segment is still a vital battlefield for automakers.
lWhile the subcompact range has undergone some shrinkage recently, there are still a diverse cast of entries vying for buyer attention. One of these is the 2018 Kia Rio, which aims to bring some youthful vibes and sensible frugality into Kia's rapidly changing lineup of cars.
But can the Rio take advantage of the impending departure of the benchmark Ford Fiesta, and steal some extra sales? Or is it a classic case of too little too late?
The 2018 Kia Rio is offered as a hatchback or a sedan, but Kia claims that it expects 70 percent of U.S. buyers to opt for the sedan version, versus its decidedly more attractive hatchback sibling. The Rio was the best selling sub-compact on the market in 2017, and the 2018 version received minimal changes to help it stay fresh.
The basic formula for its exterior design is derived from the bigger Optima sedan, and our "Fiery Red" hued EX tester certainly looked ready to play, thanks to its bold front end styling, as well as its equally aggressive rear fascia.
The look is certain to draw some stares, but the Rio is decidedly more exciting to look at than rivals such as the Mazda 2, Chevrolet Sonic, and the Nissan Versa.
The interior of the Rio is an example of the great lengths that Kia bean counters went into making the Rio more affordable to its youth oriented clientele. This included eliminating nearly all of the Rio's optional equipment, with the sole exception being optional leather upholstery for the EX.
Our cloth equipped tester did not come as such, but the seats in our tester were still reasonably comfortable, and proved to be capable thrones for long distance jaunts. Rear passengers on the other hand get to be forcibly acquainted with the Rio's compact dimensions, with the average amounts of headroom being counter-balanced by non existent rear legroom.
The rest of the interior is logically laid out, and plastic quality is on par with others in its segment.
The elimination of the fore-mentioned options list also causes the Rio to miss out on several features that many buyers take for granted depending on the model chosen. For example, base LX models only come equipped with crank windows, steel wheels, and the LX does not embrace Bluetooth, cruise control, a center console, and even a backup camera (look for that last bit to change when the LX is updated to comply with new federal regulations regarding rear backup cameras.)
"S" models add a few of these features back in, with EX grade models like our tester arriving with goodies such as aluminium wheels, automated emergency braking, leather wrapped steering wheel and shifter, and several other goodies.
A key feature that is missing across the board is a formal navigation unit. Another victim of the brand's methodical cost cutting for the Rio, Kia claims that eliminating factory navigation is necessary to help keep the Rio within reach of budget minded customers. The catch is, only EX and Launch Edition models get Apple CarPlay and Android Auto capability, with the rest of the models having occupants rely on their cellphones instead.
Of course in an age where many of today's youth are meshed to their cellphones as it is, we suspect few will mind this omission anyway. The rest of the segment on the other hand, will gladly single out this omission in their respective sales pitches.
Lastly, in a truly amazing display of just how far Kia's accounting department were willing to go to saving every penny, all three flavors of Rio employ a four speaker sound system, but only the two higher trims get specialized tweeters which increases the total speaker count to six (we are curious how many pennies this saved.)
Performance for the 2018 Kia Rio continues the minimalist vibe, with all trims being motivated by a naturally aspirated 1.6 liter four cylinder engine. Also used in the Kia Soul and the previous generation Rio, power and torque are down slightly with 8-horses and 4 lb-ft being removed for a revised total of 130 horsepower and 119 lb-ft of torque respectively.
While the Rio will still not be known for its outright speed, this tiny compact makes up for it by offering enhanced fuel efficiency, with the sedan and the hatchback boasting an impressive 28 mpg on the freeway, and an equally impressive 37 mpg on the freeway. Opt for the six speed manual and drivers nab 1 extra mpg in the city.
We will give Kia props for still offering a manual in the Rio, especially when the option is slowly becoming extinct in other vehicle segments.
Our automatic equipped offering performed well both in city commuting, as well as freeway jaunts, with the engine being remarkably well matched to the transmission. The fore-mentioned automatic makes the most of its available power at any time, and there were times where a heavy prod of the throttle even produced a second downshift.
Granted, the engine is very buzzy in high speed driving, but this is a fun car that is even more involving and fun at sensible speeds than the Nissan Versa or the Toyota Yaris.
Handling is especially involved, with our tester featuring MacPherson struts up front and a twist beam axle in the rear. The ride is firm and supple, and lacks the sogginess and slop that often define many econo-box entries. The Honda Fit might earn top honors for its footwork, but the Rio is a compelling alternative for budget conscious buyers.
This is especially true when one considers that the Rio manages to do all of this with the diminutive 185-65/15 tires that are fitted to all Rio models. EX models like our car feature alloy wheels, but U.S. cars miss out on the larger 17-inch wheels that are a Europe only exclusive. This actually turned out to be a good thing considering the quality of the roads here in Metro Detroit.
Pricing for the 2018 Kia Rio starts at $13,900 for the base LX model, which is geared towards those that want very basic transportation. "S" grade Rios (arguably the volume oriented one of the three) begin at $16,100 and EX grade models like our tester boast a base MSRP of $18,400.
Our lightly optioned test car came equipped with optional $130.00 floor mats which meshed with the $895 destination fee to produce a final price tag of $19,425.
This pricing is on par with similarly equipped rivals, though Kia expects the bulk of Rio buyers to gravitate towards the "S" which brings Bluetooth, cruise control, keyless entry, and more to the value focused Rio.
While the 2018 Kia Rio has done a good job strengthening its reflexes and sharpening its aesthetic qualities, its still has not formally grown up. Instead, the Rio embraces its status as an economy offering, and should prove to be a solid gateway to the rest of the Kia model lineup when the time comes to upgrade to a bigger offering at the local Kia dealership.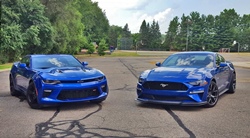 Carl Malek has been an automotive journalist for over 10 years. First starting out as a freelance photographer before making the transition to writing during college, his work has appeared on numerous automotive forums as well as websites such as Autoshopper.com.
Carl is also a big fan of British vehicles with the bulk of his devotion going to the Morgan Motor Company as well as offerings from Lotus, MG, and Caterham. When he is not writing about automobiles, Carl enjoys spending time with his family and friends in the Metro Detroit area, as well as spending time with his adorable pets.