It seems that the last few years have been the rise and zenith of the SUV.
With low fuel prices and increased demand, even companies that were once known for being purely car focused are now getting in on the SUV craze.
Maserati is one of these firms eager to take their own slice of the SUV pie.
But can this stylish Italian entry truly succeed in helping Maserati pull a figurative upset against established luxury contenders? Or is it proof that Maserati still has alot to learn before taking on established SUV rivals like Land Rover and Porsche?
To find out, we traveled all the way to Elkhart Lake in rural Wisconsin to spend some quality time with the Maserati during the annual Spring Rally event hosted by the Midwest Automotive Media Association (MAMA.) The first thing that stood out with our Bianco hued tester is its expressive exterior styling.
The athletic stance, and distinctively Italian lines allow the Levante to stand out from the rest of the luxury SUV crowd. Maserati designers wanted to emphasize the Levante's length, and endowed the CUV with a long hood as well as an angled windshield to help achieve this goal. The front fascia is a key example of the high degrees of elegance that come baked into the rest of the Levante. From its large chrome grille, oversized Maserati trident logo, to even its C-Pillar mounted Saetta logo, the Levante oozes unmatched swagger.
The rear fascia also looks gorgeous, and is a nice departure from the bland designs that permeate the luxury SUV segment.
The interior also delivers high degrees of poshness and luxury to occupants, though if one looks at the finer details closely, some disappointing elements do emerge. Before we get to that though, lets focus on what the cabin does best, wow the senses. Maserati designers were clearly inspired by elements of their history, and that helped them create a beautiful place to spend time in. Our GranSport grade tester featured a full leather treatment in a slick shade of Nero black, with carbon fiber accents splashed throughout the cabin to further enhance its performance intentions. The GranSport package also brings aluminum sport pedals, and a unique steering wheel into the Levante's arsenal of tricks. The leather covered sport seats were very supportive, and did a great job holding occupants in place during spirited driving, though we found ourselves craving a bit more lower back support. Rear occupants are less coddled, and we discovered limited amounts of leg and knee room for taller occupants, though we are confident the lucky children that will spend the bulk of their time back there will find no such issue. 
However, like the fine print in many mobile phone plans, the inner details of the Levante's interior do come with their fair share of catches. For instance, the oddly placed left mounted start button takes time to get used to, while cheap plastics make themselves known in select areas of the cabin. Lastly, it is obvious that many parts are shared with other FCA offerings. For example, the window switches, windshield wiper stalk, and ignition button are borrowed from the mass market Jeep Cherokee, while the infotainment system is essentially a Maserati badged version of FCA's familiar Uconnect 8.4 inch touchscreen infotainment system. Annoyingly, even the odd "up is down, down is up" shift scheme for the shifter's manual gate is carried over. Like other FCA products, we highly recommend using the steering wheel paddles for traditional shift it yourself driving.
Thankfully, the transplanted parts are functional, and are a noticeable improvement over the baffling ergonomically challenged examples that Maserati unleashed in some of their older models. Dual zone climate control is standard, but buyers can opt for a four-zone setup if they so choose. Many vehicle functions are controlled through the fore-mentioned 8.4 inch touchscreen, with a secondary control wheel located to the left of the shifter. While this system is still a step or two behind more established entries like BMW's I-Drive system and Audi's MMI system, it is refreshing to see Maserati take a step in the right direction when it comes to enhancing usability and ergonomics.
Performance for our tester comes from a 3.0 liter twin-turbocharged V6 that was designed by Maserati, but is assembled by Ferrari. This spirited engine is good for 424 horsepower, and an equally potent 428 lb-ft of torque which is on par with many of its rivals especially the Porsche Cayenne. This bespoke engine also allows the Levante to leap its way to 60 mph in the low 5.0 second range, as well as hit a top speed of 164 mph which is higher than some of its Autobahn dwelling rivals. An eight speed automatic is the sole transmission available, and it did a good job delivering smooth crisp shifts, though the fixed in place steering wheel mounted shift paddles do get in the way of some controls.
However, like this author's favorite WWE icon Mick Foley, the Levante S has a darker side that is hidden away in its pillow soft ride, and equally boosted electric steering. Hit the Sport button once, and the Maserati transforms into a distinctively different beast.
Sport mode brings a more aggressive throttle map, primes the powertrain, and makes the eight speed automatic shift even faster than before. As a bonus, the exhaust system reverberates with a decidedly more exciting soundtrack. The end result is a much snappier driving experience, with the Levante possessing a unique edge and demeanor when in Sport mode. It might not possess the poised performance manners that define its corporate cousin the Alfa Romeo Stelvio, but the Levante is a pretty compelling alternative for well heeled buyers. Hit the same button twice, and the suspension is lowered by 20 mm and the dampers firm up for even sharper handling manners, especially on the twistier sections of Wisconsin's country roads.
While we highly doubt that the bulk of Levante owners will ever take their SUVs beyond the confines of a mall parking lot, the lone 1% that do will be pleased with the capability that Maserati engineers did infuse into its platform. In typical driving, power is primarily sent to the rear wheels, however if the computer senses wheel slip, or if the off road button is engaged, then it can divert half of it to the front wheels. Maserati claims that the Levante can work its way through two feet of water, but the Wisconsin sunshine kept us from verifying that particular detail.
The 2018 Maserati Levante might not quite have the same level of grandeur associated with the Range Rover Sport, but our GranSport tester did make up for it with a healthy dose of value. While base Levantes feature a base price of $75,300, "S" models step it up a notch, and start at $86,100. Our GranSport S tester had a base price of $91,660, with our tester rounding out to a final price of $99,110. This lofty figure is higher than the Range Rover Sport, but the capable Brit has a less powerful supercharged V6, and buyers have to upgrade to its pricier V8 counterparts to outshine the Maserati's Ferrari bred motor.
Another rival is the Porsche Cayenne S which has a more powerful V6, and slightly better handling. However, its less expensive $82,900 MSRP can quickly surpass $100,000, and its aesthetic appeal falls short of replicating the Maserati's elegant proportions. It will be interesting though to see how the Trofeo version of the Levante fares when it is pitted against the range topping Porsche Cayenne Turbo.
Even though the 2018 Maserati Levante certainly has the looks, performance, and luxury to hold its own against segment benchmarks like the Porsche Cayenne, Range Rover Sport, and the BMW X5. Ultimately, it needs more fine tuning and tweaks before it can truly pull off an upset in its elite slice of the luxury SUV market.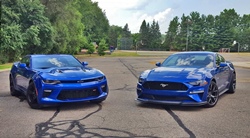 Carl Malek has been an automotive journalist for over 10 years. First starting out as a freelance photographer before making the transition to writing during college, his work has appeared on numerous automotive forums as well as websites such as Autoshopper.com.
Carl is also a big fan of British vehicles with the bulk of his devotion going to the Morgan Motor Company as well as offerings from Lotus, MG, and Caterham. When he is not writing about automobiles, Carl enjoys spending time with his family and friends in the Metro Detroit area, as well as spending time with his adorable pets.