It has been quite a roller coaster ride for Mitsubishi over the past few years. Caught in the aftermath of an emissions scandal in Japan, as well as being a small time player in the U.S. market, the Japanese automaker entered into an alliance with Nissan-Renault in 2016. This partnership opened the path for Mitsubishi to potentially crawl its way back to relevance, but will the promised wave of new models and platforms be enough to bring Mitsubishi back into the light, or is it too little too late?
To find out, we got behind the wheel of the 2018 Mitsubishi Eclipse Cross, which is the first completely new offering that the company has unleashed in the past few years. Mitsubishi claims that the Eclipse Cross is supposed to be a sporty offering that caters to buyers with bold styling traits. Our tester certainly stood out, but the styling is an unbalanced mishmash of cues. The front fascia is certainly attractive, but the distinctively corporate grille doesn't allow the Eclipse Cross to really stand out among its peers, this is despite the best efforts of the sporty looking lower front bumper which features sharply honed LED accent lighting, and a purposeful layout. Mitsubishi designers also gave the CUV a thick body crease as well as a high belt line for more aesthetic appeal. The side profile leads out to arguably the most distinctive feature of the 2018 Mitsubishi Eclipse Cross, the rear styling.
The Eclipse nameplate always symbolized a distinctive styling flair when it was formally on the marketplace as a two door coupe, and the rear of the Eclipse Cross arguably has alot of the basic DNA that once defined its sporty predecessor. Typical Mitsubishi functionality is swapped out for a more stylish theme, with bold taillights that are actually connected by a bar that works its way across the rear window. A sloping roofline is also part of the package, and it lends a somewhat sporty air to the Eclipse Cross though the overall look is still a step or two behind some rivals.
The interior of the Eclipse Cross is a noticeable improvement over other Mitsubishi products that we have driven in the past. Yes, many of the interior plastics still lag behind the quality seen in its rivals, but the cabin this time around didn't feel chintzy or uncomfortable during our time with it. This was due to its commendable amount of equipment, some of which we would've never expected in a Mitsubishi product.
This included a heads up display, a panoramic sunroof, adaptive cruise control, Apple CarPlay and Android Auto compatibility, as well as a surround view camera system. That last item is typically seen in high end luxury cars, so it was very cool to see Mitsubishi embrace such a system to help make parking a breeze. Speaking of the camera, Mitsubishi engineers decided to place the controls for the camera on the steering wheel versus burying it in a menu in the infotainment system. This is a brilliant solution, and we look forward to seeing more automakers copying this simple solution in their CUV offerings.
With an exterior that tries its best to be sporty, and an interior that is a step up above the Outlander Sport, it's a pity that overall performance for the Eclipse Cross falls harder on its face than Sideshow Bob getting whacked in the face by the handle of an ill placed rake. Power comes from a 1.5 liter turbocharged four cylinder that only produces 152 horsepower and 184 lb-ft of torque. These figures translate into a relatively tame driving experience, with our tester making the sprint to 60 mph in a rather leisurely 9.0 seconds. For comparison, the CX-5 only needs 8.4 seconds to make the same dash to 60, and it uses a bigger naturally aspirated four cylinder engine. On the turbocharged side of things, the Honda CR-V only needs 7.5 seconds to make the sprint to 60 mph.
A key culprit to this sluggishness is the CVT that is paired to this engine. While it delivers a respectable 25 mpg in the city, the CVT is confused when tasked with more spirited driving, with our drive marked by occasional bouts of gear hunting and clumsiness. The ride is also too rough, and there is alot of road and wind noise that permeates the cabin. In short, while the 2018 Mitsubishi Eclipse Cross checks all the boxes for every day driving, it still has alot of work to do to truly match the "fun to drive" portion of its billing, especially at the level that is expected with the Eclipse portion of its moniker.
Pricing for the 2018 Mitsubishi Eclipse Cross starts at $23,395 for the base ES model which still offers plenty of style even in its most stripped down guise. We expect the majority of buyers to gravitate towards the Eclipse Cross LE which is sportier, and looks sleek when paired with the right color combination. However, when viewed with rivals, the LE does slip a bit, especially since it is barely ahead of the base Honda CR-V in overall equipment. SEL grade models like our tester ring in at $32,310. This pricing is on par with rivals, but again, the Eclipse Cross loses out in equipment when compared to the Mazda CX-5 as well as the Chevrolet Equinox.
Another issue centers around the Eclipse Crosse's list of optional equipment. For example, in order to add Adaptive Cruise Control, Mitsubishi makes you add the $2,500 Touring Package to the range topping SEL. While this package does bring rear seat heat, a panoramic sunroof, and automatic emergency braking to the Mitsubishi's bag of tricks, lane keep assist is not available. Many of its rivals include the technology on their mid-range models, and others like the upcoming 2019 Toyota RAV4 will have it standard along with adaptive cruise control. As a result, the Mitsu's options list isn't as competitive as it would've been several years ago, and to round things off, there is no physical knob for radio volume.
At the end of the day, if the final decision amounts to which CUV offers the best balance of equipment and value, then we cannot recommend the Eclipse Cross since it simply does not measure up in those categories. This is a shame, because if your a Mitsubishi loyalist or someone looking for something outside the bulk of the CUV segment, we actually recommend the Eclipse Cross. It is a compelling preview of what's in store for the Japanese automaker now that it is under Nissan-Renault's control, and we look forward to seeing what's in store for the Eclipse Cross. A key item in our wish list is more power, and we look forward to seeing if any Nissan engines can amp up its performance aspirations.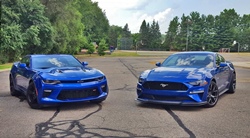 Carl Malek has been an automotive journalist for over 10 years. First starting out as a freelance photographer before making the transition to writing during college, his work has appeared on numerous automotive forums as well as websites such as Autoshopper.com.
Carl is also a big fan of British vehicles with the bulk of his devotion going to the Morgan Motor Company as well as offerings from Lotus, MG, and Caterham. When he is not writing about automobiles, Carl enjoys spending time with his family and friends in the Metro Detroit area, as well as spending time with his adorable pets.