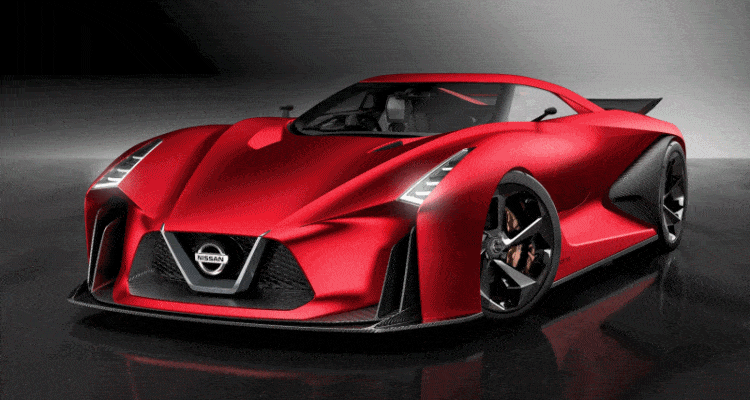 The NC2020 will star at Nissan's packed exhibit for the Tokyo Auto Show starting in late October — with a few all-new details to captivate showgoers. An all-new satin red finish is the clearest change from the original Goodwood concept in its smokey silver.
This shade is called Fire Knight and is a deeper and more sinister shade than the Nissan LMP1 in its GT-R race red. Other tweaks versus the first outing for the NC2020? Dark wheels with a sharper blade look to its five spokes, plus a cleaned-up nose with more sculptural and prominent V-motion grille bar. This new piece is deep but quite slim, making functional and style advances over the somewhat empty look of the first NC2020. The latest concept has more depth in its contrast-carbonfiber grille inside area — forming a wind tunnel scoop shape to cool the engine, brakes and likely turbo engine up front.
This new red really brings out the intriguing forms of the NC2020 body design — which makes its proportions, surfacing and inverted surfaces a cohesive design preview of a next-gen GT-R street car. Most prominent and visible on the new red NC2020's design?  Those gorgeous smooth curves from the ultra-low and long hoodline. This shape extends up over the slim cockpit width to give the NC2020 hugely broad shoulders. The twist and rounding elements are a smooth and sexy twist on modern architecture themes — particularly high-rises like the new One World Trade Center or the incomplete Chicago Spire.
As this convex and organic line dives toward the rear axle centerpoint, its surfacing in the door and front fender flips inward — making room for functional ductwork and side exhausts. These ensure the rear floor can be totally sealed and flat for ground-effect aero and grip on tracks. Unclear how exhausts ahead of the front windows would be in real life… perhaps a bit stinky, a la racecars of old.
In the roofline, we have a wild new chopped rear glasshouse. What is all metal and back windshield in the current GTR is replaced by a special sunken panel with twin muscle bulges. The NC2020 takes the floating roof theme to new heights: the free-standing C-pillar curves over and around the side glass — creating a flying buttress that feels very exotic.
Around the tail, a giant CF wing lives above aero-optimized corners: sharp chopped edges all around the tail of the NC2020 lessen drag, despite the ultra-intense spoilers on all sides. Slipstream aero also makes a strong appearance with the huge diffuser panel with air channel outlets in exposed CF.
Three-dimensional rings of LED light live proud of the bodywork in a cool way — looking like floating orbs when lit.
The proportions and scale of the NC2020 are half-way between the current GT-R and the LM NISMO 2015 car… and show a nice first look at the R36 flagship's future evolution.
In closing, we have to toot our own horn a bit… this new red NC2020 looks a bit lot like some colorizer renderings we did last year!  Here are the original renders, plus 20 new fantasy colors — just for fun.
NC2020 Colors
NC2020 Vision Gran Turismo Red
Full-Scale Model of the Nissan Concept 2020 Vision Gran Turismo to be Displayed at the Tokyo Motor Show
Nissan have announced that a full-scale model of the Nissan Concept 2020 Vision Gran Turismo, which debuted at the Goodwood Festival of Speed 2014, will be displayed at the 44th Tokyo Motor Show.
The model on display will feature the all-new "Fire Knight" body colour and a refined design that makes prominent use of Nissan's signature V-Motion grille.
The 2015 Tokyo Motor Show will be held at Tokyo Big Sight between October 30th and November 8th.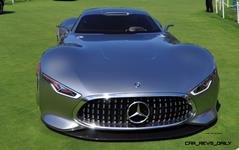 Tom Burkart is the founder and managing editor of Car-Revs-Daily.com, an innovative and rapidly-expanding automotive news magazine.
He holds a Journalism JBA degree from the University of Wisconsin – Madison. Tom currently resides in Charleston, South Carolina with his two amazing dogs, Drake and Tank.
Mr. Burkart is available for all questions and concerns by email Tom(at)car-revs-daily.com.