The first official Genesis model is out!  Dubbed the G90, this giant limo will replace the EQUUS in the US market, above the current Hyundai Genesis lineup in pricing and size.
First things first:
— the car is huge!
— the looks are unique, if derivative of very-recent global superlux cars like the Mercedes-Maybach S600.
— do not prejudge its looks too much: these are Korean-market trims and details, with changes probable for US cars (trims, wheels, etc.)
— tech and cabin luxury take a huge leap forward from the already-impressive Genesis sedans
— powertrains and pricing are finalized for the Korean market, with a new 3.3-liter turbo V6 now slotting in between the standard 3.8L six and the 425-horsepower 5.0-liter V8 in the top powertrain.
— AWD is optional on both V6s and standard on the V8, which now thunders to 60-mph in just 5.7-seconds.  6.2s and 6.7s for the turbo and non-turbo six, respectively
Prelaunch Photo Credits:  TheKoreanCarBlog.com
Hyundai's GENESIS luxury sub-brand is striking out on its own!  We have a plethora of info and details to share on the Genesis G90, expected in the US as a 2017 model and arriving as soon as May or June of 2016.
What we have extensively detailed here is the Genesis EQ900, the car's name in its home Korean market — where it dominates C-suite and government livery duties, with a few dozen armored versions definitely in existence as well.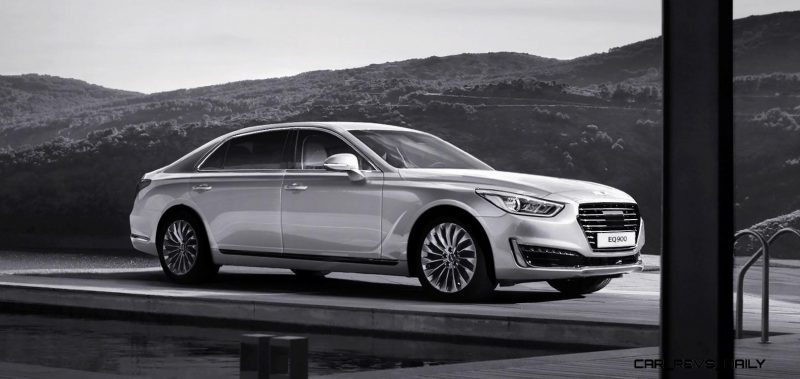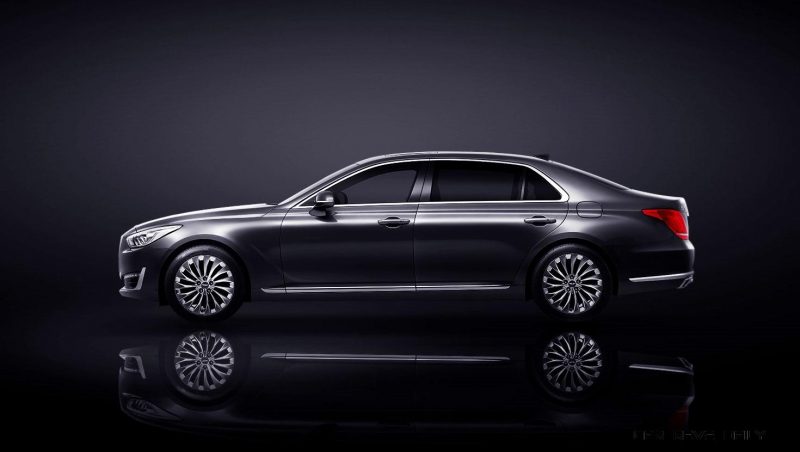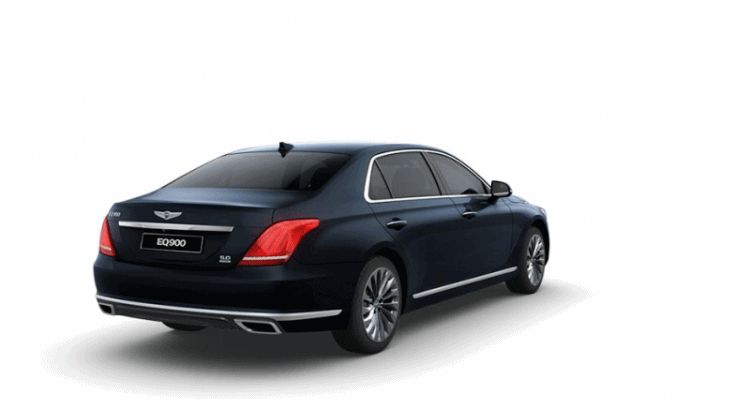 Holding back most pre-judgements on the design after hating the Genesis in initial press pics, then really falling madly in love with its 3.8L HTrack design and drive in a big road test this summer.
That current Genesis, by the way, will eventually be renamed the G80 and slide into the lux-only Genesis realm, ditching its current Hyundai trunk badge and dealerships for something altogether more special.
A G70 is the next model in the roll-out, and may be a smaller and sportier four-door coupe version of the Genesis (G80), much as this G90 is a jumbo, LWB extension on the latest chassis and powertrains.
Reminder: do not get too locked into how this EQ900 looks.  Hyundai really made us work for any images of the car at all — so most of these are low-res screencaps from the posh (but mostly fluff and very ESL) new GenesisMotors.com.
2017 Genesis G90
2017 Genesis G90 World Premiere
Genesis Brand Launches its First Model, G90
 
    – Cutting-edge technologies, ultimate refinement and luxurious convenience
      features set the Genesis brand's range-topper apart from competitors
    – Luxury large sedan exudes confidence and originality through its 'Athletic
      Elegance' and refined yet dynamic performance
    – Host of world-best safety and technological innovations realized in G90
December 9, 2015 – Hyundai Motor has unveiled the new Genesis G90 large luxury sedan, the model that will top the new Genesis brand's luxury car line-up. The G90 (called EQ900 in Korea) will compete at the top of the luxury car market with world-best technological innovations and the highest levels of refinement, convenience and dynamic performance.