I've driven a fair amount of Lexus sedans and SUV's recently.
I have enjoyed all of them as far as luxury cars are concerned.
Quiet, sedate, upscale interiors, enough power, and almost everything a luxury buyer could desire.  What they all lacked, however, was some driving excitement.  While I pointed that out in the reviews, I didn't give those cars demerits on that point.  The reason is because they weren't designed to be thrilling driving machines.
They were designed for luxury and comfort, and they checked most of the boxes for that mission statement.
But things are somewhat different when I took delivery of the RC 350 coupe.  This is a Lexus model with more sporting intensions, and Lexus offers several variants of RC's to satisfy a wide range of driving desires and pleasure.
You can start with the 200t, with a 2-liter inline turbocharged 4, which puts out 241hp and 258 ft. lbs. of torque, and starts at $40,155.  The RC 300, (which comes in AWD only) starting at $42,770 and makes 255 hp, and 236 ft. lbs. of torque from the 3.5-liter V-6 with an older 6-speed automatic transmission.   Our test car, which is the RC 350 with rear wheel drive, has a V-6 making 306hp and 277 ft. lbs. of torque, and is mated to an 8-speed automatic.  This model can be had with all-wheel-drive, also.  And each model also has F Sport variant for additional handling prowess.  But in the RWD model we tested, the RC350 checked off all my boxes for the fun to drive factor.
This car has enough power to go from Zero to 60 in under 6 seconds, which is more than enough oomph to make it a very entertaining ride.  Gas mileage is rated at 19 City and 28 highway, which puts it mid-pack of the competition such as the Audi A5, Mercedes C-Class, or BMW 4-Series.
The RC 350 makes some pleasant exhaust sounds under hard acceleration, and returns to quiet once speed is reached.  There are a number of adaptive controls for the 8-speed transmission, throttle, and steering, with few annoyances. The shifts are quick with the paddles or gear lever.  The suspension is pleasantly tuned to be firm, but without compromising a comfortable ride for everyday driving.  In fact, it could be a bit more firm when driving on a very tight curvy road, but it  still feels well balanced, composed,  athletic, and fun to drive hard.  Push the Sport drive mode, and it adds even a bit more driving fun.   For those requiring even more driving dynamics, the F-Sport version upgrades the handling package.  But make no mistake, our RC350 can be tossed into a sharp turn with little body roll, and with plenty of grip from the optional 19" tires replacing the standard 18-inchers.  The brakes feel strong, with good modulation, so the driver always feels confident when pushing towards the limits.
Lexus has never been known for cutting edge styling, but that has changed in recent years on several models.  The RC 350 is no exception.  I never thought I'd say this about any Lexus, but I think the styling of this coupe is stunning.  I even like the spindle grill on this model, even though I hate it on the other models.  It's probably because of the vertical slatting of the upper portion of the grill, instead of the full mesh treatment, along with the brightwork surrounding it.  The entire front end is handsome with swoosh-like driving lights, the lower duct openings that flank the lower grill, and the hood creases that flow into the grill.
From the side, the curvaceous roofline that ends in an upswept lip spoiler, looks sleek and aggressive.  The rear wrap-around tail lights mimic the swoosh shapes from the front driving lights.  And the lower bumper is accented on each side with slick looking ductwork as well.  The sides of the RC have nice character lines, and the upswept rocker panels add some flair, without looking garish.  The exterior styling fits with the character and purpose of the vehicle.
The cabin borrows from many of the latest Lexus models, with the horizontal tiered look.  It is both handsome and mostly well laid out for functionality.  The center stack has a 7-inch   screen that is controlled by a round knob on the console, rather than the dreaded mouse pad that can be infuriating to operate.  And while most voice commands are easy to operate on all Lexus models I've tested, this RC was different in that it also worked quite well to speak addresses into the Nav system. The HVAC system is easy to operate at a glance with its own set of dash controls that doesn't require going into the system with the screen control knob.
A thick leather wrapped steering wheel feels good to the driver's hands, and incorporates all the necessary redundant controls. The 2-gauge round dials in front of the driver are large and easy to read, with the LED info screen between them.
The seats are wide and comfortable, with handsome contrasting stitching, though not overly bolstered.  Sportier seats are standard in the F-Sport model.  But our test car is designed to be a gentleman's Grand Touring car, and the seats will be all-day comfortable for eating up the miles. All the materials in the car are excellent quality, as is the fit and finish.  Black tiger stripe accents on the dash and door panels are stylish. There is good room for two adults in the front seats, but the rear seat should be thought of as a leather covered package shelf, rather than real seats.  One complaint is that there is no place to put a cell phone other than inside the small center console.  The recess where the Nav screen meets the dash, is the only place to lay a phone down, and that's not an optimal place for it. The trunk has 10.4 cubic feet of capacity, and it will make it hard to carry a pro size golf bag.  But it should hold a weeks' worth of carefully packed luggage for two.
Our test car stickered for $43,010.  Options included windshield deicer and headlamp cleaner for $220, 19" aluminum alloy wheels for $795, the Premium Package for $1,240 which adds blind spot monitor with cross traffic alert, along with driver and passenger heated and ventilated seats.  Dynamic Radar Cruise Control cost $500, the Moonroof cost $1,100 and $449 for illuminated door sills.  The bottom line came to $48,289.
So the Lexus RC350 is an excellent choice for those who are looking for a lot more driving excitement than you'd get in the average Lexus, but without giving up any of the comfort and conveniences you expect from the brand.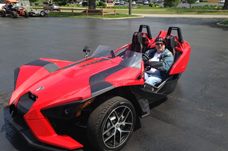 Ken "Hawkeye" Glassman has been a motor journalist for over 30 years, reviewing automobile, as well as motorcycle ride reviews and accessory reviews.
His car articles have appeared in Robb Report Magazine, Autoguide.com, Car-Revs-Daily.com and other media. His work has also appeared in Road Bike Magazine, Motorcycle Tour and Cruiser, SpeedTV.com, MotorcycleUSA.com and others.
As motorcycle columnist for The Daily Herald in suburban Chicago, the paper became the only major circulation newspaper in the country to have a separate weekly section devoted to motorcycles. Later he wrote a weekly column for Cyclefocus Magazine.