A revolution is in the air in the muscle car segment.
Ever since one can remember, a typical American muscle car was generally known for having a big V8 engine and, more importantly, rear-wheel drive. Even 10 years ago, the very idea of an all-wheel drive muscle coupe was seen as an alien concept to the big three domestic automakers (GM Ford and FCA.)
The folks at Dodge are eager to overthrow the established order with the 2017 Dodge Challenger GT, but can this pioneering model bring true four season performance to a traditionally two season vehicle segment? or is it a flash in the pan?
The exterior styling of our "Green Go" hued tester has a high degree of swagger, and its retro themed clothes look highly distinctive when out on the open road.
The resemblance to its 1970's forerunners is very strong here, and like its ancestors, our tester managed to draw in its fair share of observers. This included officers from the Oakland County Sheriff's department who thankfully traded the dreaded pen and ticket combination for a hearty thumbs up while the lavishly green Challenger was sitting at a traffic signal.
Its bold suit of clothes also allows it to stand out against its rivals the Chevrolet Camaro and the Ford Mustang, especially when cruising down Woodward Avenue on a particularly sunny Sunday afternoon.
However, this emphasis on eye catching style also requires a price to be paid, and it shows when you slip into the Challenger's cabin.
Visibility is reminiscent of old WWII era pillboxes, with the chunky rear pillars creating beefy blind spots. Thankfully, the leather/suede seats in our tester (part of the GT Interior package) were sufficiently bolstered, and helped keep occupants snugly in place during spirited driving.
Like others of its species, the rear seats are best left for children and cargo, with taller passengers having to suffer from laughably awful amounts of head and legroom after awkwardly entering and exiting the cramped space.
It's not all bad news for the cabin though, and it still delivers in several key areas.
While interior plastics are on the cheap side, the driver oriented controls are within easy reach, and are intuitive to use. We also liked the retro flavored gauges, as well as the UConnect 8.4 infotainment system which we have come to admire in other FCA products.
With the current generation Challenger approaching its twilight years, we look forward to seeing which direction the interior takes after it is injected with more refinement and Italian spice for the next generation model.
However, owning a Challenger is not about being coddled, nor is it all about how many speakers the sound system has (18 for those that are indeed curious.) Rather, its all about what lies under the hood, and the 2017 Dodge Challenger GT goes about this in its own unique way.
Unlike the older all-wheel drive V8 Chargers that made their appearance in the mid 2000's, The Challenger GT is motivated by FCA's familiar 3.6 liter Pentastar V6 which makes 305 horsepower and 268 lb-ft of torque thanks in part to a slightly tweaked exhaust system.
While the engine may lack the raw power that defines its V8 powered siblings, it is still a spirited unit, and is deceptively smooth in city driving. Mash the throttle, and you are rewarded with confident acceleration, though the Challenger's hefty curb weight, and the V6's tendency to make power in the higher reaches of the rev band will prevent the neck snapping launches that also come standard with V8 versions.
An eight speed automatic is the sole unit available, and like before it delivers confident shifts. However, Sport mode proved to be a surprising wrinkle in this otherwise compelling package due to the rough shifts that happen between first and second gear which made the car feel a bit too jerky at times.
The Challenger GT also comes with Dodge's performance pages software which includes a bundled launch control feature for buyers looking to exploit the V6's full potential from a standing start.
The star of the show of course is the all-wheel drive system. The system is largely the same unit that also made its appearance in the Charger SXT we recently tested, and features an active transfer case as well as a front axle disconnect system to improve fuel mileage.
While Michigan's sunny summer weather kept us from seeing all of the all-wheel drive system's benefits, we did discover that it helped reduce wheel spin during launch, which made the GT feel more buttoned down than its rear-wheel drive counterpart.
The Challenger GT is also the only Challenger model to use the suspension from the Dodge Charger Pursuit, with engineers tweaking it slightly to help the GT retain its muscle car intentions. The end result is a mixed bag, with the suspension helping to reduce bodyroll somewhat when compared to the SXT model, but at the cost of comfort, especially over the rougher roads that define the daily commute in Michigan.
Pricing for the 2017 Dodge Challenger GT starts at $33,395 with our lightly optioned tester ringing in at a final price of $39,465.
This figure includes goodies such as the $1,195 Technology package, the $1,095 Driver Convenience package, as well as the $995 GT Interior package that adds a leather steering wheel as well as the fore-mentioned leather/suede sport seats to the Challenger.
This pricing puts it in line with the 335 horsepower Camaro V6 as well as higher trims of the four cylinder Ford Mustang, though its all-wheel drive system makes the Challenger standout as a distinctively different animal.
As the saying goes, "change is good" and the 2017 Dodge Challenger is a welcome blast of fresh air into the muscle car segment.
We look forward to seeing how well the Challenger GT performs in long term sales, and whether its constitutes enough of a business case for FCA to eventually equip the model with more engine options to help it reach a wider range of performance enthusiasts that want a true four season muscle car offering.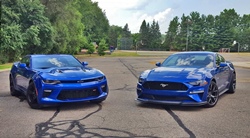 Carl Malek has been an automotive journalist for over 10 years. First starting out as a freelance photographer before making the transition to writing during college, his work has appeared on numerous automotive forums as well as websites such as Autoshopper.com.
Carl is also a big fan of British vehicles with the bulk of his devotion going to the Morgan Motor Company as well as offerings from Lotus, MG, and Caterham. When he is not writing about automobiles, Carl enjoys spending time with his family and friends in the Metro Detroit area, as well as spending time with his adorable pets.