The mid-size Toyota Tacoma has been around for a long time, and has deserved its reputation for being rugged, reliable, and inexpensive to operate. And they don't change much over the years.  In fact, the 2015 model had been mostly unchanged since the 2005 edition.  As you can imagine it was long overdue for an update.  Enter the 2016 model.
The 2016 model features an all new engine and transmission, new interior and exterior styling, yet the core of the Tacoma's mission statement remains the same. Truth be told, it has been so long since I've tested a Tacoma, I don't remember the old vehicle well enough to appreciate the differences, but I can say that the new edition does very well on its own merits, and not just because it's better than the model it replaces.
The 2.7-liter inline four is still available on the base models.  It puts out 159 horsepower and 180 ft. lbs. of torque.  New for 2016 is an Atkinson Cycle, 3.5-liter V-6 that makes a strong 278 horsepower and 265 ft. lbs. of torque.  It is smaller than the old V-6, but it offers 42 more horsepower, and nearly the same torque.  It also gets better gas mileage, with 18 City and 23 Highway.  Our top of the line test vehicle has the new V-6 and it's paired with a new 6-speed automatic transmission, but a 6-speed manual is available with the V-6.  Our tester was also outfitted with the V-6 Tow package allowing this Tacoma to tow up to 6,800 lbs.  It is available with either a 5 or 6 foot bed (ours was the 5-footer).  You can also get the Tacoma with 2 wheel or four-wheel-drive, and we had the 4-wheel drive version.
We found off the line performance to be fairly quick.  The new engine likes to rev, and it will go all the way up to the redline if the gas pedal is used properly.  Once it gets up to speed in 6th gear, you'll have to wait for the transmission to kick down to get the oomph to pull out and pass, but the engine is pulling nearly 4,500 lbs of truck, so one can't expect neck snapping performance.
The new 6-speed transmission makes smooth shifts but sometimes seems to hunt between 5th and 6th gears on the highway. The brakes feel strong when pulling the Tacoma down from speed, but it bites early in the pedal travel, so it takes some getting used to.
I was a bit disappointed with the ride quality, however.  On a 250 mile highway trip, we found the Tacoma to be a bit too softly sprung and offered a bouncy and floaty feeling over fairly smooth pavement. There was also lots of body lean in corners.  Steering feels a bit heavy, and on-center feel is a bit vague.
We were impressed with the new cabin.  It is very quiet, helped by a new acoustic windshield and more sound deadening materials. The materials used in the cabin are high quality, and there is soft touch materials on the door armrests, sill, and center console. The front leather seats were comfortable but not electrically operated.  The cabin feels roomy.  Rear seat head room is ample, and leg room is good, not great. However the seats are comfortable.  The 60/40 seat bottoms flip us to reveal two handy under-seat storage compartments. The rear seatbacks can also fold down for a flat storage shelf.
The dash layout is simple and easy to get used to.  There's a good multi-information screen between the tachometer and speedometer. Also, the 7" Nav touch screen in the center stack, with Toyota's Entune infotainment system, is used for accessing radio, and telephone functions as well as the various apps available.  We did, however have a major gripe with the Navigation system.  Once you input an address, you get 3 route options to choose from.  They are shown by a color coded line on the map.  But it's hard to tell exactly how that route will operate.  When going from Chicago to Milwaukee, the map shows two of the route options as pretty much a straight line to the destination.  I chose one, which looked like it would take me the route I usually take, all the way up the Interstate.  But it didn't want to get me onto the Interstate at all, and became a distraction when I entered the Interstate.  It kept asking me to get off at every exit as I approached it and didn't "learn" that I wanted to be on it.  The same thing happened on the return.
The sheetmetal is all new.  The hoodline has been raised, which makes the front end more aggressive looking.  There is little chrome on the front, other than surrounding the hexagonal shaped front grill and fog lights, but the projector beam headlights and fog lights show their mirror-like reflectors which makes it seem like there is more brightwork than there really is.  There is a nice sculpted line on the lower tailgate with the Tacoma nameplate stamped within.  And the tailgate is damped so it lowers slowly when opened.  Inside the bed is a handy 115-volt AC outlet.  That can come in handy for plugging in power tools.  There is also a deck rail system with adjustable tie-down points high up, and 4 tie-down points on the bed, to make tying down various items easy to secure.
Our Limited model came with a nice list of standard features which includes 18" polished allow wheels, rear back-up camera and rear parking sensors, blind spot monitor and cross traffic alert, traction and stability controls, ABS brakes with electronic brake force distribution, brake assist and smart stop technology.  Also there is the Smart Key and push button start, leather heated seats and leather steering wheel with redundant controls, power moonroof, dual climate control, JBL Premium audio system, and more. The sticker price for all that is $37,820.  The only options were a $650, 3-section hard tonneau cover making the bred water resistant, and the Class IV towing package, also for $650.  So with destination charges the final number came to $40,020.
So despite the major re-do of the Tacoma, previous owners should feel comfortable in the new model, while enjoying and appreciating all the new upgrades.  This Tacoma is now ready to do battle with the Chevrolet Colorado, GMC Canyon and the Nissan Frontier.
Road Test Review – 2016 Toyota TACOMA Limited 4×4 DoubleCab – By Ken "Hawkeye" Glassman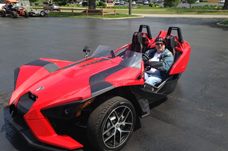 Ken "Hawkeye" Glassman has been a motor journalist for over 30 years, reviewing automobile, as well as motorcycle ride reviews and accessory reviews.
His car articles have appeared in Robb Report Magazine, Autoguide.com, Car-Revs-Daily.com and other media. His work has also appeared in Road Bike Magazine, Motorcycle Tour and Cruiser, SpeedTV.com, MotorcycleUSA.com and others.
As motorcycle columnist for The Daily Herald in suburban Chicago, the paper became the only major circulation newspaper in the country to have a separate weekly section devoted to motorcycles. Later he wrote a weekly column for Cyclefocus Magazine.