2015 Toyota Sienna XLE Premium AWD Review
By Ken "Hawkeye" Glassman
Let's just get this out of the way right at the beginning . . . nobody wants to drive a minivan.
There, I said it.
No matter what manufacturers do, they are all pretty ugly and ungainly to look at. And they have a stigma attached to it. Either it's a "Soccer Mom" image, or an old fart image of Grandma and Grampa snowbirds driving it back and forth each winter from cold climates to Florida or Arizona with a cargo full of luggage. Either way, there's not a lot of pride of ownership to them.
So along came SUV's, with third row seating, and bold brawny looks. They gave off the impression that owners were adventurous, off-roading, thrill seeking individuals who needed the cargo space for hauling kayaks, or mountain bikes, and would take them into the wild for endless explorations. Of course the reality is that the vast majority of owners just like the high seating position, and the ability to squeeze in 7 kids to ferry them in car pools to soccer practice, school, and other activities. The most off road use they get is if Mom has to drive onto a gravel road, or the grass adjacent to the field the kids will play on.
But if hauling cargo, kids, or adults is what you need, there isn't an SUV that can touch a minivan for its convenience, room, and ease of entry and exit. That's just a fact. And that's why they sell so many of them. Minivan buyers look past the image, bite the bullet on styling, and just enjoy the best vehicle to fulfill those needs. And the Toyota Sienna XLE Premium AWD is a fine vehicle to accomplish the goal. And it's the only minivan to offer all-wheel-drive.
My test vehicle is the top of the line model, filled with great luxury amenities, and optioned with a set of second row of comfortable captain's chairs instead of a bench seat. They slide fore and aft on a track to make it easy to enter the third row, which is fairly comfortable and spacious, even for adults. No SUV can come close to gaining easy access to the third row. The Kia Sedona has an even better second row seating system that lets the Captain's chairs slide together to leave a nice wide opening to the third row, without having to slide the chairs forward. But the Sienna's seat bottoms fold up, and the captain's chairs can be slid all the way forward to the back of the front seats, when cargo hauling is needed.
That third row seat easily folds into a deep well making for a flat floor, and with the second row seats slid all the way forward, 150 cubic feet of cargo space makes a trip to the home improvement store for a 4'x8' sheet of plywood , the furniture store, or antique shop easy, with a huge cavern to fill up. The Chrysler Town & Country is still the gold standard for seating arrangements, however, by virtue of their second row seats that fold into the floor, so the cargo bed has a full length flat floor, (and the wells for the seats can be used for storage when the seats are upright).
I had the Sienna to help Daughter #2 move a new apartment. While the movers hauled the large furniture and most of her belongings, the minivan came in handy to lay out a mountain of clothes, and boxes of kitchen items and fragile items that needed to be moved in and put away before the rest of her stuff arrived. Loading and unloading was made easier with the electric sliding side doors and power rear lift gate, although that lift gate could have been better if it had the feature like Fords do, that would open the gate with a little flick of a foot underneath the bumper to raise it when your arms are loaded, rather than have to use the key fob.
For 2015, the Sienna has made some changes and upgrades. Gone is the 4-cylinder engine and now the only powerplant is a 3.5 liter V-6 with 266 horsepower coupled to a 6-speed automatic. The power feels strong enough, though not as peppy as the Kia Sedona. But the Toyota is pushing around 4,700 lbs, and is one of the largest minivans you can buy. Gas mileage is listed as 16 City and 23 Highway, but both of those figures are a bit optimistic. It is rated to tow 3,500 lbs. in case you would want to tow some powerspsorts toys, like motorcycles, ATV's, or small watercraft.
Toyota has stiffened the chassis, and the Sienna feels solid, but it tends to wallow a bit on the highway, and despite some aerodynamic improvements, isn't all that quiet. A lot of noise comes from the tires. Cornering is what you'd expect from a vehicle of this size, so there's body lean, but not terrible. It brakes well, and steering feel is good and responsive. The gear shift lever is located on the dash board, and can be manually shifted, but we had no reason to use that feature much. The sport button changed the shift points for a little more oomph when accelerating, but again there's not much need for that in a vehicle like this, either.
The cabin has been revised and we liked it. Ours was finished in two-tone grey, with some wood trim. The sweeping dash is divided in two sections, with the driver getting the large gauge package and most of the controls, while the passenger gets to play with the audio system and climate controls. The large touch screen is easy to operate, and without annoying gimmicks. The info screen between the driver's gauges can be customized to the driver's needs. Large round dials for the HVAC are easy to use.
The heated leather seats are very comfortable, and there is plenty of headroom. We wish, however that the sliding moonroof would have been a larger panoramic one to get more light into the cabin. The Kia Sedona has two sunroofs and they both open for light and fresh air. But there is ample headroom for all passengers, and there is a fold down infotainment screen for the kids in back to keep them occupied with movies along the way.   And I like the fact that the second row windows slide down halfway, and are not just vent windows like the rear ones. And they have built in sunshades.
The steering wheel has been redesigned and has all the right redundant controls. A huge center console is large and very deep and will swallow a lot of stuff, and the dual glove boxes on the passenger dash hold a lot more than just the Owner's Manual. 4 front passenger cup holders plus good door pocket storage also impress.
This XLE Premium has all kinds of nice features, like 18" alloy wheels, and active torque control for the AWD system, and 8 active air-bags offer protection to all passengers. Rear back up camera, blind spot monitoring system, and cross traffic alert, are great for a vehicle this size. Projector beam headlights, and wide angle fog lights light the way very nicely at night on rural roads. 3-Zone climate controls, push button start, the DVD player for the kids, 7" touch screen, all the necessary charging and connectivity ports, Navigation with Toyota's Entune app suite and Bluetooth connection. There's a lot of content in this Sienna. Our test vehicle had no options other than floor mats, and with destination charges came to a healthy $41,770.
The base Sienna L starts at $28,700, and moves up the ladder to the LE, SE and XLE trims in the mid $35,000 range, before jumping up to the Premium. So you can find a model and seating options to fit your budget and needs.
So if you need a large versatile vehicle to haul kids, adults, cargo, and pets, safely, and easily, and you truly have no off-road ambitions, a minivan is the way to go. And this Sienna should be in the mix when shopping for one.
 2015 Toyota Sienna XLE Premium AWD Review
2015 Toyota Sienna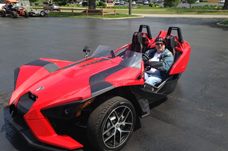 Ken "Hawkeye" Glassman has been a motor journalist for over 30 years, reviewing automobile, as well as motorcycle ride reviews and accessory reviews.
His car articles have appeared in Robb Report Magazine, Autoguide.com, Car-Revs-Daily.com and other media. His work has also appeared in Road Bike Magazine, Motorcycle Tour and Cruiser, SpeedTV.com, MotorcycleUSA.com and others.
As motorcycle columnist for The Daily Herald in suburban Chicago, the paper became the only major circulation newspaper in the country to have a separate weekly section devoted to motorcycles. Later he wrote a weekly column for Cyclefocus Magazine.