The best-selling Honda CR-V is many things. Efficient, roomy, practical and safe are traits all closely linked to Honda's mid-size SUV.
Stylish and luxurious, though?
The 2015 CR-V Touring is the best-looking and most premium CR-V Honda has ever made.
EXTERIOR
You will see the new CR-V coming from afar.
Gorgeous LED lighting up front glows for miles with a ribbon of white light around the headlamp edges, with the lower edge extra bright for LED DRL functionality. These LEDs are standard for EX, EX-L and Touring trims. Only the base LX with its $24k price and steel wheels misses out on the new CR-V look. The base LX also lacks the bright front skidplate design accent at the alter of low base pricing.
For the Touring alone, machine-polished 18-inch aluminum wheels wear a sharp new look with gloss-black innards are hot and sporty. Projector-beam main headlights replace reflectors for the Touring trim, completing its nose upgrade nicely. All in: the Touring pack for 2015 definitely delivers a level of coolness that is all-new to the CR-V exterior design.
INTERIOR
The CR-V is huge inside. It is extremely capacious from the front seats with a low floor, roomy floating dashboard and center stack, and a free-standing center armrest. Definitely a relaxing mood inside, enhanced by the Touring moonroof and leather.
All-new controls for dual-zone climate, navigation and infotainment are a fresh addition for 2015, as is a giant helping of NVH materials to keep the cabin quiet and hushed like never before. We found a bit more highway rumble than expected, but it's not a dealbreaker.
In back, similar levels of space make the CR-V feel much larger than the Ford Escape, Toyota RAV4 or the much-loved Mazda CX-5. The trick back seat still tumbles or flips its bace upward acrobaatically, while the trunk has an extremely deep cargo well to fit a huge 35.4-cubic-feet of stuff in back with the seats up. With them folded, max room doubles to over 70 cubic-feet -- which is seriously impressive. The space and flexibiliy of the cabin makes the CR-V feel a size above its direct competitors -- which is a huge selling point.
What family does not want more space for stuff!?
PERFORMANCE
The CR-V stars as an ultra efficient way to have high ground clearance, a big cabin and available AWD. EPA stats of 27-mpg city/34-mph highway only drop one click each for the AWD models. All CR-Vs have more oomph this year thanks to an 11-percent bump in torque for the 2.5-liter four-cylinder engine, but it takes driving with the gear-lever in "S" sport mode to make the urge noticeable. Overall, the CR-V feels good at the helm, however. A new adaptive electronic power steering is smooth and precise, and even offers good road feel for the conditions under the front tires.
In sunny Atlanta summertime, we could not test the AWD system's responsiveness to a loss of traction -- which is an area that the CR-V loses points to crossovers with a lock-able configuration. But even as it is, the completely automatic and seamless AWD of the CR-V is capable enough for 98-percent of family driving.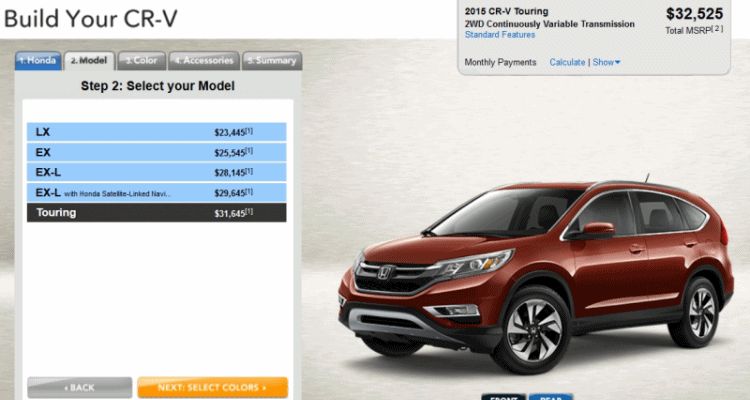 PRICING
Standard with nearly everything, the CR-V Touring AWD is priced from $33,775 including its destination charge.
CR-V Base Prices - FWD