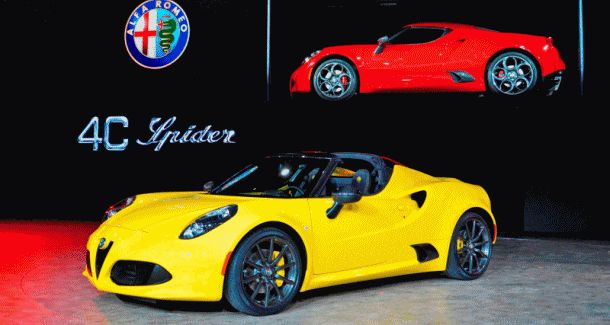 Not sure why it took so long to come to this realization, but better late than never. The best way to think about the new Alfa Romeo 4C Spider is as a modern Dino Ferrari.
When the Dino was launched, it was the least-powerful and by far the most affordable Ferrari ever made. It was ostensibly created to give Enzo's son the joy of mid-engine performance in a package that wouldn't overwhelm the young driver with too much power. But the Dino was barely slower than many of Ferrari's finest cars of the 1960s, despite packing half the cylinders of the big V12 GT cars like the 275. Advanced unibody construction for the Dino also meant it was ahead of its body-on-frame big brothers in the Ferrari line. It was a veritable LeMans car, but smaller and without killer power.
These days, the 4C Spider is powered by an ultra-tuned 1.75-liter turbo four, which makes 237-horsepower and 280 pound-feet of torque along with its raspy engine and exhaust note.  The Ferrari 458 Italia and 458 Spider will soon be running a turbocharged V8 with almst the exact specific output as this 136-hp-per-liter gem in the Alfa. And here we have yet another similarity with the Dino vs 275.
The 4C Spider has a carbon-fiber tub frame, while the 458 still uses an aluminum unibody.
To cap it all off, the 4C even looks much like the rounded and bulging Dino. That Dino tech eventually filtered up to all Ferrari models, much like the carbon-fiber light-weighting tech in the 4C is expected on future Ferrari mid-engine models.
The 4C is a real gem in the flesh, with stunning details, low proportions and big-supercar width all on its side.
Silly that it took a roofless version and this yummy yellow paintwork to see the Dino magic before now.
WORLD-PREMIERE: ALL-NEW 2015 ALFA ROMEO 4C SPIDER
Production version of the all-new 2015 Alfa Romeo 4C Spider, revealed at the 2015 North American InternationalAuto Show, will arrive at dealerships this summer
All-new 2015 Alfa Romeo 4C Spider's open-air performance cockpit and mid-engine proportions draw from more than 100 years of groundbreaking and functional Italian design
Unique carbon fiber windshield frame and available carbon fiber "halo" highlight 4C Spider's ultralight carbon fiber monocoque and aluminum chassis structures, which enable an incredible power-to-weight ratio and supercar-level performance
Innovative and unique technological solutions: all-aluminum 1750 cc direct-injection, dual intercooled, advanced turbocharged engine with dual variable-valve timing paired to the blistering fast Alfa TCT (twin-clutch transmission) and Alfa DNA selector with four adjustable drive modes
All-new available Akrapovic dual-mode exhaust system features dual, center-mounted tips with carbon fiber surround and signature Alfa resonant sound (late availability)
Handcrafted in Modena, Italy, Alfa Romeo 4C Spider combines two excellences – the performance engineering of Alfa Romeo and the craftsmanship of Maserati manufacturing
All-new 2015 Alfa Romeo 4C Spider arrives in U.S. and Canadian dealerships this summer 
January 12, 2015 , Auburn Hills, Mich. – Adding to the Alfa Romeo brand's legendary racing history and the exciting experience of open-air motoring, the all-new 2015 Alfa Romeo 4C Spider debuts with panoramic views complemented with a signature Alfa exhaust note, plus the essential sportiness of the award-winning 4C Coupe: handcrafted in Modena, Italy; groundbreaking and seductive Italian style; state-of-the-art Formula 1 inspired carbon fiber monocoque chassis that enables an incredible power-to-weight ratio; advanced technologies, including the all-aluminum 1750 cc turbocharged engine with direct-injection, dual intercoolers, and variable-valve timing that enable supercar-level performance.