BimmerBoost  has uncovered some very exciting news today.
The BMW owners site just posted the official 2014 M3 launch images and ordering guide.
The early release also includes details on the two-door M4; stay tuned for an upcoming article.

For the sedan, BMW chose its most lively blue paint and dark wheels for the press shots. As always, something about a track-honed car with four doors -- this M3 looks better than the M4, in my opinion.

Enjoy these high-resolution images ahead of the 2014 BMW M3 ahead of its official debut in Detroit next month.
Also included below are some interesting technical images from the M4 Technology Days event in Munich a few weeks ago.
2014 BMW M3 - Exterior Gallery
2014 BMW M3 - Standard Features
2PN - 18" Light Alloy Wheel V-Spoke Style
4MC - Carbon Fiber Interior Trim
609 - Navigation system
459 - Power Seats
494 - Heated Front Seats
ZMT - Manual Transmission
Exterior Colors
300 - Alpine White
B39 - Mineral Grey Metallic
475 - Black Sapphire Metallic
B50 - Sakhir Orange Metallic
A29 - Silverstone Metallic
B67 - Austin Yellow Metallic
A96 - Mineral White Metallic
B68 - Yas Marina Blue Metallic
Interior
CSAT - Cloth/Leather combination Carbonstructure Anthracite/Black
X3A9 - Silverstone Full Merino Leather
LKA9 - Silverstone Extended Merino Leather
X3DA - Sakhir Orange/Black Full Merino Leather
LKDA - Sakhir Orange/Black Extended Merino Leather
X3JR - Sonoma Beige Full Merino Leather
LKJR - Sonoma Beige Extended Merino Leather
X3SW - Black Full Merino Leather
LKSW - Black Extended Merino Leather
ZDB - Driver Assistance Plus
5AG - Active Blind Spot Detection
5AS - Lane Departure Warning w/Collision Mitigation
5DL - Side and Top View Cameras
8TH - Speed Limit Info
ZEC - Executive Package
248 - Heated Steering Wheel
322 - Comfort Access keyless entry
3AG - Rear-view camera
494 - Heated Front Seats
502 - Retractable headlight washers
508 - Park Distance Control
610 - Head-up Display
655 - Satellite radio with 1 year subscription
LK - Extended Merino Leather
or X3 - Full Merino Leather
ZLP - Lighting Package
552 - Full LED Lights
5AC - Automatic high beams
2014 BMW M3 - Optional Features
2MK - M Double-clutch Transmission with Drivelogic
2NK - M Carbon Ceramic Brakes
2VF - Adaptive M Suspension
2VY -19" Light Alloy Wheel Double-Spoke Style 437 M with mixed performance tires
2VZ - 19" Black Light-Alloy Wheel Double-Spoke Style 437 M with mixed performance tires
403 - Moonroof (will delete the carbon fiber roof)
5DP - Parking Assistant
415 - Power rear sunshade
688 - Harman Kardon surround sound system
4CE - Anthracite Wood Trim
6AN - Concierge Services
4LY - Aluminum Blade Interior Trim
6NS - Enhanced USB & Bluetooth plus
5AC - Automatic high beams Smartphone Integration
5DL - Side and Top View Cameras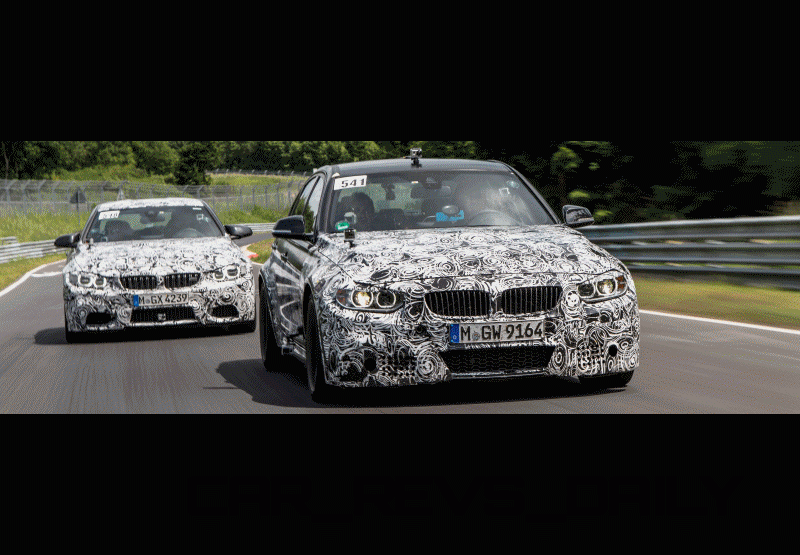 Notes
2NK requires ordering 2VY or 2VZ
4MC will add 4LX to the order
CSAT cannot be ordered with ZEC
4CE will add 4DM to the order
5DL requires ordering ZEC
ZDB requires ordering ZEC
4LY will add 4LX to the order
5DP requires ordering ZEC
ZLP will delete STD or 100% equipment 522 & 524
BMW Motorsport Technology Days - Photos