When the Infiniti QX50 first appeared back in 2007, it was known at the time as the EX35, and boasted a wagon-like profile that sought to lure in luxury crossover buyers that would have otherwise gravitated towards offerings from BMW, Lexus, and Audi. However, the rear-wheel drive based offering missed the mark, and despite a refresh in 2014 that added a name change and tweaked styling to the mix, customers still stayed away in droves. Infiniti aims to shake up the segment with the newly redesigned 2019 QX50. But can its radically altered sheet of clothes, and a new engine offering help it reverse course? Or will it still flounder in the ever tightening luxury CUV segment?
When one looks at the QX50 for its aesthetic merits, they will be in for a pleasant surprise. While the 2019 QX50 doesn't stray too far from the basic and often overdone mold that defines the bulk of CUV entries, the front fascia is much more aggressive looking than before, and not only incorporates slimmer headlights, but also several sharp creases and humps that add definition and tone to its clamshell hood. Infiniti's double arch grille is still present and accounted for, while a fender vent below the A-pillar helps the front end blend seamlessly with the rest of the QX50. The side profile ditches the cab-rearward layout, and the equally long dash to axle ratio. The 2019 QX50 incorporates Infiniti's new "Crescent C-pillar" treatment for the rear window area, and it helps enhance the taller dimensions even further.
The rear fascia is where the bulk of the QX50's sporty DNA makes itself known, with horizontally mounted taillights that snake their way around the rear fenders, a raked rear window, as well as a two tone rear bumper with molded exhaust tips. A larger rear mounted roof spoiler is also present, and helps bring an athletic touch to the QX50's otherwise busy canvas. Infiniti is hedging its bets on this extensive redesign, claiming that the only elements that carry over from the old model are the moniker, and the Infiniti badge itself.
The interior also gets rebooted for 2019, and aims to be a much more opulent place to spend time in. Material quality and design are more at the forefront now, and while this design over functionality approach does lead to some ergonomic compromises, it also allows the cabin to be a visual masterpiece especially on the long haul. Infiniti designers also aimed to enhance overall luxury, and have adorned the cabin with swaths of leather and wood trim, as well as handsome splashes of soft ultra-suede trim that help embody the cabin's delicate hints of modernism. Infiniti is very proud of this ultra suede, and there were times where we found ourselves petting the material during our time with the QX50 (yes it's that soft.) The seats in our tester were very plush and comfortable, but for a model that Infiniti claims is supposed to infuse sports car traits into its DNA, we did find side support somewhat lacking.
A bigger problem is some of the ergonomic issues that still plague the interior. Many of the buttons on the instrument panel are clustered too close together, and Infiniti's dual touchscreen layout still looks a bit dated. Thankfully, the steering wheel controls alleviate some of this frustration, and listening to the optional 17-speaker Bose Performance Series sound system helped us relax even further. While sound quality is not quite as realistic as the "3D" sound system in the recently unveiled Acura RDX, this is still a potent stereo, and we look forward to spending more time with this system in the future. This of course, will include subjecting it to the trained ears of our resident music enthusiast (and my girlfriend) Emily to dissect both its finer attributes, and subtle acoustic limitations even further.
However having sporty styling, and an elegant interior won't mean much of anything if the 2019 QX50 cannot deliver out on the road, and thankfully, this CUV has the moves to back up its swagger. In a segment where all too often, driving dynamics are forced to take a back seat to other pursuits, the QX50 proved itself to be a fun and willing companion out on the open road. This is mainly due to the game changing engine that Infiniti is debuting in this model. Dubbed the Variable Compression (VC) turbo engine, this special engine utilizes several key innovations to help adjust the compression ratio to optimize both performance and fuel economy, with Infiniti claiming that it provides the power of a six cylinder with the fuel economy of a four cylinder.
Like others in its segment, the engine itself is a 2.0 liter turbocharged four cylinder, but that is where the mundane ends, and the ingenious engineering underneath makes itself apparent. An advanced multi-link system allows the VC-Turbo to seamlessly adjust piston reach depending on throttle input. It includes an electric motor that is incorporated into a novel Harmonic Drive gear. This setup replaces traditional camshafts, and helps make the engine more compact. Speaking of the engine, it is also lighter than before, with the engine block and cylinder heads cast in lightweight aluminum alloy. Meanwhile, the multi-link components are made out of a special high carbon steel alloy, which further trims weight.
Despite all the technology that is packed into this engine, our experience with it proved to be a mixed bag. On the one hand, Infiniti claims that the transition between power and fuel efficient compression ratios is seamless and relatively quick. In practice, the engine did a good job living up to this promise, and we rarely caught it sleeping on the job during the time we spent in our test car. However, full power applications produced too much engine noise for our tastes, with an annoying mid range drone permeating the cabin when cruising at freeway speeds.
Unlike other CUV entries with similar issues, there's plenty of performance to go around, with the noisy VC-Turbo producing a healthy 268 horsepower and an equally stout 280 lb-ft of torque. Like other 2.0 liter offerings, there is a slight bit of turbo lag present when first accelerating. But once the turbocharger has a chance to fully spool up, it endows the QX50 with respectable levels of thrust and confidence. The engine is paired with Infiniti's XTRONIC shift-by-wire CVT transmission, and while the unit in our tester was smooth around town, we did notice occasional stumbling when downshifting, especially on hilly terrain.
However, while the engine is the key piece that spends the majority of its time in the spotlight, it is ultimately the QX50's handling behavior that proves to be the unsung hero behind the scenes. While the QX50 does not have the razor sharp precision that defines the Q60 coupe, or rivals like the BMW X3. It comes pretty darn close, with our tester excelling on the twisting canyon roads that dotted our route. This is in stark contrast to many of its rivals, which would protest at being tossed about in similar fashion with copious amounts of body roll and slop. When it came time for more relaxed driving, the QX50 delivered smooth ride quality, and kept road and tire noise out of the cabin. Our tester did let in some wind noise, but we suspect it was due to an ill fitting seal in the sunroof, and we are confident that it will be remedied in full production spec QX50s.
In addition to its impressive driving dynamics, the 2019 QX50 is also the first Infiniti model to come equipped with Nissan's ProPilot semi-autonomous driving system. Already found on the 2018 Nissan Rouge and Leaf, the system can be thought of as an enhanced form of cruise control with semi autonomous capability. Like those models, the computer takes partial control of the steering braking, and acceleration operations to help maintain direction and vehicle speed. In the case of the QX50, the system also has the ability to gently steer around curves but it has to have both lanes registered in its cameras first for the feature to activate. Infiniti states that the system is in its element in freeway driving, so we unleashed it on the daunting 401 freeway to see how it would measure up.
Overall, the system did a good job of delivering as advertised, and it was very surreal observing our tester stop, accelerate, and even turn on its own. A key requirement is that both hands have to be either on or near the wheel for the system to work, with warning tones and images being displayed if they are removed. This warning system is not to be taken lightly, since it will actually turn off the car if it senses no corrective action by the driver. We almost found that out ourselves on a congested stretch of the freeway, with the engine actually turning off for several seconds before we managed to get it going again. The problem here is the system's tendency to rush to the latter stage of warnings, as well as the time it takes for the sensors to recognize the presence of hands before it returns to normal. Hopefully, Infiniti and Nissan will patch this flaw, and create a system that gives drivers a bit more time to react before moving to the final warning stages. With autonomy rapidly becoming a crucial cog in the greater automotive industry, we look forward to seeing if ProPilot will be the perfect balance for many drivers that crave a slice of the future in their purchase.
Pricing for the Infiniti QX50 aims to appeal to a wide swath of the luxury CUV market with base Pure models starting at $36,550 for a front wheel drive version. The addition of all-wheel drive as well as options causes the overall price to increase accordingly, with our Sensory and ProACTIVE package equipped tester easily eclipsing $54,000. Infiniti claims that a fully equipped QX50 can approach $60,000, but look for the bulk of QX50 buyers to focus on models in the mid $40,000 range which can be considered the proverbial sweet spot in the QX50 lineup.
With an adaptable pricing ladder, as well as an equally versatile mixture of performance, luxury, and technology it will be interesting to see how the Infiniti QX50 fares during its time in production. Based on our initial sampling, it's certainly more flavorful than the outgoing QX, and its VC-Turbo four cylinder could perhaps bestow it with segment beating performance.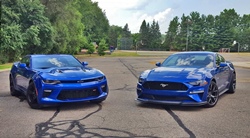 Carl Malek has been an automotive journalist for over 10 years. First starting out as a freelance photographer before making the transition to writing during college, his work has appeared on numerous automotive forums as well as websites such as Autoshopper.com.
Carl is also a big fan of British vehicles with the bulk of his devotion going to the Morgan Motor Company as well as offerings from Lotus, MG, and Caterham. When he is not writing about automobiles, Carl enjoys spending time with his family and friends in the Metro Detroit area, as well as spending time with his adorable pets.