With ample cargo room, a healthy suite of features, as well as purposeful styling, it's no secret that the 2017 Toyota Highlander has emerged as a key family focused entry for the Japanese auto giant. When we last met the Highlander, we gave it high marks for interior room, and the flexibility provided by its sizable cargo area. However, a key weakness that emerged during that encounter was the Highlander's low fuel mileage. Toyota aimed to try and correct this flaw with the 2017 Toyota Highlander Hybrid, but does it stand out as a must have option for Highlander fans? Or does it offer minimal reward for the money.
The exterior styling doesn't change much from the standard Highlander, with the Hybrid retaining the function first styling motif that defines its siblings. Like before, the bold front grille embodies a sense of purpose, while the side profile transitions to a handsome rear end defined by sharp looking LED tail lights. Hybrid models stand out thanks to their blue tinged badging, which has become a calling card for Toyota's eco-friendly models over the years. While the design will still not evoke the same emotional response as say a Lamborghini or a bespoke piece of art, we will give Toyota props for the brilliant red hue on our tester. Dubbed "Ooh La La Rouge," the slick paintwork helped generate a sporty vibe, and it is refreshing to see a color choice embrace a name that is bolder than the usual sea of dull monikers that are abundant throughout the segment.
The interior follows the same script that defines other Highlanders, as well as rivals in its family focused segment. Materials are high quality and feel first rate with our tester's cabin featuring a balanced amount of plastic, leather, and faux wood trim. As before, we loved the handy storage ledge that runs along the center dash, and used its storing prowess extensively during our time with the Highlander Hybrid. But we hope that Toyota will eventually move the location of some of the charging ports, since the ledge does block them from easy view. The infotainment system is relatively easy to use, but it is a bit of a reach for the driver, and some of the hard controls are positioned too close together. The second row captains chairs offer plenty of passenger space, and make up for how cramped the third row is for anyone but small children, cargo, and unruly relatives.
When it comes to overall performance, the Highlander is not exactly known for offering barn burning figures, and the same is true for the Highlander Hybrid, which feels just as slow and has even cushier handling. However, the hybrid's key problem is that it does not really offer any distinctive advantage over its standard cousin, with the initial bit of pep generated by the electric motor fading away to sluggishness once the naturally aspirated V6 takes over in faster driving. While the 3.5 liter V6 in our tester makes a modest 295 horsepower and an equally quaint 263 lb-ft of torque (the same as its pure gas cousin,) even the addition of a 167 horsepower electric motor cannot mask the extra 310 lbs that the Hybrid is lugging around. All-wheel drive versions like our tester also house a rear axle mounted electric motor, but this item is designed to work in tandem with the all-wheel drive system versus outright power delivery to the rear wheels.
That extra flab blunts its already mediocre handling characteristics, and while we will give the Hybrid props for its respectable 7.0 second 0 to 60 time, The rough transition between normal and regenerative braking left a sour taste in our mouth. However, the biggest demerit that we noticed is that it does not offer much of an efficiency advantage either, with the hybrid only recording marginal gains in mpg versus its standard cousin. This not only makes the Highlander Hybrid a tough sell against its fellow kin, but even against competitors, with the hybrid either being on par or slightly worse than rivals such as the Mazda CX-9 which lacks a hybrid option, but manages to achieve the same fuel economy with its turbocharged four cylinder engine.
Pricing for the 2017 Toyota Highlander Hybrid starts at $36,670 for the base LE model with our lightly optioned Limited model starting at $44,760. Optional $225 carpet floor mats and the $209 body molding kit helped nudge the final price of our tester to $46,134 which includes the $940 destination fee. While this figure is on the high side, the situation changes when compared with other Highlander trim levels. For example, the LE hybrid costs only $2,130 more than a comparable all-wheel drive V6 Highlander LE model which could please buyers that put value at the top of their vehicular wish list.
At the end of the day though, The 2017 Toyota Highlander hybrid ends up being a unique enigma among SUVs. While its abundant practicality and passenger space is a welcome change from other hybrid offerings that typically sacrifice one or both of these for maximum fuel economy. The marginal fuel economy advantages, as well as its inferior driving dynamics make it a tough sell for both eco minded buyers, and growing families looking for a compelling long term investment.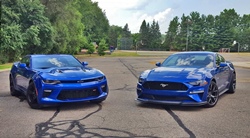 Carl Malek has been an automotive journalist for over 10 years. First starting out as a freelance photographer before making the transition to writing during college, his work has appeared on numerous automotive forums as well as websites such as Autoshopper.com.
Carl is also a big fan of British vehicles with the bulk of his devotion going to the Morgan Motor Company as well as offerings from Lotus, MG, and Caterham. When he is not writing about automobiles, Carl enjoys spending time with his family and friends in the Metro Detroit area, as well as spending time with his adorable pets.