World Class FAST!
The 2016 Dodge Charger SRT392 is a life-changing machine.
Normal drives become the highlight of your day.  The remote start is a thunderous event in itself!  Waking the 6.4-liter, 485-horsepower HEMI V8 happens with pure raging fury.
Hence, our loving ThunderCat nickname!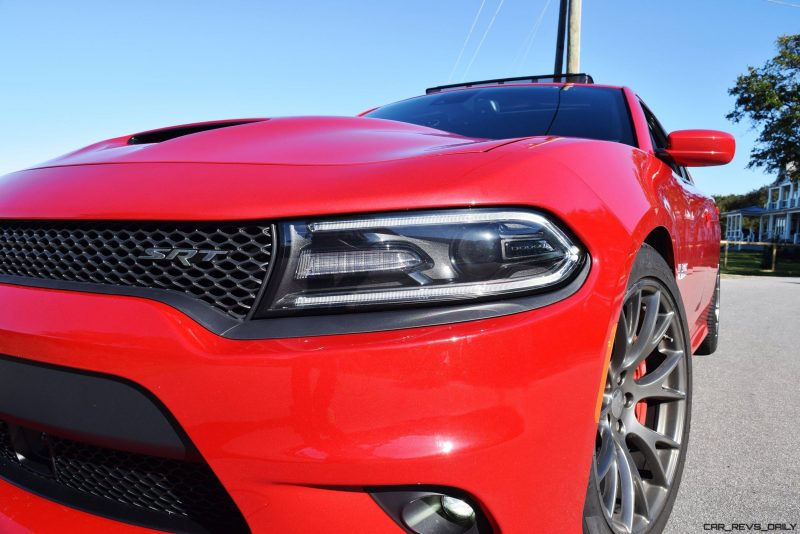 The 2016 Charger is an instant Best-of Award winner.  A week in this car is enough to make anyone feel like a man's man.  Women included.  It puts hair on your chest and a baritone in your throat.
Full review here with standard headings of Exterior, Interior, Performance, Pricing and Summary.  Two HD drive videos are definitely worth watching.  You have to see and hear this car in a blissful, talent-free hour of full-throttle launch starts.  Every since piece of performance hardware, style and tech of the Hellcat… yet with a friendly, huggable base price of $51k.
Drive Video 1
EXTERIOR
The new Charger looks great on the road.  And that is a good thing: there are a lot of these mean, rear-drive full-size sedans prowling the nation's highways.  The standard LED lighting makes even the SXT V6 a bit of an event to see.
But do frequent sightings dull the impact of the SRT flagships?
Not one bit, actually.
The new bumpers front and rear, unique hood with giant ram air intake, sill extensions, rear spoiler and 20-inch forged wheels make a strong statement of their own.
People know that this is no regular Charger, and the car clears fast-lanes like it had a blue lightball on top.
The SRT nose is perhaps the most dramatic.  The deep lower chin spoiler is quite impressive with the long, low and wide stance of the car. Very little overhang and ultra long hood, of course, reinforce the cab-backward proportions you know and love so well in the CTS-V, E63 or M5.   The hood scoop is almost Viper-ish in its huge bulge, NACA-style intake shape and pronounced flex lines.  And you can even appreciate this hunky element without leaving the driver's seat. Like all the best American musclecars, then!
A final SRT exclusive?  Mini LED projector-beams for the foglamps let in more cooling air for the standard Brembo brakes than the triple-beam LED fogs of the R/T Charger.
We especially love how the Charger SRT392 is so hunkered-down in its stance.  In that profile view, the only difference between the SRT392 and the Hellcat is the front fender badge.  More than a few times we caught people looking for the Hellcat badge, and being slightly underwhelmed to find a 392 in its place.
Note to self: start designing a similar-but-unique ThunderCat badge…  or perhaps just ask the dealer to debadge its front fenders for you.  =]
INTERIOR
The SRT Chargers are quite an event to hop into.  180MPH speedometer!?  Red seatbelts?  Even red-matched lower door trims that are racy and unique.
Giant sport seats, steering wheel and pedals are all big upgrades over the $33k-base R/T with its 370HP, 5.7-liter Hemi V8.
And they really do the business.  You're comfortable, spread out and also in control.  Great range of tilt/telescoping for the power-adjustable steering wheel.  And also great shoulder-hugging support from the SRT seats with real Alcantara suede inserts for the inner seat surfaces, and Nappa leather on the rest.  Premium and convincing!  Heated and cooled as standard, by the way. Bonus!
Granted, a few parts of the Charger's seat and drive position are not perfect.  The headrests are only adjustable for up/down and are not always supportive.  Check out the interior here: you can see that with the seat reclined to a gangsta lean, the headrests are on the same angle.  Ideally, they would be tilt adjustable, and much softer in general.  They also squish around in their mounts in a somewhat low-quality way.  It is only because the rest of the cabin is so great that we mention this.
The other seat issue?   The dreaded phone-drop out of your pocket when seated. Or change, keys — you name it — is something that happens to the best of us when driving around.  The Charger makes it very hard to find your stuff without stopping, getting out and fumbling around under there.  You learn this because sticking a hand between the seat and console is painful.  Not just a squeeze… there is sharp hardware down there that pokes pretty sharply.  Would be great to have a little hammock or something to collect pocket crap before it gets to the sharp spots below.
Like we said…. clutching at straws!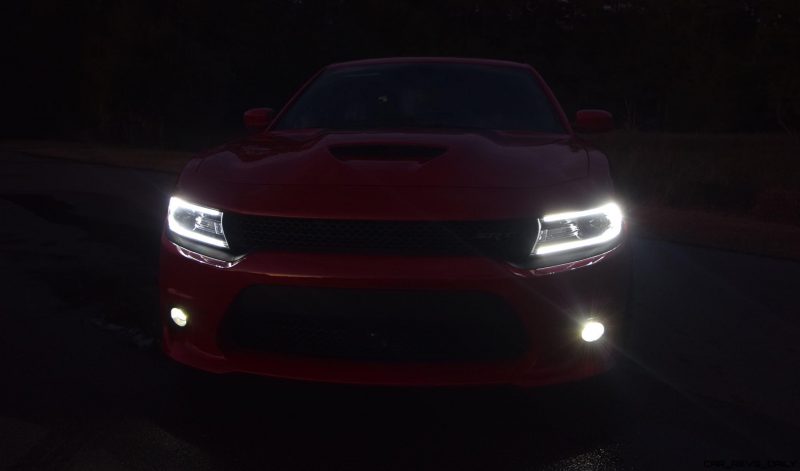 Other miscellaneous notes from testing: the Charger's LED DRLs and LED foglamps are obviously cool as fahk all the time.  Always in right setting.  The auto highbeams are nice too, as part of the $1600 Tech package. These flip on or off the bi-xenon main projector beams whenever another car is approaching.  It works perfectly.
But….. the actual lighting performance with everything on?  Not the best, and certainly nowhere near as bright and clearly-lit as BMW or Audi.
The SRT Charger is full of fantastic tech as standard.  The Uconnect system is one of the best in the world. Nav, apps, SRT Performance Pages, drive modes, heated wheel and all seats, 4-way lumbar for both front seats, shift paddles, keyless Go, remote start, HD and SiriusXM, wifi hotspot….  It goes on an on!  Everything.
That Technology Package ups things even further:
Adaptive cruise, lane-sense and lane-keeping assist, brake assist, auto wipers, BLIS, cross-path detection, parking sensors and more.  A great value and the tech is actually helpful and easy to use.
A better buy than the $1200 moonroof and $2k Harmon Kardon audio upgrade with 19 speakers and a sub.  That stereo is pretty weak, by the way, for such a costly upgrade.  Nowhere near the top audio performance of the ~800W optional unit.
Drive Video 2
PERFORMANCE
Performance?  YES.
Any time, any where.
Watch the speedometer munch numbers so fast that the digital readout adds 8-mph every millisecond!
The Charger SRT392 is the absolute best Charger for balanced, always-on V8 power.  But without the distort, face-bending effect of 200 extra ponies at 4000RPM like the Hellcat.
In our unskilled hands, the SRT modes and Launch Control deliver big results.  With the built-in mid-cluster timer, we ripped 4.4-second runs up to 60-mph like clockwork.  Without LC, the quickest we could record was a 4.5s… but all of these can likely be improved in ideal conditions.  The official pace is 4.2-seconds, but MT and others have beaten even that.
And they barely do the Thundercat justice. This car comes off the line exactly tailored to your mood.  Want a cloud of white burning rubber?  Keep your foot deep in the carpets!  Want a clean getaway?  Slight restraint through the first few moments and you shoot off the line with scientifically-perfect amount of wheelspin.
Then the real show starts. The SRT392 shares its TorqueFlite, eight-speed ZF automatic with all Chargers, of course, but mostly with the Hellcat.  As such, the autobox feels stronger and even more excellent than its class-best showing in the R/T.
What do we mean?  Instant lockup from the torque converter, a pure, endless wave of torque that doesn't ever make a wrong move. And in sport, blipping and downshifting as the car slows.  All this, and it is ready in an instant to brummmmmm a downshift or snick an upshift the moment you grab the paddles.
Superb.
SRT-exclusive Bilstein shocks, adaptive dampers and adjustable ride modes are all better than you would ever believe. In Track mode, the Charger feels like it is sucked into the pavement.  Not an ounce of slop, biting turn-in and great lateral grip and control. It makes the car so focused and intense!  It hunts apexes like a trufflehog, has weighty but QUICK steering, and a hair-trigger throttle precision.
Coming on throttle and hearing the 485HP of this HEMI come on steam?  One of the treasures in life. Makes you smile.  Every.  Single.  Time.
But…
We did discover a great way to calm the Thundercat down even more than its Normal/Comfort setting.  And that is the ECO mode, selectable like Track, Sport, Custom and Normal in the SRT Performance pages.  You press the SRT button to get in these menus, by the way.  ANd individual settings are then available for all eight variables via the Custom page.
In ECO mode, however, the Charger SRT392 really mellows out. The restrained throttle map and gearing is fantastic for traffic.  Otherwise, coming on and off the throttle can be too aggressive for the general mood.
We also wish the Thundercat had a 'stealth' mode that made the exhaust slightly quieter.  Just for early mornings and to keep your neighbors happy?
PRICING
The SRT392 comes in with a base price of $50,995 — which is outstanding value.
Redline red paint for $500, the Tech pack, moonroof and stereo add about $5k in all.  Pirello P-Zero tires are the last $600 upgrade, and take us to an as-delivered total of $57,870.
Book a test drive of this car.
Today.
SUMMARY
The SRT392 comes with or without the Scat pack.
And we finally figured out why Dodge brought back that musclecar badge from its 60s history.
It is because everywhere you go on throttle in the SRT392 (or its Scat pack twin)… people are either ecstatic to watch the action, or furious about the rebellious, anti-social "kids dragracing."
The SRT392 is a menace to society, and needs to be chased off.  Just picture someone on their porch yelling, "Scat, you hooligans!!!"
This literally happened a few times in the SRT392.  After a few blasts up and down our favorite disused airport runway…. the local commando squad showed up to quash the fun.
Notably, they were not in the Haters group.  But with us in the Lovers corner.  The cops LOVED the car, transfixed by its burble, 4-door supercar charisma and sheer animal magnetism.
Thundercat… you stole my heart.
Please bring it back!
Post_Script:   Here is a follow-on post linked below that includes all these photos without the tiny multi-column layout.
http://www.car-revs-daily.com/2016/03/08/2016-dodge-charger-srt392-road-test-mega-gallery/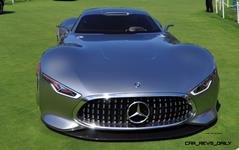 Tom Burkart is the founder and managing editor of Car-Revs-Daily.com, an innovative and rapidly-expanding automotive news magazine.
He holds a Journalism JBA degree from the University of Wisconsin – Madison. Tom currently resides in Charleston, South Carolina with his two amazing dogs, Drake and Tank.
Mr. Burkart is available for all questions and concerns by email Tom(at)car-revs-daily.com.