First up-close look at the 2015 Camry Pace Car in real life. A modified 2015 CAMRY XSE V6, shiny exhausts and a lower stance are visible above 19-inch BBS alloys and Z-rated tires. Just a tire and spring change away from being approved for 155mph? Yep.
Summer rubber on this pace car, even in chilly February! The pair of Camry Pace Cars is active regularly during the Budweiser Duel Races that serve as a qualifier for the Daytona 500 lineup.
This new LED-lit 2015 Camry Pace Car has no trouble managing track brutes at up to 125-mph around tracks like Daytona International Speedway, and looks as good as the racers out there on track!
The design of the new Camry looks outstanding from the grandstands of Daytona, we can confirm, for both the pacecar and during the racing action.
2015 Toyota Camry – DAYTONA 500 Official Pace Car
2015 Toyota Camry #83 Johnny Sauter NASCAR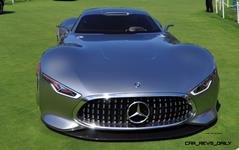 Tom Burkart is the founder and managing editor of Car-Revs-Daily.com, an innovative and rapidly-expanding automotive news magazine.
He holds a Journalism JBA degree from the University of Wisconsin – Madison. Tom currently resides in Charleston, South Carolina with his two amazing dogs, Drake and Tank.
Mr. Burkart is available for all questions and concerns by email Tom(at)car-revs-daily.com.