The first-ever global Ford Edge has arrived! The 2015 model will be sold in 110 markets across the world, which is a first for any Ford truck or SUV.
Other firsts keep rolling in with this all-new model – including a standard EcoBoost turbo in 2.0-liter flavor making a healthy 245-horsepower and 270-pound-feet of torque through the standard six-speed automatic.
This six-speed is the SelectShift auto – a traditional torque-converter automatic that promises smoother city coasting than the sometimes-unpleasant PowerShift twin-clutch unit. It also pairs well with the standard front-drive or optional all-wheel-drive of the new Edge in all three engines.
That base EcoBoost is joined by a 2.7-liter twin-turbo EcoBoost model expected to make about 320 horsepower and a similar lump of V8-style torque all over the rev range.
The 3.5-liter V6 is back but only in naturally-aspirated form, which makes it a mid-level engine for the 2015 Edge.

INTERIOR
Inside, the ride is quieter, firmer and more luxurious than before — all at the same time. Upgraded tech and a large eight-inch nav screen are new, as are the refinement benefits from a 30-percent increase in chassis stiffness and firmer suspension settings all around.
With the euro-tuned suspension that will now be a standard Edge feature, the truck is more premium with softer materials and big reductions in cabin noise at speed. This is especially important on the loaded Titanium and Sport trims with their massive 20-inch wheel/tire package — high-performance stuff that has caused some road rumble in the current Edge Sport.
Overall, a solid remake of the 2015 Edge — one that will make buyers very happy the world over!
FIVE SEATS? OR SEVEN?
Five-seat models will kick off the range across the world, but a stretched-wheelbase model is aimed at China specifically about six months after the initial Edge arrives in December 2014 to US showrooms. The availability of this larger model in the US remains unconfirmed, but would surely be a popular upgrade for added family versatility.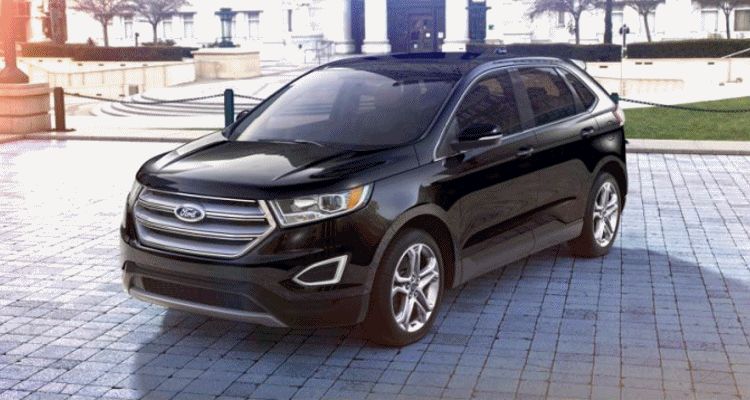 2015 Ford Edge – Tech Specs
2015_Edge_Specs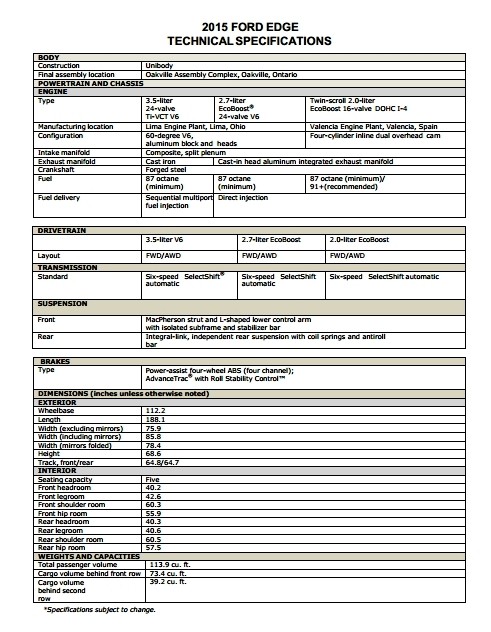 2015 Ford Edge Sport – INTERIOR GALLERY
2015 Ford Edge Titanium – INTERIOR GALLERY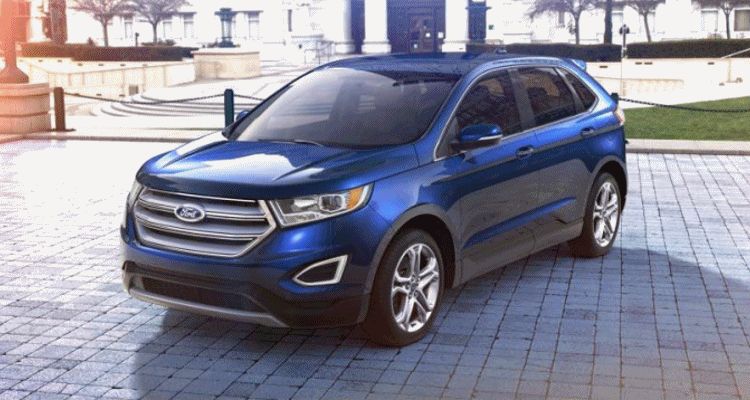 2015 Ford Edge Sport – EXTERIOR GALLERY

2015 Ford Edge Titanium – EXTERIOR GALLERY