Remember when sport SUVS once ruled the automotive landscape? Indeed in the 90's and early 2000's there was a period in time when these muscle bound behemoths were the proverbial jewels in the pocket books of the Detroit Big Three. But once gas prices rose, and the economic recession took hold, the segment went out with a whimper, and nearly disappeared. With a new era of cheap oil and a revived interest in SUVs, the segment has bounced back, and has produced a new crop of entries. One of these is the 2018 Chevrolet Tahoe RST, but can this new trim level finally bring some sportiness to this venerable family hauler? Or does it still come up short?
At first glance, the exterior styling of our tester certainly looks the part. Like all Tahoes, the motif here is all about being brash and muscular, with the Tahoe proudly flaunting its size to passersby. Unlike other Premier grade models, the RST eschews chrome trim in lieu of a blacked out appearance that looks sinister, and helped our tester become the topic of discussion amongst my fellow co-workers and passersby during its stay with us. Even the prominent normally gold bow tie badge gets in on the act, and is adorned in black for RST duty. Another key piece of eye candy is the massive 22-inch gloss black wheels which look quite sharp, and nicely filled the wheel wells of our tester. As a bonus, they even offer a compelling view of the Brembo front brake calipers, which standout like red pieces of licorice.
It's a pity that the rear of the Tahoe is where the sporty look falls apart somewhat. The rear is still crisply styled, but it's somewhat blander, and it is disappointing that the Borla exhaust tips don't have the chance to standout effectively on the rear bumper. On the flip side of things, we did enjoy the smoked LED taillights which helped bring a dash of distinctiveness to the rear end, though we wish that Chevrolet will eventually bring a formal dual exhaust setup to the Tahoe, perhaps when it is due for its next round of extensive updates.
The interior of our tester also reflects the progress that the Tahoe has made in interior quality and refinement, but at some point along the way, it appears that Chevrolet designers missed the memo on adding some of the exterior's bold mojo to it. The cabin itself is very luxurious and is loaded to the gills with luxury content, but the seats in our tester did not have the same amount of support that we have come to expect from other performance SUVs, and while we liked the handsome wood trim, some carbon fiber or metallic trim would've been welcome here.
Cargo capacity is also somewhat disappointing in the RST. Even with all two rear rows of seats folded flat, the Tahoe only has 94.7 cubic feet of space to cram with stuff. For comparison, the Toyota Sequoia has 120 cubic feet of space, and the Ford Explorer bests the big Chevy by 10 cubic feet. Folding the second row seats is also a bit of a chore, with the thrones requiring good arm strength to effectively move them up or down. The third row gains electronic assist, which is a welcome addition. Lastly for a vehicle that costs close to $80,000, we did spot some noticeable pieces of cheap plastic, as well as an ill fitting area of carpet.
It's not all bad news however, as mentioned earlier, our tester was loaded with an extensive suite of luxury equipment. This included heated and cooled front leather seats, heated steering wheel, 4G wireless internet hot spot technology as well as the latest iteration of Chevrolet's MyLink infotainment system. Despite the numerous amount of buttons scattered through out the cabin, many of them were easy to use, and logically placed through out. Second row passengers have decent amounts of head and legroom too, and can watch movies or play video games thanks to the rear entertainment system with roof mounted screen.
However, these minor annoyances do little to detract from arguably the RST's biggest trump card, its performance hardware. While GM also offers an RST with the 5.3 liter V8, it is merely a cosmetic only package. Check the box for the $2,820 RST Performance package and you are rewarded with the mighty 6.2 liter V8 engine. Once reserved for the GMC Yukon and Cadillac Escalade, the RST is the first Chevy application to make use of this potent engine, and it brings 420 horsepower and 460 lb-ft to buyers willing to explore its outer limits. Chevrolet claims that the engine can get the Tahoe up to 60 mph in 5.7 seconds, which is very impressive for an SUV that tips the scales at over 5,000 lbs. The 6.2's muscle makes its presence known out on the freeway, with the engine offering plenty of power for freeway passing, and stoplight to stoplight sprints. Even the Borla exhaust sounds good, but we would've loved to hear more of its wondrous noise in the otherwise quiet cabin.
Helping the RST channel its potent muscle to all four wheels is the other key addition in this story, the slick 10-speed automatic transmission. This novel unit was co-developed with Ford, and also sees duty in the GMC Yukon Denali, Cadillac Escalade, and even the Chevrolet Camaro ZL1. Shifts were smooth and accurate, but the Tahoe is still a full size SUV, and as such our tester's 14 mpg is roughly on par with the segment, though the Ford Expedition does do slightly better than it in city mileage. The new transmission is a notable improvement over the old eight speed however, and buyers will gladly put up with the marginal fuel economy increase to experience its more polished road manners.
Handling in our tester was somewhat of a mixed bag. Contrary to its "Rally Sport Truck" labeling, the Tahoe will never be known for its tossable traits with good amounts of body lean making themselves felt in hard cornering. However, we will give Chevy engineers praise for adding GM's Magnetic Ride Control system to the festivities. As is the case in other GM offerings, MRC continuously monitors road conditions, and changes the damping to allow the suspension to cope with various driving demands. This allows the RST to have a soft ride when cruising, and also more confidence (minus the body lean we experienced) when it is thrown into twistier terrain. Braking was strong, and the Brembo front brake calipers produced plenty of bite especially at higher speeds.
While this trim has the makings of a truly complete sport SUV package, the RST is let down by perhaps its biggest detriment, pricing. As mentioned, the $2,640 RST package can also be equipped to LT grade Tahoes, which have a base price of $53,895. However, it's merely a cosmetic only package, and buyers looking to truly complete the transformation will have to step up to the range topping $62,990 Premier variant to do it. Here, the RST package is split into two halves, with the RST Performance Package adding $2,720 more on top of the base RST package. Our loaded RST Performance Package equipped tester had a final price of $78,450 which is a very lofty price to pay for a Tahoe. it also puts the RST far ahead of some of its three row rivals, with the 2018 Dodge Durango SRT (review pending) having a much lower price with loaded examples ringing in at just above $73,000. The SRT model also boasts more raw performance, but it does fall slightly behind the Tahoe in fuel economy, and the base version is pricier than a similarly equipped Tahoe Premier.
Overall the 2018 Chevrolet Tahoe RST is a very interesting sleeper model (albeit a very large one) which should please buyers looking to place a strong emphasis on style and swagger. However, having sleek good looks and a potent V8 is only one part of the package. Ultimately, the RST needs more suspension revisions, and an interior that advertises its performance intentions better before the Tahoe can truly be a threat to more established performance SUVS.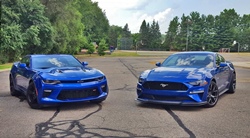 Carl Malek has been an automotive journalist for over 10 years. First starting out as a freelance photographer before making the transition to writing during college, his work has appeared on numerous automotive forums as well as websites such as Autoshopper.com.
Carl is also a big fan of British vehicles with the bulk of his devotion going to the Morgan Motor Company as well as offerings from Lotus, MG, and Caterham. When he is not writing about automobiles, Carl enjoys spending time with his family and friends in the Metro Detroit area, as well as spending time with his adorable pets.