Concept V-ision e mit PLUG-IN HYBRID – Sitz- und Liegeposition, Massagefunktion sowie Sitzheizung
und –belüftung der Executive Sitze können bequem mit einer App gesteuert werden.
Concept V-ision e with PLUG-IN HYBRID – An app can be used to adjust seating or reclining positions, and activate the massage, seat heating, and seat ventilation features of the executive seats.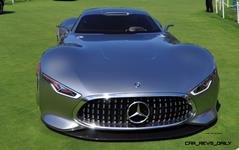 Tom Burkart is the founder and managing editor of Car-Revs-Daily.com, an innovative and rapidly-expanding automotive news magazine.
He holds a Journalism JBA degree from the University of Wisconsin – Madison. Tom currently resides in Charleston, South Carolina with his two amazing dogs, Drake and Tank.
Mr. Burkart is available for all questions and concerns by email Tom(at)car-revs-daily.com.