2015 Kia K900 Review
By Ken Glassman
For 2015 Kia has jumped into the high end luxury sedan market with the K900, just as their sister company Hyundai has done with the Equus. In fact, both cars share the same basic platform, and mission statement. That is – to build a high quality automobile, stuff it with a long list of standard safety, and luxury appointments and amenities, and offer it at a price that is thousands of dollars less than similarly equipped German, Japanese, and even American luxury brands.
Under the long hood, you'll find a muscular 5.0 liter Tau V-8 engine pumping out 420 horsepower and 376 ft. lbs. pounds of torque, which pulls mightily anytime you depress the accelerator pedal. It will reach 60 miles per hour in under 6 seconds – quite a feat for a car that weighs 4,555 lbs. Gas mileage is a respectable, if not outstanding: 15 City and 23 Highway. The engine is mated to a brilliant electronically-controlled 8-speed shift-by-wire transmission that is silken smooth in operation.
Should you decide to shift gears yourself, sadly you'll find that the manual shifts lazily, a trait not found on most German sedans. This is the first indication that the K900 is a car built to lean heavily towards the luxury cocooning side of the scale, and eschewing any dynamic sporting pretensions.
 
The next indication is the steering. It feels quite light, and vague, especially on center, when going down the highway. Very little road feedback comes though the steering column. The ride quality is somewhat floaty, and isolates the driver and passengers from all but the harshest bumps on broken pavement.
That's not to say that it lacks cornering skills – it doesn't. High speed twist and bends in the road, are accomplished with minimal body lean, and the car tracks nicely through the turns. But if one were to make an analogy of the K900 to an athlete, it would be to a golfer, rather than a linebacker. To be accurate, the same can be said of the Lexus brand of cars as well. It is more of a brand philosophy and target audience choice, than a lack of engineering capabilities.
Furthering the land yacht quality of this Kia, is the complete isolation of noise inside the cabin. It is as eerily quiet as a mortuary at midnight, thanks to a stiff chassis, 19" wheels, extensive use of sound deadening materials, and aerodynamics from the low slung, sleek shape. It will be hard for most drivers to appreciate all that quiet, since the 900 watt, 17 speaker Lexicon surround sound audio system begs to be let loose, providing a concert hall experience. The only difference is that you'll never find a concert hall as relaxing and welcoming as the interior of the K900.
The Napa leather heated and cooled seats are roomy and inviting. The seat controls are located on each door panel, a location copied from Mercedes. Add 16-way power adjustments, and if you can't get comfortable in this driver's seat, you can't get comfortable anywhere. And the rear seats are even better, as both outboard seats are lumbar adjustable and recline, in addition to being heated and cooled.
The dashboard is nicely laid out and offers the driver all the information he could want, and includes a heads up display. All of the materials are first rate, soft where they should be, and understated in appearance. Piano black accents the dash, with the right amount of thin chrome strips highlighting the center stack and air outlets, and handsome wood grain accentuates the doors.
A very large Nav screen dominates the upper center stack, and beneath that are controls for the HVAC, and a bit further down are controls for the radio functions. Naturally, the cliché analogue clock is present on the stack as well. Unfortunately, Kia also copied the round i-drive-like control on the console from BMW and others, which makes entering Nav addresses or accessing the continually growing infotainment and systems options a large pain in the rump that even the excellent seats can't erase. I wish that all of those console multi-function control knobs were banished to the ash heap of automotive history rather than copied. But I digress.
Thankfully Kia also included the trio of outstanding safety features that include blind spot warning indicators in each outside mirror, lane departure warning, and radar cruise control. In addition to the normal back-up camera, this one also has multi-view cameras, and both front and rear park assist.
The list of other luxury amenities is too long to print, but suffice it to say that the only thing missing would be your own personal ATM that would spit out $100 bills from the slot where the CD's are inserted.
Rear seat passengers are pampered in ways that only a few cars from Audi, Mercedes, BMW and Lexus can boast of, (and at 15, to 20 grand more). In addition to the aforementioned Lazy-Boy reclining seats, the center armrest reveals a storage compartment, dual folding cup holders, and a mini-console that controls the heating and air conditioning, and the seats.
The right side passenger can move the front seat forward, and lower the front seatback if he wished to really stretch out and relax. And should the sun beat down on his neck, the rear sunshade can be deployed. Should the sun be coming from the side, pull up sunshields can be raised. And of course the huge panoramic moon roof can be enjoyed or shaded as desired.
The Kia 900 provides excellent rear quarters for executives and potentates to be chauffeured and pampered. And any CEO can tell the stockholders that he is prudently driven to work in a Kia, and not a limousine, and smirk all the way to the office.
The big question is not about the quality or value quotient of the K900, but rather about who is going to buy it. Most folks who can spend $66,400 dollars for a car are usually looking for a prestige hood badge to show off, even if the car isn't a well appointed as the Kia. But I'm old enough to remember the 60's and 70's when Americans asked why anyone would spend more money on a Mercedes Benz which were regarded as German taxi cabs, rather than a Cadillac or Lincoln.
Then again in the 1990's folks asked who would pay premium prices for Lexus, Acura, or Infinity brands that were regarded as merely Toyota's, Nissan's, and Honda's.
But those brands succeeded because they built high quality cars, and offered excellent dealer services. And buyers of those mother brands of Honda, Toyota, and Nissan, who were very satisfied with those cars, were more than willing to move up the ladder with more expensive cars as they became more affluent.
We're sure that Kia doesn't expect to sell more than a few thousand K900's in the next few years, and we suspect many of those will be sold to the Korean government to chauffer their diplomats and dignitaries around the globe.   But we also suspect that satisfied drivers of today's Kia Soul, Optima, or Cadenza,  will one day be driving the upscale Kia900's of the future.
One person who could afford any automobile he wanted, and jumped on board the Kia900 train early is none other than "King James" himself. That's right basketball superstar, LeBron James purchased one earlier this year, and apparently fell in love with it so much he began to Tweet about it, and posted gushing Facebook comments.
That of course got the attention of Kia, who then sighed him to become the "luxury ambassador" for the car. That agreement came long after James bought his Kia from a local dealership.
So we say to all of the luxury brands on the market today from America, Germany, England, or Japan . . . watch out, the Koreans are coming !
By Ken Glassman
2015 Kia K900 – Features and Equipment
2015 Kia K900 Features & Options

 

S = Standard

– = Not Available

O = Optional

 

Mechanical

V6

V8

3.8L Gasoline Direct Injection V6 engine

S

–

5.0L Gasoline Direct Injection V8 engine

–

S

8-speed automatic transmission

S

S

Rear-wheel drive

S

S

Shift-by-cable

S

–

Shift-by-wire gear selector

O

S

Drive mode select (Sport, Normal, Comfort & Snow)

S

S

 

Exterior

V6

V8

18″ tires with alloy wheels

S

–

19″ tires with chrome wheels

–

S

HID headlights with adaptive front lighting system (AFLS)

S

–

LED headlights

–

S

LED fog lights

S

S

Smart Key remote keyless entry

S

S

Auto rain sensing wipers

S

S

Power-folding side mirrors

S

S

Illuminated door scuff plates

S

S

Panoramic sunroof with power shade

O

S

Chrome tail-pipe finish

S

S

LED taillamps

S

S

Soft-close power door latches

O

O

Hydrophobic front side glass

S

S

Power trunk open/close

S

S

 

Interior & Convenience

V6

V8

USB/auxiliary input jacks

S

S

Bluetooth® wireless technology

S

S

Steering wheel-mounted audio/Bluetooth® wireless technology/cruise-control buttons

S

S

Leather-wrapped steering wheel

S

–

Heated leather-wrapped steering wheel with genuine wood

O

S

Power tilt & telescopic steering column

S

S

12.3-inch full TFT LCD instrument cluster

S

O

Leather-wrapped upper dash, center console, door panel insert

S

S

AM/FM/CD/MP3/SiriusXM audio system

S

S

Lexicon® 2 Discrete Logic7 900-watt surround-sound audio with 17 speakers

S

S

9.2-inch Navigation system with rear-camera display

S

S

UVO eServices

S

S

Driver information system (DIS)

S

S

Auto-dimming rear-view mirror with HomeLink® and compass

S

S

Push-button start with Smart key

S

S

Back-up warning system

S

S

Around view monitor (AVM)

–

O

Power windows with one-touch auto up & down

S

S

Power door locks with remote keyless entry

S

S

Three-zone temperature control with ionized air filtration (Dual, front & rear)

S

S

Rear seat center controls

S

S

Trip computer

S

S

EcoMinder® fuel-efficiency indicator

S

S

Blind spot detection system (BSD)

O

S

Rear cross traffic alert (RCTA)

O

S

Panoramic sunroof

O

S

Cruise control

S

S

Advanced smart cruise control (ASCC)

O

O

Lane departure warning system (LDWS)

O

S

Advanced vehicle safety management (AVSM)

O

O

Electronic parking brake

S

S

Power rear sunshade

S

S

Front and rear parking sensors with Park Guide System (PGS)

S

S

Credit card-sized smart key

S

S

 

Seating & Trim

V6

V8

Leather seat trim

S

S

Premium Nappa leather seat trim

O

S

12-way power adjustable driver's seat with lumbar support

S

S

16-way power adjustable driver's seat including adjustable headrest

O

O

8-way power front passenger seat

S

S

Driver seat memory

S

S

Ventilated front seats

S

S

Heated front seats

S

S

Rear heated outboard seats

S

S

Rear ventilated outboard seats

–

O

Power 60:40 reclining 2nd row seats

–

O

Leather-wrapped steering wheel/gearshift knob

S

S

Genuine wood interior trim, center console

O

S

Aluminum trim accents

S

–

Heated steering wheel with genuine wood trim

O

S

Rear seat ski pass through opening

S

S

 

Restraint & Safety Systems

V6

V8

Dual front advanced airbags

S

S

Dual front seat-mounted side airbags

S

S

Dual rear seat-mounted side airbags

S

S

Side curtain airbags (front and rear)

S

S

Front and rear 3-point seat belts

S

S

Front seat-belt pretensioners

S

S

Height-adjustable front seat-belt anchors

S

S

4-wheel disc brakes

S

S

4-wheel Antilock Brakes System (ABS)

S

S

Electronic Stability Control (ESC)

S

S

Traction Control System (TCS)

S

S

Brake-Assist System (BAS)

S

S

Tire-Pressure Monitoring System (TPMS)

S

S

Side-impact door beams

S

S

Lower Anchors and Tethers for Children (LATCH)

S

S
2015 Kia K900 – Official Specifications
2015 Kia K900 Specifications

 

Engine

V6

V8

Type/layout

3.8L V6 DOHC Gasoline Direct Injection (GDI)

5.0L V8, DOHC Gasoline Direct Injection (GDI)

Displacement

3,778 cc

5,038 cc

Bore x stroke (mm)

96.0 x 87.0 mm

96.0 x 87.0 mm

Compression ratio

11.5:1

10.5:1

Horsepower

311 hp @ 6,000 rpm

420 hp @ 6,400 rpm

Torque

293 lb. ft. @ 5,000 rpm

376 lb. ft. @ 5,000 rpm

 

Drivetrain

V6

V8

Transmission Gear Ratios: 8-speed automatic transmission

–

–

First

3.665:1

3.795:1

Second

2.396:1

2.473:1

Third

1.610:1

1.613:1

Fourth

1.19:1

1.177:1

Fifth

1.00:1

1.00:1

Sixth

0.826:1

0.831:1

Seventh

0.643:1

0.652:1

Eighth

0.556:1

0.571:1

Reverse

2.273:1

2.467:1

Final drive ratio

3.909:1

3.538:1

Layout/drive

Front engine/RWD

Front engine/RWD

 

Exterior Dimensions

V6

V8

Wheelbase (in.)

119.9 in.

119.9 in.

Length (in.)

200.6 in.

200.6 in.

Width (in.)

74.8 in.

74.8 in.

Height (in.)

58.7 in.

58.7 in.

Track (in.), front/rear

63.6 in. / 64.3 in.

63.8 in. / 64.1 in.

Curb weight (lbs.)

4,277 lbs.

4,555 lbs.

Fuel capacity (gal.)

19.8 gal.

19.8 gal.

 

Interior Dimensions

V6

V8

Seating capacity

5 passenger

5 passenger

Head room, front/rear (in.)

40.2 in. / 37.6 in.

40.2 in. / 37.6 in.

Leg room, front/rear (in.)

45.9 in. / 38.2 in.

45.9 in. / 38.2 in.

Shoulder room, front/rear (in.)

59.1 in. / 57.2 in.

59.1 in. / 57.2 in.

Passenger volume (cu. ft.)

110.8 cu. ft.

110.8 cu. ft.

Cargo volume (cu. ft.)

15.9 cu. ft

15.9 cu. ft

Total volume (cu. ft.)

126.7 cu. ft.

126.7 cu. ft.

 

Chassis/Suspension

V6

V8

Front

Multi-link type

Multi-link type

Rear

Multi-link type

Multi-link type

 

Steering

V6

V8

Assist

Electric

Electric

Turns lock-to-lock

2.98

2.98

Steering ratio

15.8:1

15.8:1

 

Wheels/Tires

V6

V8

Wheel size (in.)

18 x 7.5

19 x 9.0

Tire size (front; rear)

245/50R18; 245/50R18

245/45R19; 275/40R19

 

Estimated Fuel Economy

V6

V8

City/Highway (mpg)

TBD

TBD
By Ken Glassman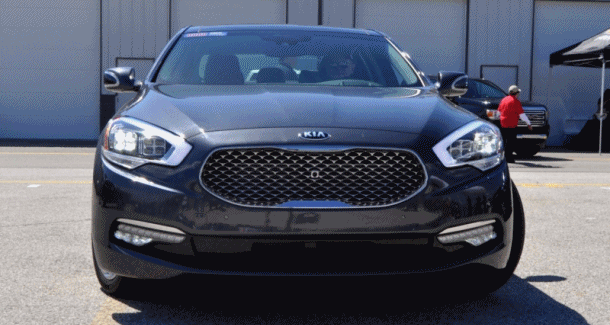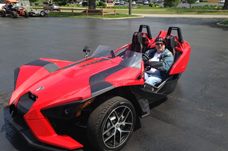 Ken "Hawkeye" Glassman has been a motor journalist for over 30 years, reviewing automobile, as well as motorcycle ride reviews and accessory reviews.
His car articles have appeared in Robb Report Magazine, Autoguide.com, Car-Revs-Daily.com and other media. His work has also appeared in Road Bike Magazine, Motorcycle Tour and Cruiser, SpeedTV.com, MotorcycleUSA.com and others.
As motorcycle columnist for The Daily Herald in suburban Chicago, the paper became the only major circulation newspaper in the country to have a separate weekly section devoted to motorcycles. Later he wrote a weekly column for Cyclefocus Magazine.