A special-edition Corvette Stingray concept is revving to go in the new Sony PlayStation® 3 game Gran Turismo 6 commemorating the game's 15th anniversary – and Chevrolet has built a real version of the virtual racing winner. Like all 2014 Corvette Stingray models, the Gran Turismo® concept is powered by the new LT1 6.2L V-8, which uses direct injection, Active Fuel Management and continuously variable valve timing to produce 460 horsepower and 465 lb-ft of torque.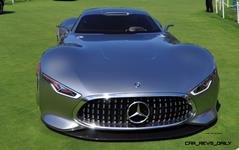 Tom Burkart is the founder and managing editor of Car-Revs-Daily.com, an innovative and rapidly-expanding automotive news magazine.
He holds a Journalism JBA degree from the University of Wisconsin – Madison. Tom currently resides in Charleston, South Carolina with his two amazing dogs, Drake and Tank.
Mr. Burkart is available for all questions and concerns by email Tom(at)car-revs-daily.com.