The S7 is a strange bird.
One the one hand, it has little to no hypercar brand prestige beside a Bugatti, McLaren, Ferrari or Pagani.
On the other hand, it is road-legal in the USA — where it was designed and assembled as well.  And it is also far better-finished and more reliable than most racecars adapted for the road.
Overall, the S7 promises a rare guilty pleasure for owners. Almost all the speed of any hypercar in the world, but none of the baggage.  The S7 is RAPID, by the way. It leaves its contemporary rival, the 2005 Ford GT, in the dust with its 3.3-second sprint to 60-mph.  The 850HP output is also a cool 300 up on the Ford's, and about 300-pounds lights as well.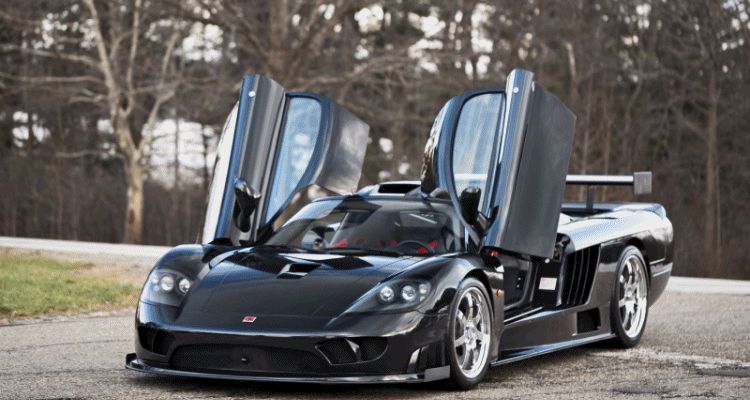 Yes, it is a bit trashy.  Yes, it reminds us of Branson, Missouri or other ghastly rural glitz.
And yes, it seems quite over-valued with its pre-sale estimate if $550k-plus for the RM Arizona auction this week.
All that likely won't matter to the owner — an individual adding this special V8TT Competition Package car in jet black to their swelling collection of exotica. They may like its kitsch appeal.  We don't see this car appreciating much in any timeframe, however.
For what it is worth, the obsession by Saleen with this S7's development basically sank the firm.  It was solid a few years ago, run into the ground, and now again helmed by Steve Saleen up in Michigan — hopefully focused on their core business of Mustang mods.  The hypercar business is a money pit.
So is writing about them, for that matter.  =]
2005 Saleen S7 Twin Turbo Competition Package
Lot 266
2005 Saleen S7 Twin Turbo 'Competition Package'
Chassis no. 1S9SB181X5S000046
Serial no. S7-05-046
$550,000 – $650,000
To be auctioned on Friday, January 29, 2016
850 bhp, 427 cu. in. DOHC aluminum V-8 with twin Garrett turbochargers, six-speed manual transaxle, four-wheel fully adjustable independent suspension, and four-wheel ventilated Brembo disc brakes. Wheelbase: 106.2 in.
The only S7 Twin Turbo built with these particular colors and options
Just two owners and 941 miles from new
Upgraded by Saleen with the desirable Competition Package
Documented by a Letter of Authenticity from Saleen
While Saleen had a very well-respected reputation for tuning Mustangs, the company had never ventured out on its own to build a car of its own design until the S7. Boasting a completely unique chassis, the S7 was developed for racing, and the road-going examples were constructed with homologation in mind. Fitted with svelte carbon-fiber bodywork and a mid-mounted 427–cubic inch V-8 engine, it could sprint from 0–60 mph in just 3.3 seconds and would accelerate onward toward an estimated top speed of 220 mph.
In 2005, Saleen took the S7 one step further and introduced the S7 Twin Turbo, adding even more horsepower, torque, and speed to one of the fastest street-legal cars that money could buy, thanks to a pair of Garrett turbochargers. Horsepower was raised to 750, and the car was given different front and rear fenders along with a slightly different aerodynamic package. Thanks to these changes, the car's 0–60 mph time was decreased to 2.8 seconds, and top speed was quoted as a mind-boggling 248 mph.