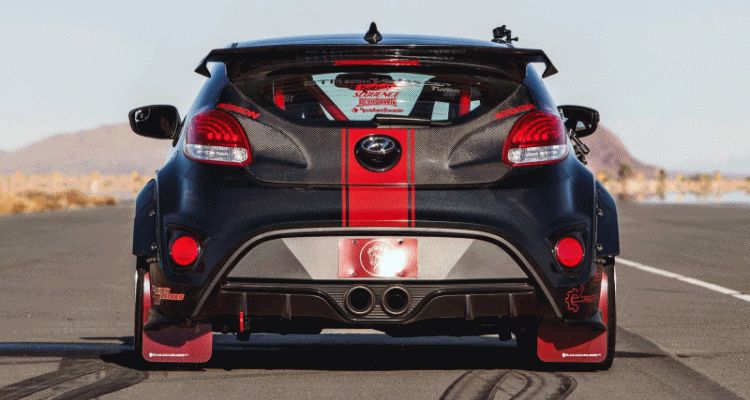 Blood Type Racing delivered a Best of SEMA concept last year in its 800HP Genesis Coupe (photo gallery below). Stunning ideas and execution made that hemoglobin-hued showcar so special, we'd be scared to drive it on the highway — let alone sideways on a racetrack!
BTR earned a pretty high honor for its incredible 2014 efforts: another slot in the Hyundai official SEMA customs roster.
This year brought a pretty big challenge, however, for the Blood Type hoons: a Veloster Turbo R-Spec as the starting point.
The Veloster is a challenging tuner platform for a variety of reasons, but none more than its front-drive origins with a max stock horsepower rating below 200 ponies.
Doubling or tripling that power would be enormously expensive, with serious diminishing returns in the fun-to-drive nature of the car. Sure, power is create. But understeer is not, nor is front axle tramp — both long-running and virtually uncurable front-drive limitations.
So quite a challenge for Blood Type Racing to make a custom road racer that is as powerful as a rally car, yet with a tenth the grip.
A laundry list of changes and upgrades went into the BTR Veloster Turbo R-Spec demonstrated on video below.  For a master guide on cranking 500HP from 1.6-liters, also check out the detailed upgrades list in the tech details below.
2015 Hyundai VELOSTER Turbo R-Spec by Blood Type Racing
SEMA 2014 Hyundai BTR Genesis Coupe
FOUNTAIN VALLEY, Calif., Oct. 7, 2015 – Blood Type Racing Inc., the renowned Chicago-based tuner known for his extreme take on Korean vehicles, has revealed its Veloster Turbo R-Spec built for SEMA. The BTR Edition Veloster has an evil twist, designed to look as though it just switched over to the dark side. The car will be revealed at Hyundai's SEMA press conference on November 3 at 11:30 a.m. PT, in Las Vegas.