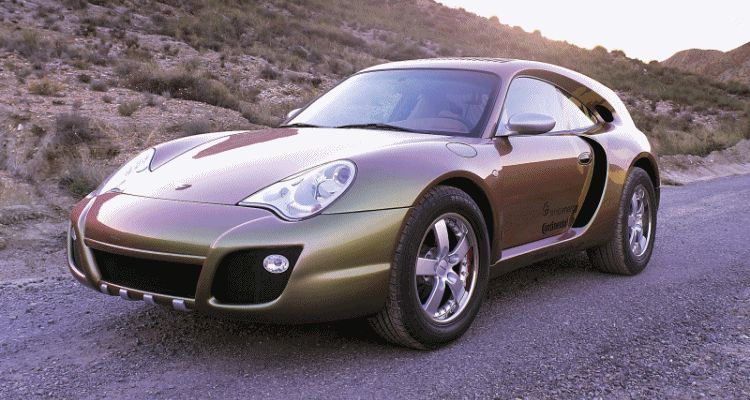 The Rinspeed Bedoiun is interesting for a few reasons nearly 11 years since the concept's first showing in 2003. At the time, the BMW X5 had just landed in many wealthy driveways and was instantly the biggest hit of any BMW car launch – ever.
Porsche was mid-way through development of the first-gen Cayenne and RINSPEED had a few ideas of its own.
"Why ditch all the greatness of the 911 in favor of a shared SUV chassis with VW?" one can imagine Rinspeed saying.
Why not simply leverage the excellence of a rear-engine hero like the 911 in a modern-generation 911 SC Rallye or Safari 959?
The rear-engine layout is actually quite handy off-road for its light nose and amazing traction – so with the Carrera 4's AWD system, a lifted and strengthened 911 off-roader would be unstoppable! Especially with the 911 Turbo's 420-horsepower out back!?  Sign us up.
As we see in this conversion concept, the realities are certainly promising – but ultimately very, very compromised. Still a tiny machine and now a two-seater versus a 2+2 — the Bedoiun might have the off-road skills, but none of the roominess an SUV shopper typically demands alongside that 4×4 talent.
Some of the detailing is very garish today, but the idea still has promise.
Maybe someday….
2003 RINSPEED Bedouin
Rinspeed Bedouin
Oriental Quick-Change Artist
Technical Data
Length :  4'458 mm

Width : 1'975 mm

Height : 1'458 mm

Wheelbase : 2'350 mm

Track front : 1'562 mm

Track rear : 1'675 mm

Ground clearance : 158 mm

Empty weight : 1'740 kg

Top speed : 250 km/h limited
Acceleration 0-100 km/h : approx. 5.9 sec

Engine family : Porsche 996
Displacement : 3'600 cm³
Stroke : 100.0 mm
Bore : 76.4 mm
Supercharging : Twin Turbo
Intercoolers : 2
Cylinders : 6 Boxer
Valves : 4 in V – DOHC
Compression ratio : 9.4 :1
Power output : 420 hp (309 kW) at 6'000 /min
Max. torque : 560 Nm at 2'700 /min
Supercharging : 1.85 – 2.0 bar
Running type : Bivalent
Type of fuel : Gasoline / Natural gas
Exhaust system : Remus Sport

Chassis : Steel
Body : Pre-Preg-Composite
Lighting technology : LED In.pro.
Seating capacity : 2 + 2
Front brakes : 330 mm
Rear brakes : 330 mm
Eibach : Height adjustable
Front suspension : IFS / Stabilisator
Rear suspension: Multi-lever-axle
Steering : Wandfluh R+P
Steering angle : 185 degrees
Front tires : 255/55 -18
Tire make : Continental Sport 4×4
Front wheels : 8.5 x 18" (2pce)
Rear tires : 285/50 -18
Tire make : Continental Sport 4×4
Rear wheels : 10 x 18" (2pce)
Power train : 4WD
Gearbox : Manual
Gears : 6
 
RINSPEED Bedouin
Oriental Quick-Change Artist

World Premiere at the Geneva Motor Show 2003
Rinspeed Design, the Swiss powerhouse for automotive concepts and emotions, once again presents a unique attraction this year, the
Rinspeed Bedouin.
At the push of a button the Rinspeed Bedouin can be transformed from a roomy two-seater pick-up into a sporty yet spacious four-seater wagon sporting the trendy 'allroad' look – in less than ten seconds. With its high roofline the Bedouin also offers lots of room and seating comfort for rear-seat passengers. Even more, the increase of interior space can be used as an enclosed cargo bed by folding down the backrest of the rear seats.
"With the Rinspeed Bedouin we wanted to show that there's lots of untapped creative potential regarding multi-purpose vehicles," says Frank M. Rinderknecht (47), C.E.O. of Rinspeed AG. "From our point of view MPVs can contribute to the preservation of the world's resources since they're capable of taking on many of the specialized uses of second or third cars. And they can adapt to the specific transportation needs at hand within seconds."
The transformation trick
The almost magical transformation sequence is started by two electric motors that drive jackscrews to lift the entire roof of the vehicle. The front part of the roof then folds and in effect becomes the tailgate window while the rear part of the roof turns into the cargo bed. The tailgate is also electrically powered and can be lowered to extend the bed by another 45 centimeters to an overall length of 185 centimeters. The bed can be used to transport bulky cargo and serves as a modern tent replacement and romantic bunk for leisurely rests.
To comply with highest safety standards the entire mechanism is fitted with redundant self-locking safeties and for maximum effect is operated with a remote control.
The fastest natural gas vehicle in the world
The Rinspeed Bedouin is powered by a future-oriented environment-friendly twin-turbo engine running on natural gas. Natural gas is an extremely clean-burning fuel that consists almost entirely of methane and contains almost no sulfur.
Protecting the environment does not preclude driving fun: The four-valve engine is from Porsche and produces 420 hp / 309 kW at 6,000 rpm. It delivers its impressive maximum torque of 560 Nm at just 2,700 rpm. Performance is accordingly proud: The 1,640-kg Bedouin accelerates in roughly 5.9 seconds to 100 km/h and reaches an electronically and mechanically limited top speed of 250 km/h.
Sporty thoughts …
The sporty lines of the Bedouin attract attention even at first glance. It is a little reminiscent of the Porsche 911, type 996 Carrera, from which it takes the 4×4 platform. In keeping with the English tradition of the 'shooting break,' the sporty wagon of the affluent hunter, the roofline exhibits a dynamic swing that gradually flattens out toward the rear. The wide rear fenders and their striking air inlets exude raw power. The large air inlets in the front provide ample cooling air and also contribute to the powerful appearance of the Bedouin.
A sporty stainless-steel exhaust from Remus with milled all-aluminum tailpipes provides the adequate sound and gives the rear a unique and dynamic look.
The elaborate roof design made from aluminum profiles is witness to the engineering prowess of Rinspeed. The entire mechanism for operating the roof is hidden from view behind the sidewalls. Green-tinted Folia Tec glass in the roof louvers creates a bright and cozy ambiance even when the roof is closed.
Thanks to a sporty yet comfortable custom Eibach suspension, the body of the Bedouin sits about 15 centimeters higher than that of the Porsche equivalent. The suspension, which features adjustable ride height and firmness, offers a perfect synthesis of ride comfort and sporty handling.
The rearview mirrors as well as the front and rear bumpers are painted with sparkling crystal paint from Swarovski, which also contributed the fully crystal hood emblem and the rear badge featuring SDS technology.
In the Bedouin even the taillights look forward – into the future. In.pro. custom-developed chrome-plated LED taillights for the Bedouin, which not only initiate a new design trend but also offer increased traffic safety due to their exceptionally fast reaction time.
The entire body of the Bedouin is made up of Pre-Preg composite, a state-of-the-art plastic rarely used in automotive production. It combines a low specific weight with extraordinarily high strength.
Crystal worlds of leather
The Bedouin shows its proud heritage in the interior, too. Most of the interior of the Bedouin was retained from the Porsche 996 Carrera and was custom-upholstered with exquisite "Poltrona-Frau leather" from X-Mobil. The brown hue of the color "Cotto" harmonizes perfectly with the exterior color, which changes from slightly green to copper.
The Rinspeed designers also broke new ground in the selection of materials. In a partnership with the world-leading manufacturer of crystal glass Swarovski they created ultra-modern and visionary new interior elements. The hand-covered door panels shine in soft hues of brown and white. The gearshift-lever grip is made from solid crystal with a shift pattern embedded using endographics. Lasers were used to imprint the leather seats with Rinspeed logos, which were then in turn covered with crystals.
A seven-inch color LCD monitor folds down from a recessed position in the roofliner. It can display the signal from the rearview camera for the driver or entertain the passenger with the program of an integrated DVD player. The system was developed Blaupunkt and also allows connecting an external programming source such as a Sony Playstation.
Well shod
The Rinspeed Bedouin runs on voluminous fully off-road capable 18-inch Continental SportContact 4×4-tires in sizes 255/55 in front and 285/50 in the rear. The Continental tires combine environment-friendly design, exceptional off-road capabilities and excellent grip on road surfaces. The tires are mounted on two-piece Rinspeed aluminum wheels (8.5×18" Rim Offset 40 mm front, 10×18" Rim Offset 52 mm rear) custom-made by ATP.
The installed progressive-rate Wandfluh steering contributes greatly to the cat-like agility of the Bedouin. A mere half a turn of the steering wheel separates the full left from the full right position. This steering system makes fast steering-angle changes child play without compromising directional stability.
Swiss made
Esoro
Frank M. Rinderknecht used highly advanced technology and a Swiss-based network of top automotive specialists for his project. Although there is no automobile production in Switzerland to speak of, there is a very active automotive supply industry there. Many highly innovative prototypes have been developed and manufactured in Switzerland.
For the fourth time the Swiss engineering company Esoro was hired to serve as general contractor for the entire vehicle project. Esoro was responsible for project management, engineering, design and manufacturing of the Rinspeed Bedouin. Esoro masterfully met the challenge with the help of its highly competent suppliers Protoscar and Schwaller. It took the highly skilled development team just three and a half months after the design freeze to transform the Rinspeed Bedouin from clay model to a drivable and fully functioning prototype.
Esoro has been a contract developer in the areas of automotive production, lightweight design and plastics technology for 12 years. During this time it has gained a well-deserved reputation for excellent efficiency and innovative solutions not just in these but also in other fields, including fuel-cell vehicles and prototype construction. Esoro has impressively demonstrated its expertise with numerous extraordinary prototypes. But even more: Just a few weeks ago Esoro presented the new E-LFT production technology, which makes it possible to manufacture high-strength plastic parts that weigh 30-50 percent less than comparable steel at a large scale and at economically feasible costs.
GVM – a strong partner
Gasverbund Mittelland (GVM) AG – the largest regional natural-gas company in Switzerland is another one of Rinspeed's competent partners. Natural gas is a sensible and extremely environment friendly fuel alternative that can contribute notably to the reduction of emissions, especially in urban centers. Natural gas currently represents the only economically feasible solution among the multitude of theoretically possible alternative fuels.
All vehicles exhibited jointly between GVM und Rinspeed are operated using environment-friendly natural gas. Among them are the Bedouin concept car, an Audi Allroad 2.7 Bi-Turbo as well as an Opel Zafira CNG.
Natural gas – the real alternative
Natural gas is tomorrow's fuel today. The enormous potential of natural gas for protecting the environment is not limited to stationary use. It can also help reduce the amounts of nitrous oxides, particulate matter, CO2 and hydrocarbons. Engines running on natural gas are also quieter than their conventional counterparts.
Using natural gas as fuel also represents another step away from the world's economic dependency on crude oil.
Natural gas – no longer just for heating
Currently natural gas is used predominantly for generating heat. But it can also be used for driving – as easy and as convenient as with regular cars. The same is true for fueling. The technology is mature and proven. The number of gas stations offering natural gas grows from year to year. By the end of this there'll be approximately 50 filling stations selling natural gas in Switzerland alone. In Europe today there is in effect no longer an operating range limit for gas-powered vehicles.
The Involvement of SwissEnergy
Natural gas and so-called biogas have numerous advantages compared to ordinary fuels:
– Approximately 25 percent less carbon compared to the energy equivalent of conventional fuels. For optimized gas-burning engines this translates into the equivalent reduction potential for carbon dioxide, which currently is considered the main threat to our climate.
– Biogas is a regenerative fuel and thus CO2 neutral.
– Natural gas and biogas burn much cleaner (particles PM10, PM2,5 and NOx) than nowadays mostly used liquid fossil fuels. In addition engines operated with natural gas or biogas are quieter than their conventional counterparts.
– Natural gas and biogas reduce the one-sided dependency on crude oil as a source for fuel.
The Swiss Federal Energy Office supports natural gas vehicles and the efforts of the gas industry within the range of its action program "SwissEnergy". The Rinspeed Bedouin concept car helps to reduce prejudices against gas-powered vehicles and projects emotions onto the gas-powered vehicles on the market today.
A word from our technical partners
Continental
The Conti4x4SportContact – Ideal for the Rinspeed Bedouin
With its powerful 420 HP engine, the all-wheel-drive Bedouin requires tyres up to mastering challenges far greater than those facing normal passenger cars. The loads occurring when accelerating, braking and cornering approach what is standard on thoroughbred sports cars. When this concept vehicle is transformed from a sports car into a pick-up, moreover, it also has payload mashing it down against the ground. And its height-adjustable chassis with off-road characteristics puts it in need of cornering stability every bit as reliable as on heavy AWD vans.
No tyre is better suited than the Conti4x4SportContact to accommodate gruelling application conditions like these. Its unique cutting-edge design and state-of-the-art tread compound not only provide better grip when starting off and braking. They can also be counted on for consistently high performance in terms of cornering and adhesion on rain-slicked underground.
Which explains why Frank M. Rinderknecht has opted for Conti4x4SportContact as the perfect all-round tyre for his latest project. Up front a size 255/55 ZR 18 duo ensures safe cornering and solid grip, while in the rear size 285/50 ZR 18 delivers the necessary thrust. The sporty 4×4 performers have no problem coping with maximum speeds of 250 km/h. And when 420 HP and 560 Nm bear down on the crankshaft to spurt the vehicle from zero to 100 km/h in 5.9 seconds, the tyres are obviously very much in their element. Should it come as any surprise then that the designer of the Rinspeed Bedouin is firmly convinced that these Hannover products offer the very best solution for his concept vehicle?