Orig Published on: Dec 24, 2013 @ 11:24

The Hyundai Sante Fe recently made the top ten list of most-researched cars in 2013. This is great news for the re-designed AWD crossover - which is now looking seriously classy across all of its many trim levels.
Lots of researching could be not-so-great news as well, by indicating buyers are confused by the new Sport and LWB sizes.

Many trim levels? On a Hyundai? Not really - allow me to explain the key differences between the five-seat Sante Fe Sport (seen directly below) and the seven-seat Sante Fe LWB.
 
| | | |
| --- | --- | --- |
| BUYER CRITERIA | Sante Fe Sport | Sante Fe LWB |
| Base drive wheels | FWD | FWD |
| Base drive engine | 2.4-liter I-4 | 3.3-liter V6 |
| Optional drive wheels | AWD | AWD |
| Optional drive engine | 2.0-liter Turbo I-4 | None |
| Base Pricing | $24,950 | $29,800 |
| Optional Turbo Base Price | $30,650 | V6 Only |
| Standard Seating | 5 | 7 |
| Third Row? | No | Yes |
| Second Row Legroom | 39.4 in | 41.3 in |
| SAE passenger volume | 108.0 cubic ft. | 146.6 cubic ft. |
| Total interior volume | 143.4 cubic ft. | 160 cubic ft. |
| SAE cargo volume – Behind front seats (est.) | 71.5 cubic ft. | 80.0 cubic ft. |
| Wheelbase (in.) | 106.3 | 110.2 |
| Total Length (in.) | 184.6 | 193.1 |
| SAE cargo volume – Behind 2nd row seats (est.) | 35.4 cubic ft. | 40.9 cubic ft. |
| SAE cargo volume – Behind 3rd row seats (est.) | N/A | 13.5 cubic ft. |
As this summary table shows, the differences boil down to two factors: length and engines.
Can they be distinguished from one another on the road? Yes: the Sport has an up-kick to the window line, while the LWB does not.

The Sante Fe Sport leads the pricing sheet with just a $25,000 entry tally for the base four-cylinder models.
These are also quite nimble, with a very tight turning circle that is much tighter than the Chevy Equinox and others at just above 35 feet versus the Equinox's 40-plus feet.

So U-turns will be handy in either Sante Fe, but the big LWB models are significantly heavier on the curb weight tallies.
Depending on drive and equipment, the Sport can weigh up to 800 pounds less than the LWB - which is nothing to sneeze at in terms of real-world economy and dynamism.

The Sante Fe line all comes as standard with a six-speed automatic and front-wheel-drive, but AWD is optional on all trims and styles.
In terms of optional engines, the SF Sport packs the only upgrade: a very pricey jump from the 2.4-liter GDI engine with 190 horsepower up to the 2.0-liter T-GDI engine with 274 horsepower.
Much as turbochargers are awesome - the price leap from FWD to FWD Turbo trims is a whopping $5,700. Adding AWD brings the Sante Fe Sport's base price to $32,400 - and it still needs a $4,000 tech package to really feel loaded.

Suddenly an affordable turbo crossover becomes a very expensive proposition on the Sport Turbo.
The base engine is likely the far better choice for most buyers, as Hyundai's turbo engines are generally not much quicker in sprints than their normal engines. The turbo will also absolutely guzzle gasoline on hard throttle.

The Sante Fe LWB mercifully brings a standard 3.3-liter V6 that has a bit more torque. This is still near the back of the class for sprint pace, with an estimated 7.9-seconds for FWD and AWD versions of the LWB Sante Fe.
Oddly, fuel economy and tow ratings do not differ much among the Sport and LWB's various drivetrains. Efficiency and tow ratings are lackluster.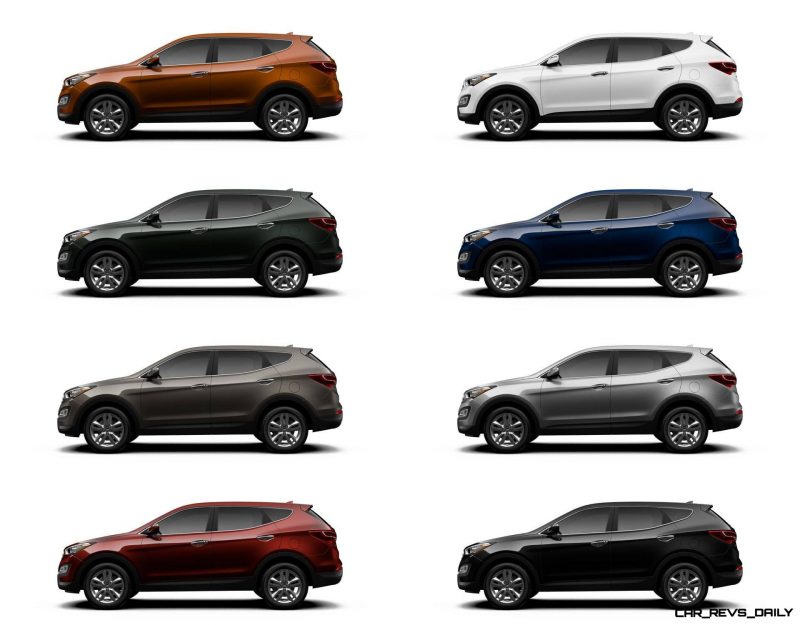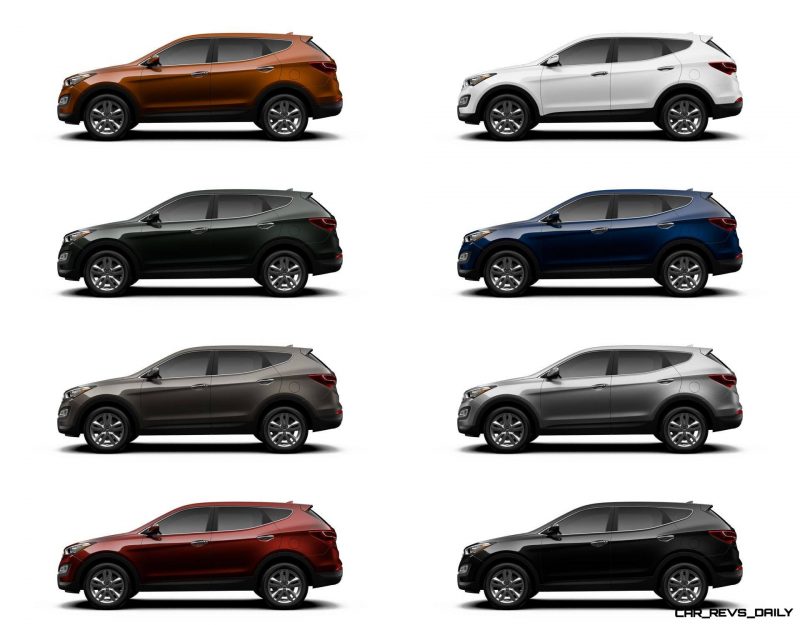 Roominess and semi-posh materials abound inside both cars, with some tasteful leather and wood choices.
It looks nice in the official photos, but there is a bit of a culture clash between the earth-tone leathers and all the tech-city silver trims and pointy silver buttons.

Summary? The Sante Fe looks great, is easy to buy in various styles to match your life, and even comes with some super-premium paint shades like Hamptons Green and Cabo Tan.
Looks-wise, the Sante Fe seems more fashionable than the Pathfinder and Highlander - with its LED accents and squared projector beam headlight housings.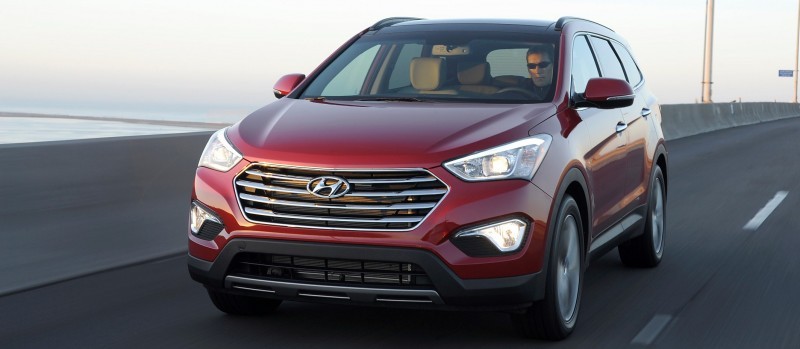 Please review the specs comparisons below for all the details on this hot new family truck line from Hyundai, available now nationwide.
2014 Hyundai Sante Fe LWB

2014 Hyundai Sante Fe SPORT


Sante Fe SPORT - Static Colors Gallery
2014 Hyundai Sante Fe - Official Specifications
 
 
 
 
ENGINE
 

Santa Fe Sport

Santa Fe

2.4L

2.0L Turbo

3.3L

Type

2.4L GDI

DOHC 16-valve Inline 4-cylinder

2.0L Turbo GDI DOHC 16-valve Inline 4-cylinder

3.3L GDI

DOHC 24-valve V6

Materials

Aluminum block/aluminum cylinder heads

Aluminum block/aluminum cylinder heads

Aluminum block/aluminum cylinder heads

Bore & stroke

88.0 mm x 97.0 mm

86.0 mm x 86.0 mm

92.0 mm x 83.8 mm

Displacement

2.4L / 2,359 cc

2.0 L / 1,998 cc

3.3L / 3,342 cc

Horsepower (est.)

190 @ 6,300 rpm

264 @ 6,000 rpm

290 @ 6,400 rpm

Torque

181 lb-ft @ 4,250 rpm

269 lb-ft @ 1,750~ 3,000 rpm

252 lb-ft @ 5,200 rpm

Valves per cylinder

4

4

4

Compression Ratio

11.3

9.5

11.5

TRANSMISSION
6-speed electronic automatic

Santa Fe Sport

Santa Fe

SUSPENSION
Front
MacPherson strut with twin-tube gas filled damper and 26-mm stabilizer bar
Rear
Multi-link with gas shock absorber and (FWD 21 mm / AWD 19 mm) stabilizer bar
STEERING
Type
Motor Driven Power Steering (MDPS)
Overall Ratio
15.03 : 1
Turns, lock to lock
2.95
Turning circle (curb to curb)
35.8 ft (Santa Fe Sport), 36.9 ft (Santa Fe)
BRAKES/TIRES/WHEELS
Front
Ventilated single piston disc, 12.6 in. x 1.1 in. (320mm x 28mm)
Rear
Solid single piston disc, 11.9 in. x 0.4 in. (302mm x 11mm)
ABS
4-wheel, 4-channel, 4-sensors with Electronic Brake-force Distribution (EBD) and Brake Assist
Wheels
17 x 7.0 aluminum alloy18 x 7.5 aluminum alloy19 x 7.5 aluminum alloy
Tires
P235/65 R17P235/60 R18P235/55 R19
EXTERIOR DIMENSIONS
 

Santa Fe Sport

Santa Fe

Wheelbase

106.3 in

110.2 in.

Overall length

184.6 in

193.1 in.

Overall width

74.0 in.

74.2 in.

Overall height (w/ roof rack)

66.1 in. (66.5 in.)

66.5 in. (66.9 in.)

Wheel Tread, front

64.3 / 64.1 in. (17" / 18 & 19")

64.1/64.5 in.(18"/19")

Wheel Tread, rear

64.7 / 64.5 in. (17" / 18 & 19")

64.5/64.5 in.(18"/19")

Coefficient of Drag

0.34

TBA

INTERIOR DIMENSIONS
 

Santa Fe Sport

Santa Fe

Head room(w/ sunroof)
Front

39.6 in. (38.2 in.)

39.6 in. (38.2 in.)

2nd row

39.1 in. (37.4 in.)

39.4 in. (38.3 in.)

3rd row

N/A

35.7 in. (35.7 in.)

Leg room
Front (MAX)

41.3 in. (44.1 in.)

41.3 in. (44.1 in.)

2nd row

39.4 in

41.3 in

3rd row

N/A

31.5 in

Shoulder room
Front

59.4 in.

59.4 in.

2nd row

58.3 in

58.6 in.

3rd row

N/A

53.9 in.

Hip room
Front

56.7 in.

56.7 in.

2nd row

55.4 in.

55.4 in.

3rd row

N/A

44.1 in

SAE passenger volume

108.0 cubic ft.

146.6 cubic ft.

Total interior volume

143.4 cubic ft.

160 cubic ft.

SAE cargo volume – Behind front seats (est.)

71.5 cubic ft.

80.0 cubic ft.

SAE cargo volume – Behind 2nd row seats (est.)

35.4 cubic ft.

40.9 cubic ft.

SAE cargo volume – Behind 3rd row seats (est.)

N/A

13.5 cubic ft.

CAPACITIES
 

Santa Fe Sport

Santa Fe

2.4L

2.0T

3.3L

Fuel

17.4 gallons

17.4 gallons

18.8 gallons

Oil

6.4quarts

(6.1 liter)

6.4quarts

(6.15 liter)

6.3 quarts

(6.0 liters)

Coolant

2.7 quarts

(2.55 liter)

2.7 quarts

(2.55 liter)

4.6 quarts

(4.4 liters)

CURB WEIGHT
 

Santa Fe Sport 

Santa Fe

2.4L

2.0T

GLS

Limited

FWD

3,459 lbs.

3,569 lbs.

3,933-4,173

3,904 - 4,145

AWD

3,616 lbs.

3,706 lbs.

4,085 - 4,325

4,057 - 4,297

GROSS VEHICLE WEIGHT RATING
 

Santa Fe Sport 

Santa Fe

2.4L

2.0T

GLS

Limited

FWD

4,850 lbs.

4,960 lbs.

5,512

5,512

AWD

5,071 lbs.

5,181 lbs.

5,622

5,622

PAYLOAD CAPACITIES
 

Santa Fe Sport 

Santa Fe

2.4L

2.0T

GLS

Limited

FWD

1,078 - 1,391 lbs.

1,078 - 1,391 lbs.

1,338 - 1,579 lbs.

1,367 - 1,607 lbs.

AWD

1,142 - 1,455 lbs

1,162 - 1,475 lbs.

1,296 - 1,537 lbs.

1,325 - 1,565 lbs.

TOWING CAPACITIES
 

Santa Fe Sport 

Santa Fe

2.4L

2.0T

GLS

Limited

With trailer brakes

2,000 lbs.

3,500 lbs.

5,000 lbs.

5,000 lbs.

Without trailer brakes

1,650 lbs.

1,650 lbs.

2,000 lbs.

2,000 lbs.

FUEL ECONOMY
 

Santa Fe Sport

Santa Fe

2.4L

2.0T

3.3L

FWD A/T (EPA)
City

20 mpg

19 mpg

18 mpg

Highway

27 mpg

27 mpg

25 mpg

Combined

23 mpg

22 mpg

21 mpg

AWD A/T (EPA)
City

19 mpg

18 mpg

18 mpg

Highway

25 mpg

24 mpg

24 mpg

Combined

21 mpg

21 mpg

20 mpg