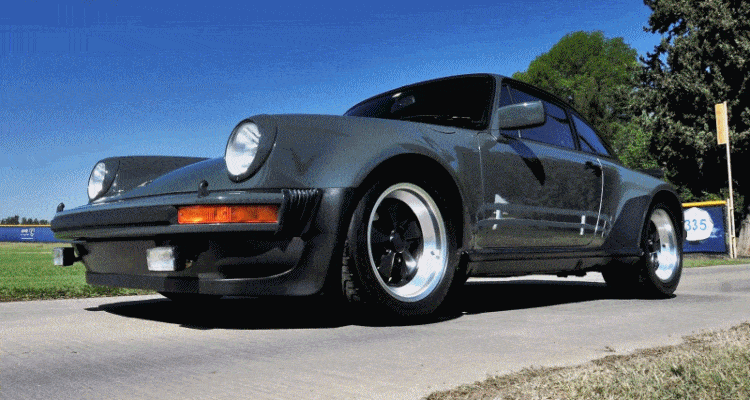 Here is a fantastic way to kick off LeMans weekend: with a fabulous inside look at Steve McQueen's last special-order Porsche. This 1976 930 Turbo was one of the very first forced-air 911 Carrera's ever made — and was at least partially put into series production at the urging of the acting and racing badboy. Like McQueen himself, the 911 Turbo would become far more than just a badge or a nameplate. It has come to represent the ultimate in man over nature; speed against all odds, and the joys of being a badass.
How badass? McQueen had a special switch installed to disable all rear lights. Helpful when outrunning midnight chase cars. That is badass.
This menacing 911 changed the Porsche story for good when it was launched — helping the Carrera to go from a sports car to a supercar. Without the 911 Turbo whale tail, the 911 might have faded from glory and actually been cancelled in the early 1980s.
But the legend of this whale-tail slapping other cars out of its way on road and track was a godsend for all Porsches with this silhouette.
We salute this honorable man and machine for their contributions to car culture and gasoline dreams ever since, and hopefully forever more. Are you man or woman enough to safeguard this icon!?
Then get ready for Mecum Monterey this August, where the car will find a new garage corner in which to brood gorgeously.
A think piece, this! We do not always enjoy (or even watch) some of the videos we share here on carmakers behalf, but this youtube embed from Mecum is pretty good.
1976 Porsche 930 Turbo Steve McQueen
 *note: do not know why these g-d captions are forcing themselves into galleries, nor why they are all question marks. Working on it. Tx.
---
1976 Porsche 930 Turbo Carrera
Steve McQueen's Last Special Order Porsche
Engine
3.0L Turbo
Trans
4-Speed
Color
Slate Gray
Interior
Black
VIN/Serial
9306800408
---

HIGHLIGHTS
– Steve McQueen's very last special order Porsche
– Special Order color, Slate Gray
– Rare early production non-intercooled 3.0 liter engine
– Sunroof
– Dual mirrors
– Positraction
– Black interior
– Sport seats
– 8″ front and 9″ rear wheels added later by McQueen
– Dashboard switch added by McQueen to kill the rear lights in case he was being chased on Mulholland Drive
– A portion of the proceeds will be donated to benefit The Boys Republic, a non-profit treatment community for troubled youngsters in Chino Hills, California
– Steve McQueen was a 1946 alumnus of The Boys Republic and attributes BR with being the one place that turned his life around
– For more information about The Boys Republic, visit www.boysrepublic.org
Photos by David Newhardt Courtesy of Mecum Auctions