It has been a long time coming, but Jeep has finally taken the veil off of the 2022 Grand Wagoneer and Wagoneer models. The duo signifies that the SUV brand is taking a serious approach to the full-size SUV market and is a grand departure from the failed Commander of the early 2000s. But buyers will be interested to know what the revived off-road icon is packing under the hood and some of the exotic luxury features that can be found inside the Grand Wagoneer? We have the answers, and here are some key things to know about Jeep's rebooted icon.
A Mixture of Old And New Defines Wagoneer Exterior Design
The 2022 Wagoneer lineup boldly brings Jeep into a segment where it has seldom ventured, and having a styling pedigree that can hit the aesthetic benchmarks is a good first step forward. Both models are huge and imposing vehicles, with the bulk of the styling being borrowed from the Grand Wagoneer concept. Granted, some of the concept's gimmicks were sacrificed for the sake of practicality, but it's still an excellent package. An upright stance is also a prominent trait, with a large front wing-shaped grille being accented by nicely crafted LED headlights.
The big square-shaped windows help enhance the boxy profile and lead out to a near-vertical rear end. Typically having such a slab-shaped rear end is a major styling misstep, but we're willing to forgive Jeep designers here since it manages to make good use of the liftgate large real estate to make it an exquisite canvas. Other design touches are abundant here, including a subtle 360-degree shoulder line that pays homage to the shape of the original Wagoneer and strategically placed pieces of metal trim work that help make full use of the design. This even extends into the badging, with the Grand version boasting a two-stage "Liquid Chrome" treatment that helps enhance the feeling of poshness.
An Oasis Of Technology Targets Gen Z and Busy Families On The Go In Wagoneer
With the exterior doing its best to pay homage to the good old days, the interior (especially in Grand Wagoneer spec) leaps straight into the future. There are some subtle references to the past (the two-spoke steering wheel and the shape of some of the vents), but the main theme here is the future and this cabin comes packed to the gills with technology. Digital instrumentation is standard across the entire lineup, with all Wagoneers getting a 10.3-inch display. A large touchscreen takes center stage on the dashboard and can be increased by 12.3 inches on Grand Wagoneer models. It actually looks like it's floating in the assembly. We have seen the Grand Cherokee L employ a similar visual trick for its screen, but the Wagoneer is the equivalent of what would happen if you add more spice to the package.
The Wagoneer also stands out by offering leather seating as standard equipment (no cloth thrones here), with Nappa leather being used on lower-tier Wagoneers. Opt for the Grand Wagoneer, and you get richer Palomero Leather seats. Obviously, Jeep is not pulling any punches and is willing to make a few unique moves to make the Wagoneer lineup stand out from rivals like the Chevrolet Tahoe, GMC Yukon, and the Ford Expedition.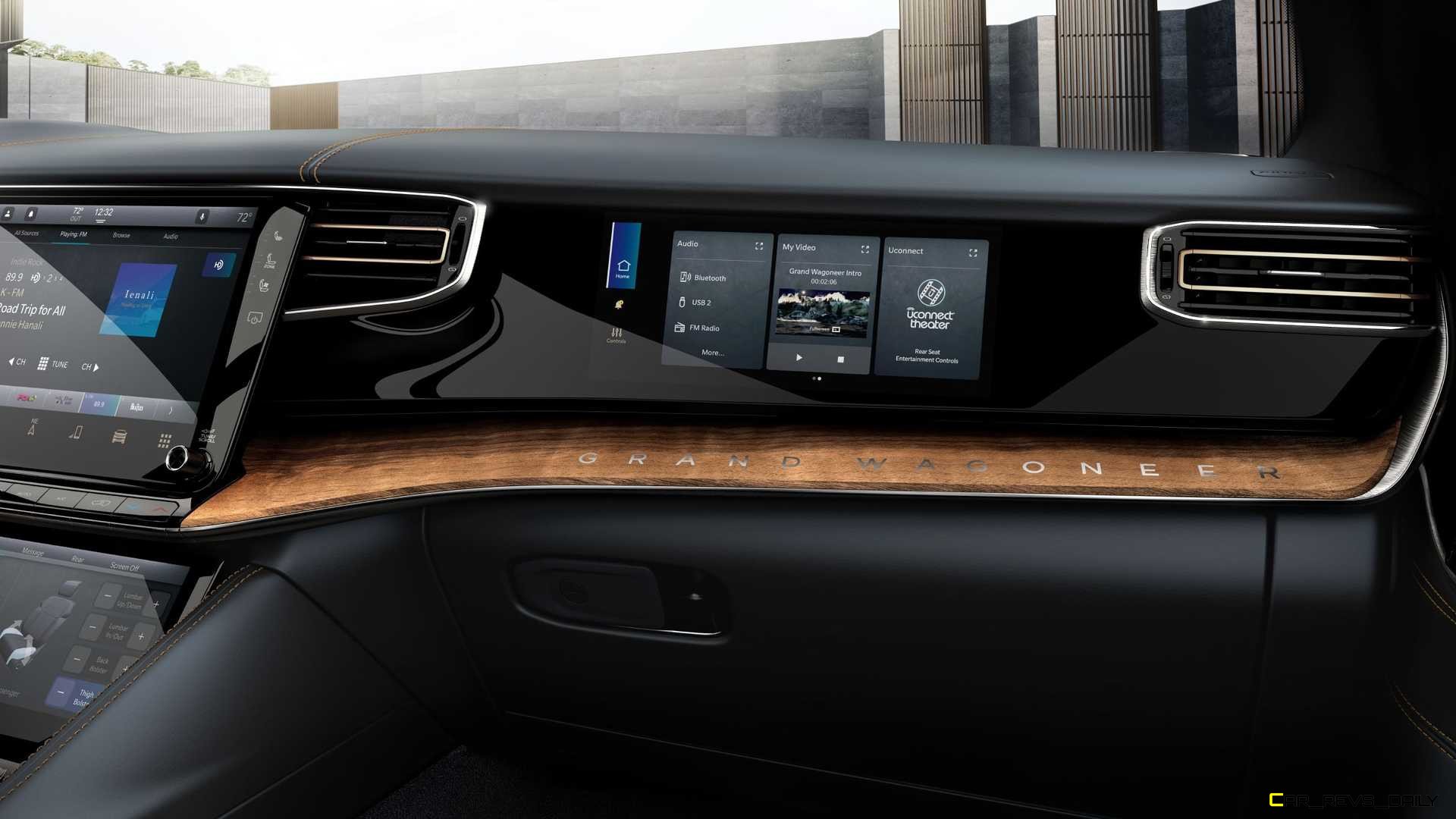 An unusual but class-exclusive feature is the passenger-mounted 10.3-inch co-pilot screen which can be found on Grand Wagoneers. The idea here is to reduce distractions with this screen, allowing the passenger to adjust items such as the climate, navigation, and more. The screen can even allow the passenger to play games or watch media via their mobile device, with a privacy screen keeping the driver from looking in. A rear camera in the cabin allows mom or dad to watch the kids in the back, and rear entertainment screens on the front seatbacks help keep passengers entertained.
Uconnect 5 will also make its appearance on the Grand Wagoneer, and it will be perhaps the most high-profile assignment that the system has yet. It's already one of the simplest systems to use in the market. Still, with higher trim levels taking a page from Land Rover and adopting a split-screen layout for the climate controls, it will be interesting to see how the software copes with this extra challenge. Amazon Fire TV capability is baked into the Wagoneer and allows occupants to stream content directly to the SUV via a synced account.   
V8 Power Across The Board
Like the iconic classic, the 2022 Wagoneer family will be powered by an all V8 lineup with base Wagoneers getting a 5.7 liter Hemi V8 that makes 392 horsepower and 404 lb-ft of torque. The eight-cylinder is paired with a mild-hybrid system that aims to improve fuel economy and adds some vigor to the V8's performance. An eight-speed automatic is the lone transmission here, with rear-wheel drive the default layout. Jeep will, however, have three optional all-wheel-drive systems to choose from, with the most potent of the bunch (Quadra-Drive II) getting an electronically operated LSD and a two-speed transfer case.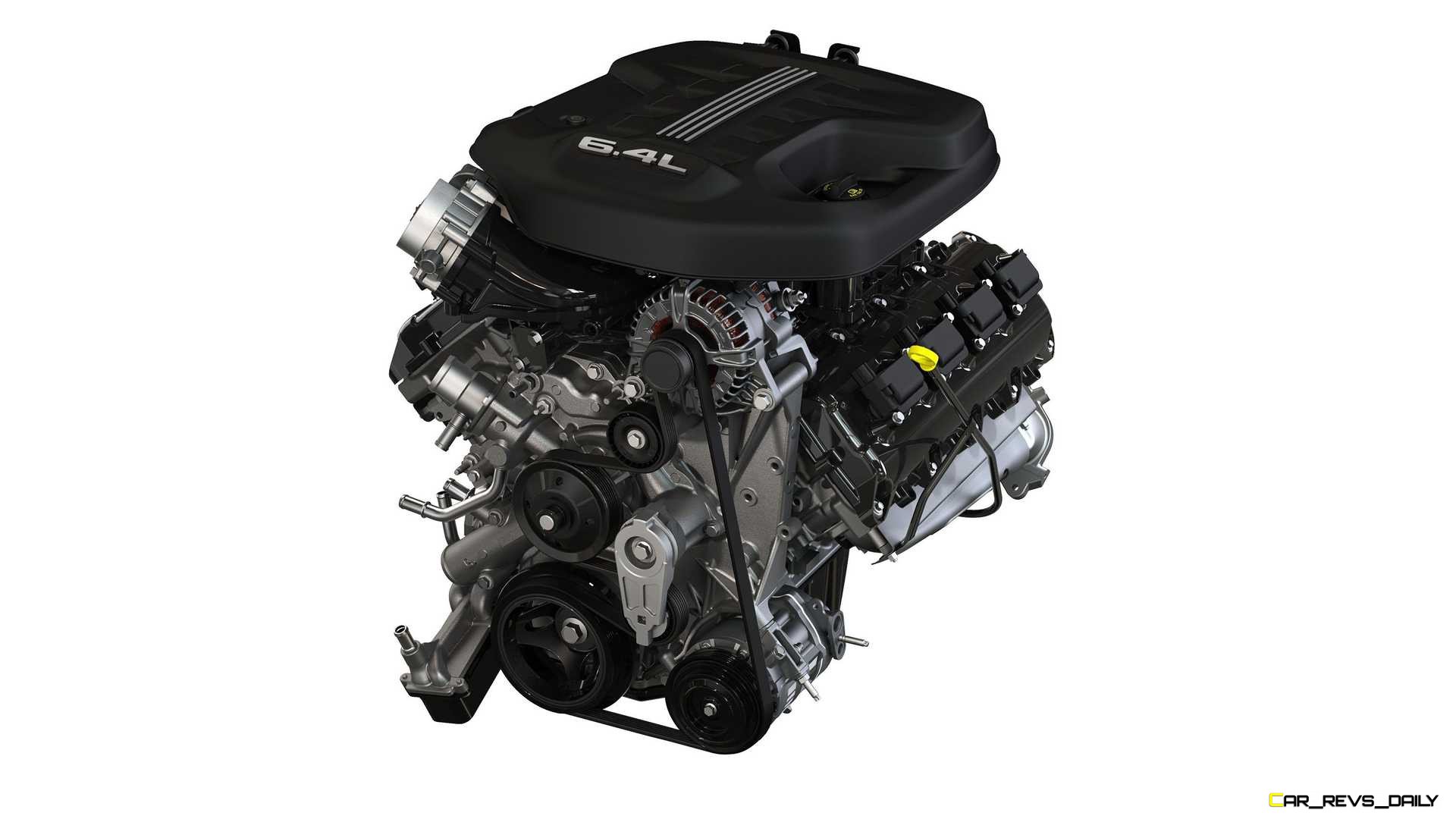 Grand Wagoneer models get a bigger 6.4 liter V8 that brings 471 horsepower and 455 lb-ft of torque to discerning buyers. These figures are the GW's proverbial mic drop, with the engine being more powerful than the Escalade's 420 horsepower 6.2 liter V8 and the Lincoln Navigator's Ecoboost V6. It's also more powerful than some of its European rivals, but the Jeep's two-gear disadvantage is noticeable since both the Caddy and the Lincoln make use of a 10-speed automatic. 
The Grand Wagoneer gets Quadra-Lift II standard, but perhaps unsurprisingly, Jeep has chosen not to get the Wagoneer trail-rated which we suspect is partially due to its immense size and type of customer that Jeep is hoping to lure in here. That's not a big deal considering that this regal Jeep will be a very potent display of wealth when it's allowed to cruise the urban jungle. 
When Can I Buy A 2022 Jeep Wagoneer?
Jeep revealed that it has already opened up pre-ordering slots for consumers interested in purchasing one for their garage, with the first deliveries taking place later this summer. Jeep is also taking a different approach to trim levels, with the whole Wagoneer lineup being divided into three different Series sub-trims. In the Wagoneer, the base Series I model starts at $59,995, with II and III being $69,995 and $74,995, respectively.
On the other hand, Grand Wagoneer models are aimed at more discerning consumers and have the prices to back up this goal with a base Series I starting at $88,995. Buyers that climb to II and III will see $95,995 and $105,995 figures, respectively. An interesting alternative called the Obsidian edition lurks between Series II and III and has a base sticker of $98,995. Choose this model, and buyers get Dark Onyx exterior paint, blacked-out wheels, and enhanced levels of equipment. 
That includes a potent audio system with Wagoneer Series III and all Grand Wagoneer models featuring standard McIntosh audio systems. The base unit houses 19-speakers, a 10-inch subwoofer, and a 950-watt amplifier. The most powerful system can be found in the Grand Wagoneer Series III, which comes equipped with McIntosh's MX1375 audio system. This 23-speaker beast brings 1,950 watts of power to your ears and even comes with 3D sound processing technology that helps pump in an impressive degree of realism and accuracy into each tone.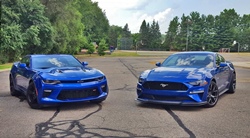 Carl Malek has been an automotive journalist for over 10 years. First starting out as a freelance photographer before making the transition to writing during college, his work has appeared on numerous automotive forums as well as websites such as Autoshopper.com.
Carl is also a big fan of British vehicles with the bulk of his devotion going to the Morgan Motor Company as well as offerings from Lotus, MG, and Caterham. When he is not writing about automobiles, Carl enjoys spending time with his family and friends in the Metro Detroit area, as well as spending time with his adorable pets.