When we last met the Polaris Slingshot, it was after a 200 plus mile road trip to Traverse City where we cruised down some of Northern Michigan's best driving roads as part of our introduction into the firm's "Polaris Adventures" rental program. We learned a lot during our brief exposure to this particular experience, but it was no secret that the Slingshot was due for some long overdue updates especially in regards to its odd ergonomics, and the aging 2.4 liter GM sourced four cylinder that once powered the since departed Pontiac Solstice/Saturn Sky roadster family. Polaris understands this, and has formally teased the next generation of the Slingshot which is expected to bring some big changes to this rather unique three wheeler.
The extent of how radical they are may not be obvious when you first look at the exterior styling, which retains a lot of the futuristic swagger that has become a potent selling point of the current generation model. However, a closer inspection does reveal that a new front fascia is on hand, with the round headlights of the outgoing model being replaced by stylized units that are complimented by new units in the lower portion of the fascia. The centrally mounted lightbar also gets in on the act, and trades its rounded lamps for a more conventional bar setup. The end result is a more cohesive and aggressive design that will certainly do a much better job turning heads than it ever did before. But it appears that some familiar traits will also be carried over, with the hood and front fenders appearing to mimic what we already see on the current Slingshot.
The changes to the interior are largely up in the air at this stage in the game, but we suspect that while the basic design and the rugged simplicity of the current design will carryover unchanged, we suspect that some new layers of window dressing will be applied to help the Slingshot be more livable on long commutes. For example, we suspect that the Ride Command system will be revised and upgraded, while the appearance of charging ports or a welcomed 12-volt power outlet would finally allow the system's Bluetooth capability to truly be put on full display for occupants.
The key change however could perhaps be found underneath the bodywork, with Polaris engineers possibly transplanting a new engine into the second generation Slingshot. As mentioned, the current generation model makes do with an older naturally aspirated four cylinder that makes a mere 173 horsepower, and sends its power to the rear wheel through a five speed manual transmission. This engine does make a commendable showing in the 2019 model, but its droning behavior, and its gutless high speed manners do leave more demanding drivers wanting more from their purchase.
However, rumors and even a mysterious screenshot from a consumer panel survey sent by a source that wished to remain anonymous appears to suggest that a turbocharged 2.0 liter four cylinder engine will make its way into the Slingshot. We suspect that given the existing GM connection with the current trike, chances are good that the Slingshot will have a distant relationship with the Chevrolet Camaro and the Cadillac CT4. The engine makes 275 horsepower in the Chevy, while the CT4 makes 237 horsepower. With the amount of power that needs to be transmitted to the rear wheel, we suspect that Polaris will air on the side of caution, and possibly try to not go too far over the 200 horsepower barrier. Naturally there is a slim chance that Polaris could opt for an engine from another manufacturer, but with BMW for example expanding its supplier relationship with Morgan Motor Company, the odds of that happening are slim especially considering that Polaris wants to avoid an extensive revamp of the entire drivetrain. Either way, look for the five speed manual to be pitched in lieu of a formal six speed with the extra gear helping to boost the Slingshot's highway fuel economy when cruising.
Polaris won't have to make prospective buyers wait for too much longer either, with the firm revealing that it will reveal the 2020 Slingshot on Janurary 13th. In the meantime, we have included the teaser video Polaris released which can be seen below.
New Year. New Slingshot. Are you ready?#PolarisSlingshot

Posted by Polaris Slingshot on Wednesday, January 1, 2020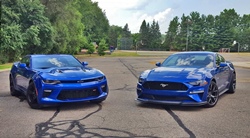 Carl Malek has been an automotive journalist for over 10 years. First starting out as a freelance photographer before making the transition to writing during college, his work has appeared on numerous automotive forums as well as websites such as Autoshopper.com.
Carl is also a big fan of British vehicles with the bulk of his devotion going to the Morgan Motor Company as well as offerings from Lotus, MG, and Caterham. When he is not writing about automobiles, Carl enjoys spending time with his family and friends in the Metro Detroit area, as well as spending time with his adorable pets.