The Infiniti Concept Vision Gran Turismo is a vision of what a high performance Infiniti could look like in the future. Available for download in Gran Turismo®6 (GT6™) exclusively on the PlayStation®3 system, it was created through close collaboration with the creators of Gran Turismo®, the racing game franchise developed by Polyphony Digital Inc. that has sold more than 72 million copies worldwide.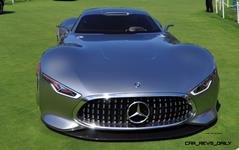 Tom Burkart is the founder and managing editor of Car-Revs-Daily.com, an innovative and rapidly-expanding automotive news magazine.
He holds a Journalism JBA degree from the University of Wisconsin – Madison. Tom currently resides in Charleston, South Carolina with his two amazing dogs, Drake and Tank.
Mr. Burkart is available for all questions and concerns by email Tom(at)car-revs-daily.com.