Ram 2500 Outdoorsman – Mopar is gearing up to hit the Strip in full force at the 2014 Specialty Equipment Market Association (SEMA) Show in Las Vegas, Nov. 4–7, with a fleet of Mopar-modified vehicles and hundreds of existing and prototype Mopar products. Among the "Moparized" vehicles on display will be the Ram 2500 Outdoorsman for Ram owners who love to head into the wild. Creating the perfect base camp, the Ram 2500 Outdoorsman is built to blend in with its surroundings with the help of Mopar products and unique camouflage design touches.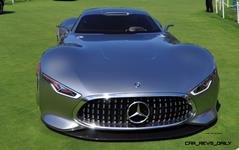 Tom Burkart is the founder and managing editor of Car-Revs-Daily.com, an innovative and rapidly-expanding automotive news magazine.
He holds a Journalism JBA degree from the University of Wisconsin – Madison. Tom currently resides in Charleston, South Carolina with his two amazing dogs, Drake and Tank.
Mr. Burkart is available for all questions and concerns by email Tom(at)car-revs-daily.com.