A typical new car program kicks off with a design brief that lays out the needs and wants for the upcoming vehicle. However, when it came to sketching the 2015 Mustang, 50 years of continuous development and production made it a bit easier. Each designer knew what to sketch and what Mustang needs to look like. Several hundred sketches were submitted in early 2010 incorporating primary Mustang DNA cues to varying degrees – the long hood/short deck, bold grille, shark-front nose, fastback profile, side hockey-stick contour and tri-bar taillamps were reinterpreted in dozens of ways.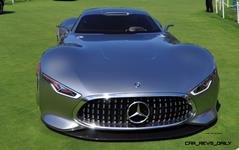 Tom Burkart is the founder and managing editor of Car-Revs-Daily.com, an innovative and rapidly-expanding automotive news magazine.
He holds a Journalism JBA degree from the University of Wisconsin – Madison. Tom currently resides in Charleston, South Carolina with his two amazing dogs, Drake and Tank.
Mr. Burkart is available for all questions and concerns by email Tom(at)car-revs-daily.com.