2014 Camaro Z/28 carries on the legendary Z/28 tradition of lightweight, nimble and incredibly powerful performance that makes it equally at home on the street or the track. It features a hand-assembled LS7 427 cid engine that delivers 505 horsepower and 481 lb.-ft. of toque, mated to a TREMEC TR6060 6-speed manual gearbox. Z/28 also benefits from a wide array of other features designed to improve track performance, including highly efficient cooling systems, a fully integrated aerodynamic package, massive Pirelli® PZERO™ Trofeo R† 305/30ZR19 summer-only tires, lightweight Brembo® carbon Ceramic Matrix™ rotors and fixed, monoblock calipers, and race-proven spool-valve dampers. (Richard Prince/Chevrolet Photo)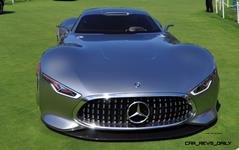 Tom Burkart is the founder and managing editor of Car-Revs-Daily.com, an innovative and rapidly-expanding automotive news magazine.
He holds a Journalism JBA degree from the University of Wisconsin – Madison. Tom currently resides in Charleston, South Carolina with his two amazing dogs, Drake and Tank.
Mr. Burkart is available for all questions and concerns by email Tom(at)car-revs-daily.com.