IRVINE, Calif. (Sept. 4, 2013) – There are more than 100 Nissan, Infiniti and Datsun vehicles from every corner of the world at the 2013 Nissan 360 media program, which is staged at the former Marine Corps Air Station in El Toro, California. This assembly of classic, current and concept vehicles demonstrates the heritage and future of Nissan Motor Company for global media. With Nissan 360 happening every four to five years, the timing conveniently intersected this time around with another car-centered event in Southern California. It is called Cars and Coffee, and it is hosted down the road from El Toro every Saturday in Irvine.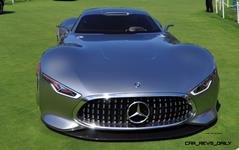 Tom Burkart is the founder and managing editor of Car-Revs-Daily.com, an innovative and rapidly-expanding automotive news magazine.
He holds a Journalism JBA degree from the University of Wisconsin – Madison. Tom currently resides in Charleston, South Carolina with his two amazing dogs, Drake and Tank.
Mr. Burkart is available for all questions and concerns by email Tom(at)car-revs-daily.com.