The Sentra NISMO Concept is built on the solid foundation of the latest generation Nissan Sentra, which offers an outstanding balance of premium style, innovative technology and fuel-efficient performance. The concept injects performance and design tuner elements into the mix. Among the Sentra NISMO Concept's many departures from a production 2014 Sentra are its race-inspired exterior with enhanced aerodynamic performance, NISMO-tuned suspension, steering and transmission and engaging motorsports-style cockpit.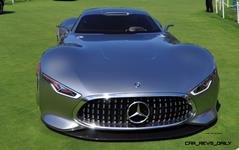 Tom Burkart is the founder and managing editor of Car-Revs-Daily.com, an innovative and rapidly-expanding automotive news magazine.
He holds a Journalism JBA degree from the University of Wisconsin – Madison. Tom currently resides in Charleston, South Carolina with his two amazing dogs, Drake and Tank.
Mr. Burkart is available for all questions and concerns by email Tom(at)car-revs-daily.com.