With the 2019 Chevrolet Camaro currently rolling into showrooms, the 1LE package is expected to play a much more promient role in Chevrolet's long term sales plans. From the beefy V8 powered 1LE, to the introduction of the all new four cylinder 1LE, track ready performance has never been so readily accessible. But is the 1LE in its basic formula a solid all rounder for eager enthusiasts?
Read more Road Test Review – 2018 Chevrolet Camaro SS 1LE 6MT – By Carl Malek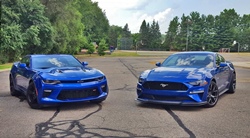 Carl Malek has been an automotive journalist for over 10 years. First starting out as a freelance photographer before making the transition to writing during college, his work has appeared on numerous automotive forums as well as websites such as Autoshopper.com.
Carl is also a big fan of British vehicles with the bulk of his devotion going to the Morgan Motor Company as well as offerings from Lotus, MG, and Caterham. When he is not writing about automobiles, Carl enjoys spending time with his family and friends in the Metro Detroit area, as well as spending time with his adorable pets.