Jumping for joy!
This new Jaguar E-Pace compact SUV is the perfect model for Jag right now.  Hot on the heels of the F-Pace SUV's knockout launch, this E-Pace is firmly on the way for the 2018 model-year --- and even has USA pricing in full included below!  Spoiler alert: it runs from $39k to about $55k.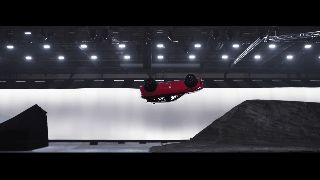 While the I-Pace name has been linked to a full EV concept from the big cat, this new E-Pace is a close relative.  Sharing a platform and much design and tech, they are both starting assembly in the next six months.
Jaguar is gung-ho on turbo gas models for the E-Pace launch.  Two models making 246 and 296HP are set to be offered.  Sizing is similar to the Range Rover Evoque but with more on-road and performance finesse.
The looks are initially alittle curious.  What is with the overall headlamps and the low-slung grille?  But then its elegance and no-overhang aero look starts to make sense.  Sharing the platform with the I-Pace means the E-Pace is also ultra streamlined -- right down to the covered, flat undertray.
Jag shows that and the E-Pace's racy proportions via a record-setting barrell roll at the launch.  Very cool.
The E-Pace's arrival is on a rapid timeline - with USA arrivals by January 2018.
RANGE SUMMARY
| | | |
| --- | --- | --- |
| TRIM | POWERTRAIN & OUTPUT | MSRP4 |
| CORE MODELS | | |
| E-PACE | 2.0L I4 AWD, 246HP | $38,600 |
| E-PACE S | 2.0L I4 AWD, 246HP | $41,500 |
| E-PACE SE | 2.0L I4 AWD, 246HP | $44,300 |
| R-DYNAMIC MODELS | | |
| E-PACE R-Dynamic S | 2.0L I4 AWD, 296HP | $47,250 |
| E-PACE R-Dynamic SE | 2.0L I4 AWD, 296HP | $50,050 |
| E-PACE R-Dynamic HSE | 2.0L I4 AWD, 296HP | $53,100 |
| FIRST EDITION | | |
| E-PACE First Edition | 2.0L I4 AWD, 246HP | $53,550 |
dzxsg