The stunning Pininfarina H2 Speed just scored one of the highest honors in automobiledom: a royal invite to the palace of Monaco!
HSH Prince Albert was the honorable host for this glittery and exclusive look at a 503-horsepower exotic that runs on pure hydrogen.  It combines the massive thrust of eAWD via potent electric motors, plus the rapid-refill potential of hydrogen.  Not quite an open-road dream versus gasoline's ubiquitous availability, but the H2 Speed does show promise for an all-day blast around a racetrack.  This is something that no full EV can promise, as their batteries go dead in about an hour of max-attack driving.  And won't be ready for more until hours and hours later.
The principality of Monaco is quite an active green champion these days.  They are some of the founding partners of the Venturi Automobiles, Venturi GP in FIA Formula E and the Venturi land speed record racecars.
Clearly, they are trying to put all that good money to great use.  For the greater good.
Smiles all around from the royal court.  We hope Pininfarina made some powerful new friends, as the Green GT brand needs a kickstart to catch up with Tesla, Faraday Future and now TechRules, an upstart Chinese venture that also debuted their EV hypercar at Geneva the other week.
Check out the H2 Speed making fast friends in the pics below, plus the full design analysis below that.
2016 Pininfarina H2 Speed – Monaco Private Debut
Official Pininfarina Communique:
H.S.H. Prince Albert of Monaco discovers the H2 Speed
H.S.H. Prince Albert invited Green GT and Pininfarina to present him, on the Prince's Palace square of Monaco, their electric-hydrogen fuelled supercar: the H2 Speed
Monaco, March 31, 2016 – Monaco hosts the automobile revolution. On the occasion of a private presentation, H.S.H. Prince Albert received in a friendly and passionate atmosphere the team of Green GT and Pininfarina who presented to him the particularly innovative automotive project that they jointly developed: H2 Speed, the world's first electric-hydrogen, high performance car.
H2 Speed, a showpiece of style and technology in the name of sportiness, performance and pure, environmentally responsible driving fun, debuted at the last Geneva Motor Show. The H2 Speed is Pininfarina's innovative vision of a high performance track car based on revolutionary hydrogen fuel cell technology already subjected to severe track testing by Green GT.
Very attentive to sustainable technologies and to entrepreneurs who invest in this way, H.S.H. Prince Albert proposed to Jean-Michel Bouresche, head of Green GT Technologies, to come and visit him at Prince's Palace in order to let him discover the latest project developed by Green GT with Pininfarina, the H2 Speed concept.
Together with Pininfarina representatives, Jean-Michel Bouresche presented the amazing supercar boasting shapes as futuristic as the technology behind. H.S.H. Prince Albert then extensively conversed with his guests, including the Director of Research and Development Green GT, Jean-François Weber, Chairman Paolo Pininfarina, CEO of Pininfarina Silvio Pietro Angori, Chief Creative Officer of Pininfarina Fabio Filippini, Design Vice Director of Pininfarina Fabrizio Valentini, and with Olivier Panis. Winner of the Monaco Grand Prix F1 1996, the French champion is indeed the test driver of the H2 Speed and the ambassador of the project.
The H2 Speed will appeal to passionate people who love speed, performance and innovation and, at the same time, are attracted by the exclusivity typical of a Pininfarina-designed vehicle produced in a limited series. Halfway between a racing prototype and a production supercar, the H2 Speed is the world's first hydrogen, high performance car thanks to the 'Full Hydrogen Power' technology presented by Green GT, a powerful electric-hydrogen fuel cell drive chain. The result is a zero emissions vehicle that can reach 300 km/h while releasing just water vapour into the atmosphere. With a maximum power of 503 horsepower, the engine accelerates from 0 to 100 km/h in 3.4 seconds. Also notable is the rapid refueling, unknown to traditional electric cars: a full tank of hydrogen takes just 3 minutes. The H2 Speed almost completely eliminates noise pollution too, the sound emitted by the motor being close to total silence.
With the H2 Speed, Pininfarina confirms its commitment to excellence in design and research applied to sustainable mobility, the strong points of a company that is also intensively occupied in engineering services and in the development of special cars and limited series of exclusive models.
www.pininfarina.com |www.facebook.com/PininfarinaSpA|Instagram @pininfarina_official
www.youtube.com/pininfarinaofficial   |  store.pininfarina.com
DESIGN ANALYSIS
There is certainly promise in a 180-second refill from a hydrogen station, then all the benefits of a full-EV drivetrain.
Namely, SPEED!
The H2 Speed is quoted at some quite impressive figures.  100-kph flashes by in a 3.4-second whir, and on to a max speed of 186-mph.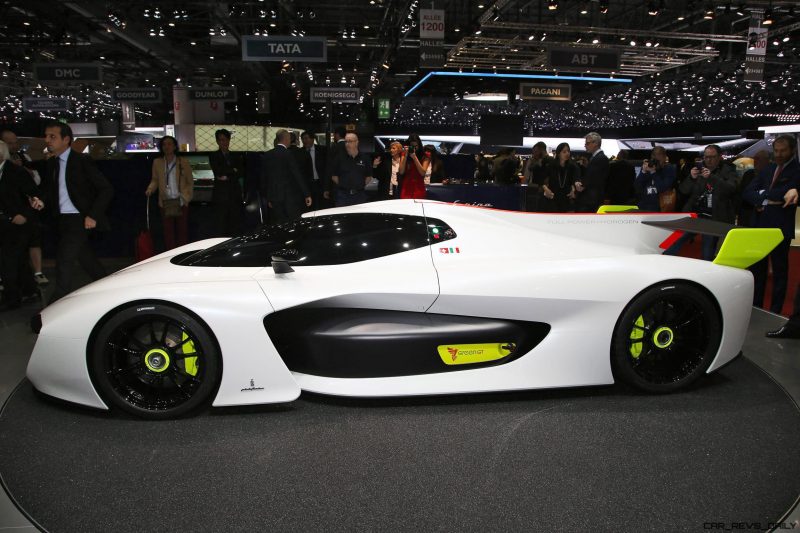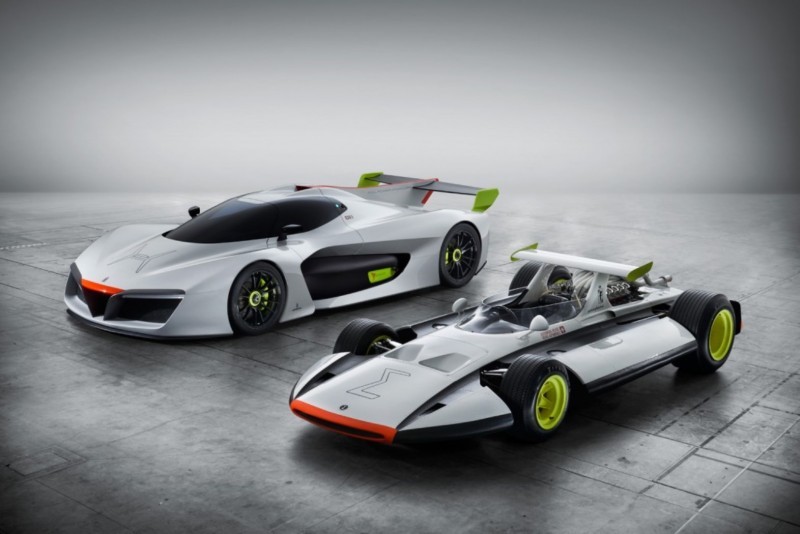 DESIGN ANALYSIS
All this is wrapped in the purest snow white panelwork you've ever seen.  The bubble-like nose and fenders are masculine and aggressive, yet also friendly and high-tech in appearance.  The smooth flow is broken up nicely in the nose with twin airfoils in contrast black at either edge of the bumper.  A flat-plane leading nosecone in bright red-orange is a masterful style flourish along with the invisible LEDs below those black winglets.  Until lit up, the H2 Speed's nose is pure track purpose — without any distracting headlamp units to break up the serene, surreal panel flow over the hood.
A black-tinted glass canopy mounts the two passengers quite close to one another, but again contributes greatly to its hypercar stance and visual impact.  Behind twin side windows and integrated windshield, a body-color air scoop extends up to the top of the roof quite elegantly.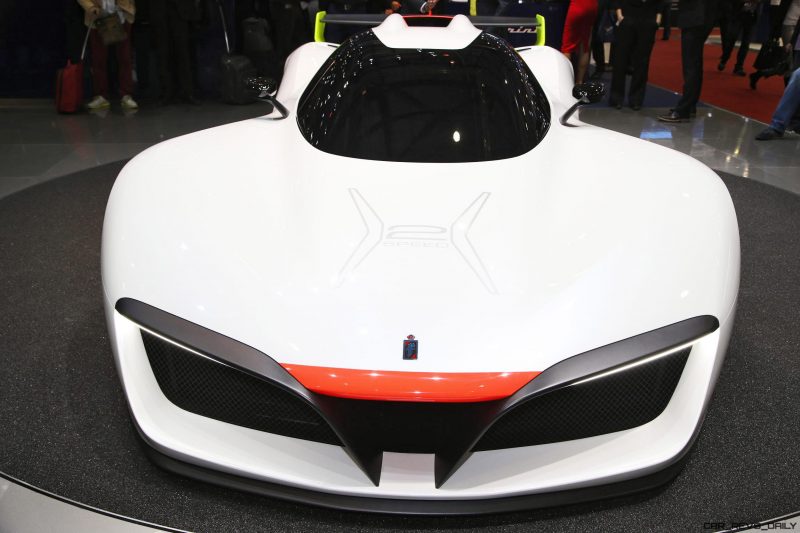 The entire central portion of the bodywork actually pulls inward tightly, including a contrast-black knuckle of air outlet behind the front fenders.  The tailfin and giant fixed wing look LeMans- (or Gran Turismo~!) ready, as does the massive rear diffuser and horizontal LED brake light bar.
The design of the H2 Speed is quite special.  We love its neon yellow accents — and the incredible matchup to the style of a previous Pininfarina hit: the 1969 Sigma Grand Prix.
This prototype Sigma explored safety solutions in open-wheeled and F1 racing — many of which were adopted a few short years later.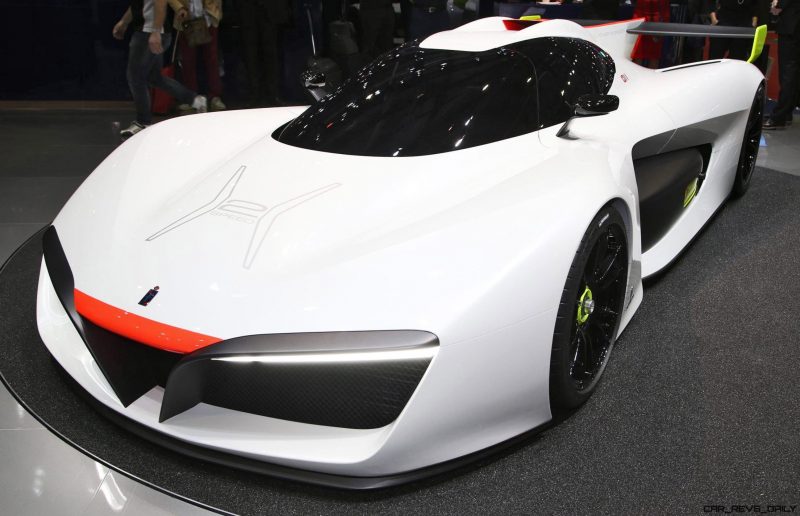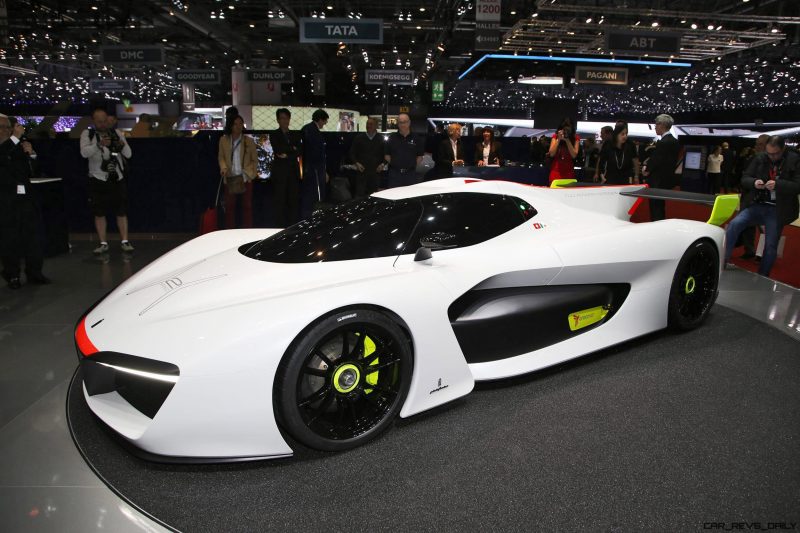 2016 Pininfarina H2 Speed