A survey came out this morning letting Americans know that Germany prefers PHEVs to hybrids or full electric cars.
GKN certainly found the insight!
Everyone would prefer PHEVs if given the choice!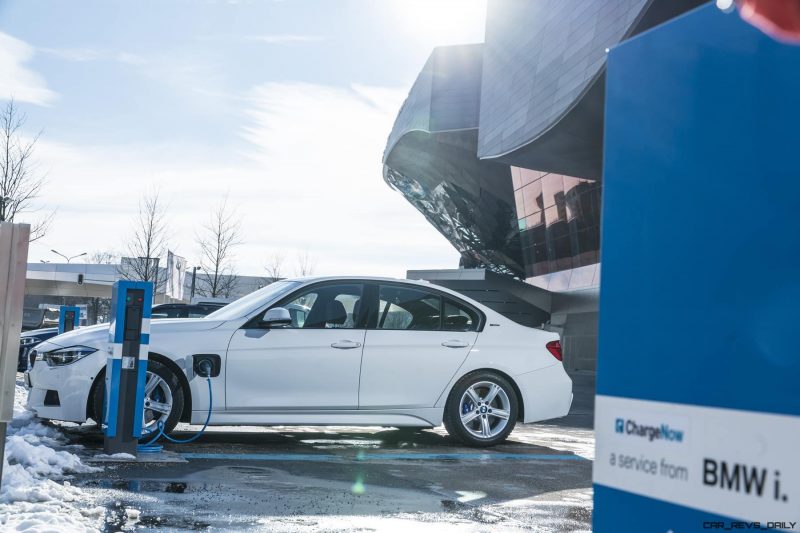 In that vane, the new 330e from BMW is the most evolved form of super-efficient, fast cruising with plug-in battery tech.  Married to a twin-power turbo four, the car produces extremely respectable pace: 5.9-seconds to 60-mph from its combined 248HP and 310 pound-feet of torque.   Effective, everyday MPG will be at least the 50s in normal use.
A slightly smaller gas tank (and trunk) is the main compromise. And the unsightly battery-charge door in the front fenders. Note: this is much more discreet in dark colors than it looks on this white demo car.
The big news here is that the tech is directly adapted from the BMW i3 and i8, versus some previous efforts of electric BMW sedans. Various modes offer full electric power up to 74-mph on the highway. But not for very long: 14 miles is the max full EV range.  Still very good.
All deeply on-trend.. and on-the-way!
The new 330e arrives to the US this summer with a base price of $45k.
2017 BMW 330e iPerformance
The all-new BMW 330e iPerformance.
22.03.2016

Press Release
Everyday usability, paired with efficiency and driving dynamics.
Featuring technology transferred from BMW i.
14 miles in all electric mode.
Woodcliff Lake, N.J.: March , 2016… The all-new BMW 330e iPerformance adds another highly innovative variant to the BMW 3 Series line-up with its advanced plug-in hybrid drive system. For the first time, cutting-edge BMW i technologies have been integrated into the world's most successful premium model. The BMW 3 Series Sedan has already set standards for sports performance and fuel economy in its segment using conventional combustion engines. Key ingredients are its intelligent lightweight design, outstanding aerodynamics for its class and the extensive use of BMW EfficientDynamics technology fitted as standard. The all new BMW 330e iPerformance will be available in summer 2016 at dealers starting at $44,695 including Destination and Handling.