There is alot of love and alot of great tradition on display for this year's seven-pack of all-new concept vehicles for the MOAB Safari.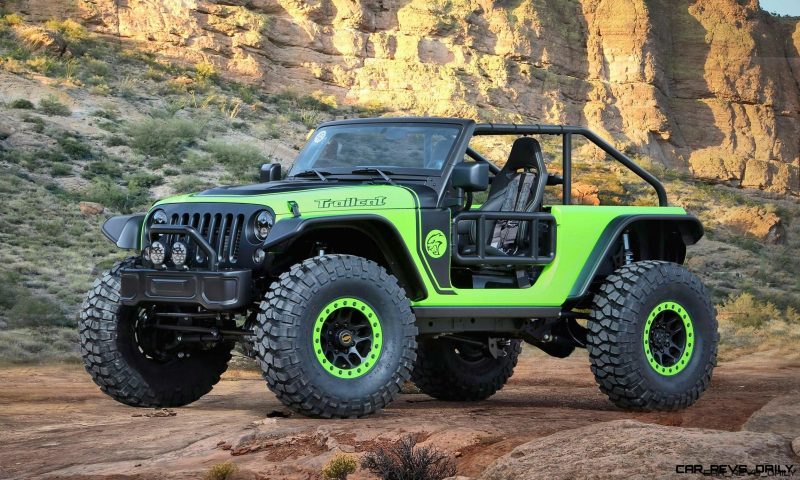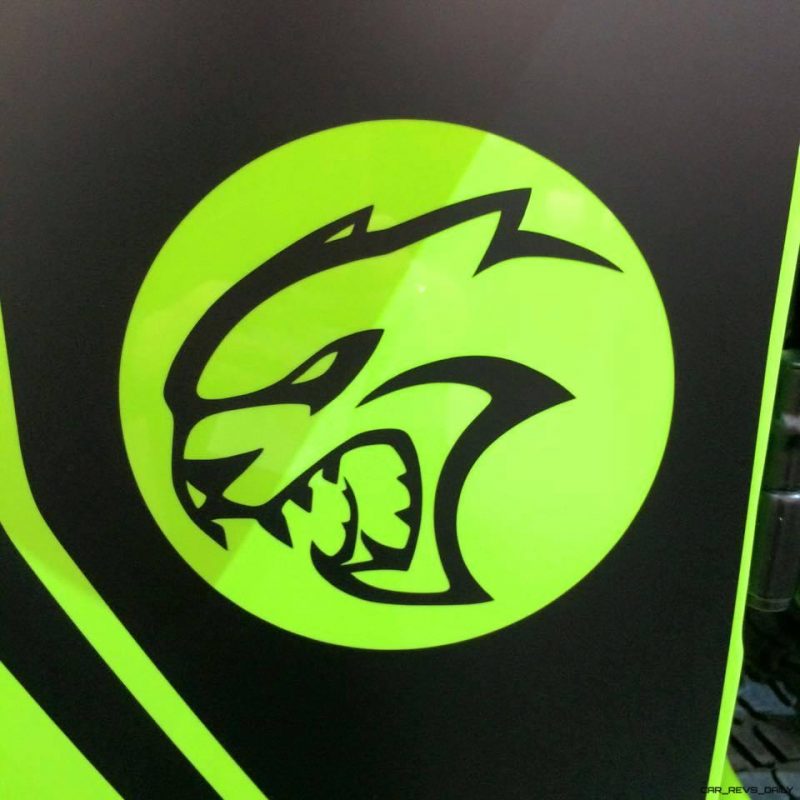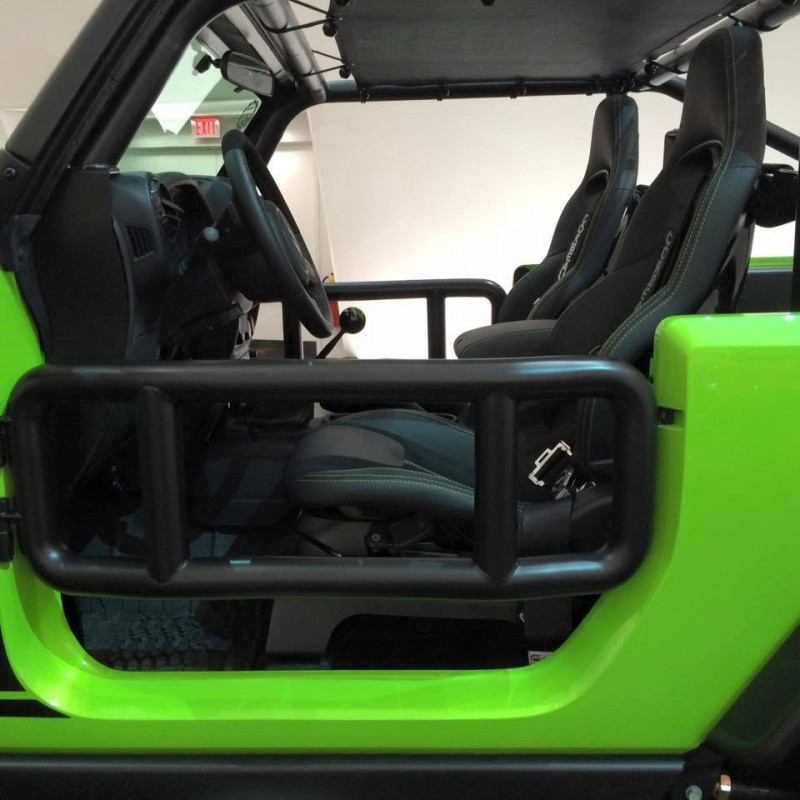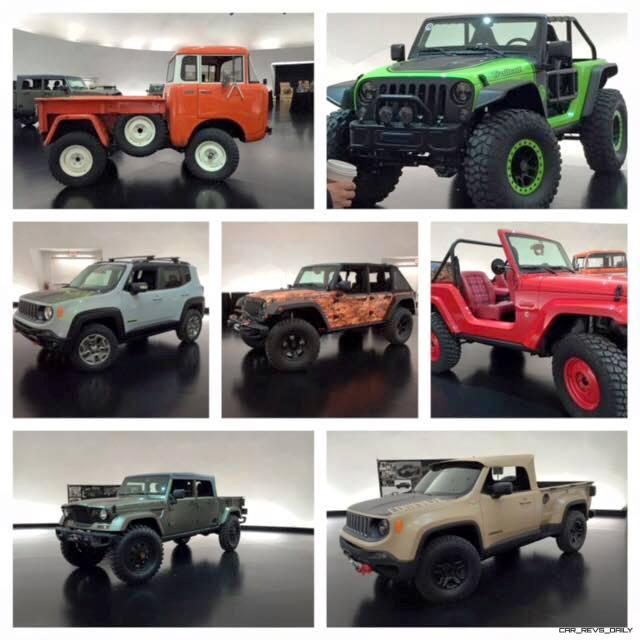 One in bright green will be churning up much of the excitement… and that is the Trailcat!
An ultra-intense race truck aimed at the glacier-climbers of Iceland… this off-roader really does pack the engine of the Hellcat.  707-horsepower through a stickshift will make quite the entrance wherever it goes!
In terms of production feasibility… this dusty desert party of Jeeps also has some clear winners beyong the Trailcat.  The Crew CHief 715 is the clearest production home-run in waiting.  A stretched, widened and HEMI-powered Wrangler truck might have just cracked the code.  How to sell a $70k Jeep!?
Just kidding on the V8 for the Crew Chief.  V6 power for the concept may be a solid production indicator!
Notably absent, or out of focus perhaps, are the namesake Cherokee and Grand Cherokee bread-winners.  Good way to shine some spotlight on the silly-fun Renegade.  FOr Moab, there is the Renegade Commander and even a compact-truck version!  Name?  COmanche.  Love it.
But what concept will be rescuing others all week?  Crew Chief!
That is about as Jeep as it gets!
2016 Jeep Trailcat Concept
Jeep® and Mopar Unveil Seven Concept Vehicles Built for 50th Annual Easter Jeep Safari
Vehicles Showcase a Wide Variety of Mopar and Jeep Performance Parts
Jeep® Crew Chief 715:  a salute to legendary Jeep military service vehicles
Jeep Shortcut:  inspired by the classic CJ-5 to handle tight, winding trails
Jeep Renegade Commander:  built to blaze a trail deep into the secluded wilderness
Jeep Comanche:  designed to be off-road ready with practical utility
Jeep FC 150:  heritage cab-over design, rich in history and capable of tackling any terrain
Jeep Trailcat:  Hellcat-powered off-roader capable of crawling or high-speed runs
Jeep Trailstorm:  added capability with 2-inch lift kit, 37-inch tires and Dana 44 axles
2016 Jeep Crew Chief 715 Concept
March 10, 2016 , Auburn Hills, Mich. – Seven new, ultra-capable Jeep® concept vehicles, featuring an array of Mopar and Jeep Performance Parts available to consumers, will conquer the famous and challenging trails of Moab, Utah, at Easter Jeep Safari, March 19-27. Thousands of off-road enthusiasts are expected to descend upon Moab this year to celebrate what will likely be the most popular Jeep Safari ever, as the 50th annual event coincides with the 75th anniversary of the Jeep brand.
"Every year, the Jeep team looks forward to pushing the limits with new, exciting and capable concept vehicles for our most loyal enthusiasts at the Easter Jeep Safari in Moab, where we receive a tremendous amount of valuable feedback," said Mike Manley, Head of Jeep Brand – FCA Global. "This year is extra special, as together with our biggest fans, we celebrate Jeep's 75th anniversary, as well as the 50th running of the Jeep Safari. We're delighted to share seven of the most capable and eye-catching concept Jeep vehicles we've ever created at this year's historic event."
The 2016 crop of Easter Jeep Safari concept vehicles utilizes both production and prototype Jeep Performance Parts. The Mopar brand is responsible for developing, building and ensuring that all Jeep Performance Parts meet rigorous specifications and with 4×4 capabilities in mind, allowing Jeep owners to further enhance their stock vehicle.
"These seven vehicles have been modified with Mopar and Jeep Performance Parts to take on the toughest trails, to go beyond where the road ends," said Pietro Gorlier, Head of Parts and Service (Mopar), FCA – Global. "Mopar's mission is to provide all FCA US vehicle owners with unique performance parts and accessories  to tailor vehicles to their individual lifestyles. Nothing supports that more than demonstrating how we can equip Jeep owners to take on some of the more extreme trails in the world."
The seven new Jeep concept vehicles built for Moab this year were created by a team of dedicated, passionate engineers, designers and fabricators that have been customizing production vehicles since 2002, and have introduced more than 50 concept vehicles for the enthusiasts who attend the popular Easter Jeep Safari.
The 2016 Easter Jeep Safari concept vehicles include:
Jeep Crew Chief 715
The Jeep Crew Chief 715 concept vehicle was built as a salute to legendary Jeep military service vehicles, in particular the Kaiser M715. This open-air Wrangler Unlimited-based concept vehicle showcases a burly design with heritage styling cues. The Crew Chief 715 utilizes modern-day construction with a rear seat and extra doors for additional passenger capacity while staying close to its classic military roots.
Original Jeep military service vehicles were legendary for getting troops through rugged terrain, and the Jeep Crew Chief 715 illustrates this legacy. Steel front and rear bumpers, 20-inch beadlock wheels and 40-inch NDT military tires pay homage to the original Jeep military vehicles. The Crew Chief 715 utilizes an on-board air system with a hard-mounted quick-disconnect fitting for airing up or lending assistance to other vehicles on the trail. Other features include a master cylinder brake upgrade, cold air intake and a modified exhaust.
Exterior features, such as Jeep Performance Parts off-road rock rails, a winch mounted into the front and rear bumpers, Dana 60 front and rear axles and a 4-inch lift kit with Jeep Performance Parts/Fox 2.0 Remote Reservoir shocks, give the Crew Chief 715 increased capability. The "Tactical Green" color scheme runs from the custom modified M715-inspired front-end to the tailgate. The Crew Chief 715 features a military themed 5-foot cargo bed.
Inside, the no-nonsense interior features leather bucket seats with canvas inserts, aircraft-inspired control switches and Mopar all-weather mats. The media center features a centrally located navigational compass.
The Jeep Crew Chief 715 is powered by the 3.6-liter Pentastar V-6 engine and is mated to a five-speed automatic transmission.
2016 Jeep Shortcut Concept 
Jeep Shortcut
A carefully crafted take on the beloved Jeep CJ-5, this Wrangler-based concept vehicle invokes the spirit of 1950s Americana with a shortened body and functional simplicity.
Exterior styling cues include a unique grille, hood, tailgate, front and rear wheel flares and custom chrome front and rear bumpers. A modified exhaust, 17-inch red steel wheels and 35-inch BFGoodrich Mud-Terrain T/A KM2 tires help the Jeep Shortcut maintain the look of an icon.
Jeep Performance Parts featured on the Shortcut include a front and rear Dana 44 axle and a 2-inch lift with Fox shocks. Overall body length has been reduced by 26 inches including bumpers and spare tire to keep the Shortcut concept vehicle light and maneuverable on the trails.
Inside, the simple yet functional interior features low-back leather bucket seats with plaid inserts, a red ball shifter handle, four-point safety cage and Mopar all-weather mats.
The Jeep Shortcut is powered by the 3.6-liter Pentastar V-6 engine and mated to a 5-speed automatic transmission.
Jeep Renegade Commander
The Jeep Renegade Commander concept vehicle is equipped with an assortment of Mopar and Jeep Performance Parts for the ultimate off-road adventure. A 2-inch lift kit and 17-inch Rubicon aluminum wheels with 29.5-inch BFGoodrich All-Terrain T/A KO2 tires increase the off-road capabilities of the Jeep Renegade Commander.The "Fluorescent Gray" exterior features Renegade's MySky open-air roof with removable panels, custom body decal, Mopar off-road rock rails, skid plates and a modified exhaust. Also featured are the Mopar brand's trailer hitch receiver and front and rear auxiliary lights.Inside, the Renegade Commander includes Katzkin seat covers, body color bezel accents, a pedal kit, Mopar off-road kit and Mopar all-weather floor mats.The Jeep Renegade Commander is powered by the 2.4-liter Tigershark engine with MultiAir2 mated to a 9-speed automatic transmission with Jeep Active Drive Low.
Jeep Comanche